People who like coffee believe starting a coffee business would be easy. But, your existing skills and knowledge to run a good coffee shop are insufficient.
How you buy and operate a home espresso machine differs from purchasing and using an espresso machine commercial. It would be vital to have the best commercial coffee machine to manage a café.
We produced a review to help people decide the best espresso machine for business that are up to date. We'll explain which features are essential and why your company requires them.
Select the best with the help of our review guidelines.
List of 10 Best Commercial Espresso Machines
1. Nuova Simonelli Appia II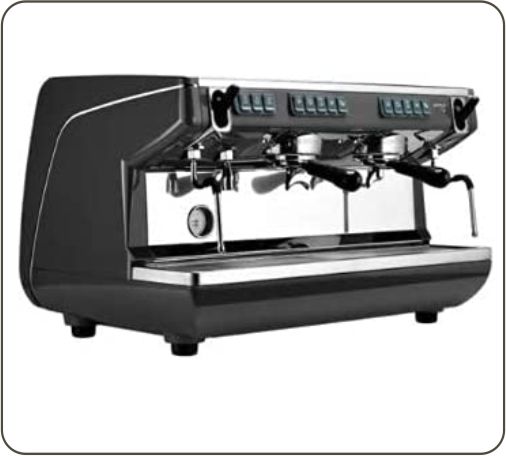 Highlights:
Volumetric Espresso Machine
Espresso Starter Kit
Water Filter System
Automatic Boiler Fill
Product Description:
The Appia II is the best commercial espresso machine for coffee shops, with a medium throughput of 30 to 100 drinks per hour.
This is one of the most popular espresso machines ever made by Nuova Simonelli, which has been in business for over 70 years.
It's lauded for its streamlined design and excellent ergonomics. The barista looks and feels great after pulling shots all day without using an ergo therapist. Because it weighs an impressive 160 pounds, you probably don't want to try to lift it alone.
The pre-infusion technology used by the Appia II makes the shots better. As a result, this one is volumetric, ensuring a proper ending.
2. Best Commercial Espresso Machine for Small Coffee Shop- Jura GIGA W3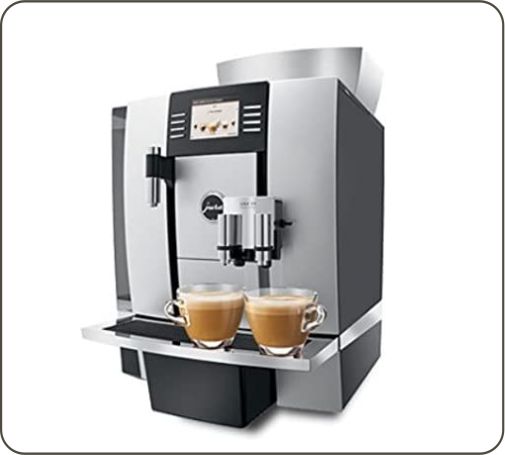 Highlights:
Professional Automatic Coffee Machine
TFT Display
Easy to Clean
Blending Power
Product Description:
The Jura 15089 GIGA W3 is a stylish, modern coffee machine with everything you need to make good espresso.
Some of its great features are how easy it is to use, how easy it is to refill, how big the water tank is, and how the 35.3-ounce bean container has a cover that keeps the smell in.
It has a rotary switch on ball bearings and a TFT display to ensure that serving is done quickly and efficiently.
Its size makes it a suitable espresso machine that won't cause any problems if you want to move it. This machine makes it easy to make 120 cups of coffee daily.
Jura 15089 GIGA W3 makes 31 specialty coffees and 12 barista recipes. This espresso machine has a stepper motor that heats and froths milk and adjusts air intake.
Professional grinder with well-positioned discs. These wear-resistant ceramic discs offer years of precision grinding.
Jura GIGA W3 is easy to use and maintain. Integrated rinsing, cleaning, and descaling programs decrease effort and provide TUV-certified cleanliness.
The Jura GIGA W3's flexibility to be customized is another plus. Cup warmers and milk coolers can be used to customize an espresso machine.
3. La Pavoni PUB 1EM-R-1 Group Commercial Espresso Machine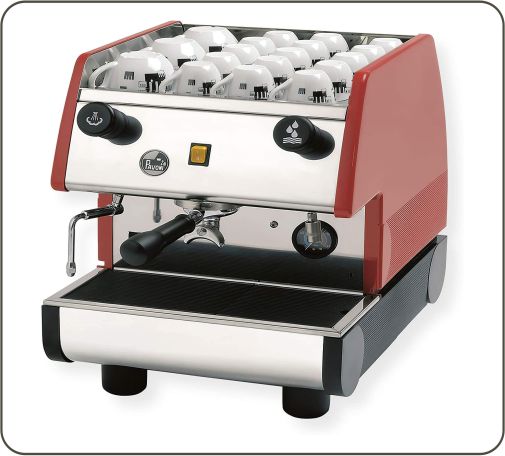 Highlights:
Professional Espresso Machine
Direct Water Line Hookup
Portable for Catering
Cappuccino Machine
Product Description:
Portable, this La Pavoni Commercial Espresso Maker requires no direct plumbing connections. This is a semi-automatic machine with a capacity of 1.8 liters and a boiler capacity of 6.5 liters.
This adorable professional restaurant espresso machine is ideal for those who cater. It can make up to 150 espresso or cappuccino shots every day.
4. La Pavoni BAR-STAR 2V-R Espresso Machine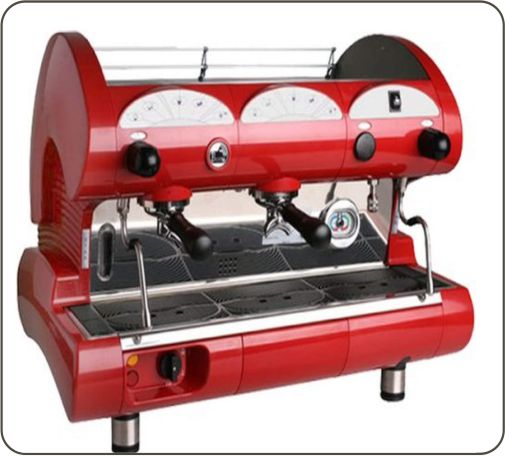 Highlights:
Volumetric Commercial Espresso Machine
Programmable/ Automatic
Dual Pressure Gauge
Electronic Automatic Water Level Control
Product Description:
In the early 1900s, La Pavoni, an Italian business, revolutionized the espresso machine industry with its BAR-STAR 2V-R espresso machine. An integrated water softener and a two-group dosing head are included in this model.
Steam wands, computerized controls, and automatic hot water dosing make it suitable for aspiring baristas to practice their skills.
This commercial grade espresso machine weighs nearly 150 pounds and comes with a price tag that's out of the reach of most home cooks. This machine is created to order in Italy and will take a few weeks to arrive.
With a 14-liter boiler capacity and the ability to serve up to 600 drinks daily, this device suits a customer-based setting.
Energy-saving mode is also provided to help your business save money on the electricity bill.
5. Best Automatic Commercial Espresso Machine– Breville Oracle Touch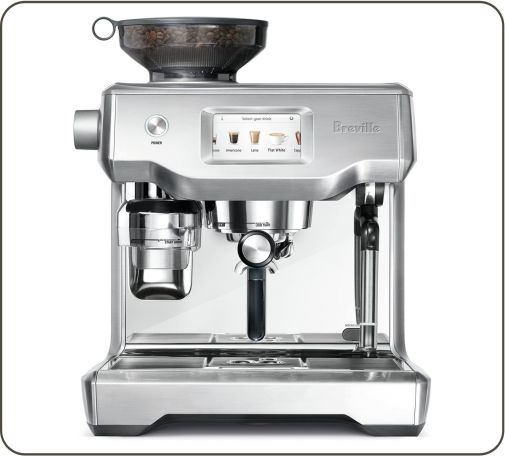 Highlights:
Brushed Stainless Steel Espresso Maker
Grinding for Dose Control
Maintaining Optimal Water Pressure
Accurate Coffee Extraction
Texturing Microfoam Milk Automatically
Product Description:
Breville BES990BSSUSC Fully Automatic Espresso Machine is affordable. Its automation simplifies coffee brewing. Five pre-programmed and height-adjustable options.
A one-touch burr grinder grinds, doses, and tamps. Pre-infusion and PID technologies provide even extraction. Auto-cleaning steam wand.
This type is enormous and heavy but may be utilized at home or in a business. It's a good deal for a tiny shop, though.
Users say the brand has excellent customer service, but replacement water filters are hard to obtain.
The innovative steam wand foam is good, but the manual is better. Try this if you want to own the best coffee machine for business and provide great coffee quickly.
With dual-boiler and one-touch controls, you don't need barista expertise to serve customers among the most affordable commercial espresso machines.
6. UNIC Mira 1 Group Volumetric MI-1G-AV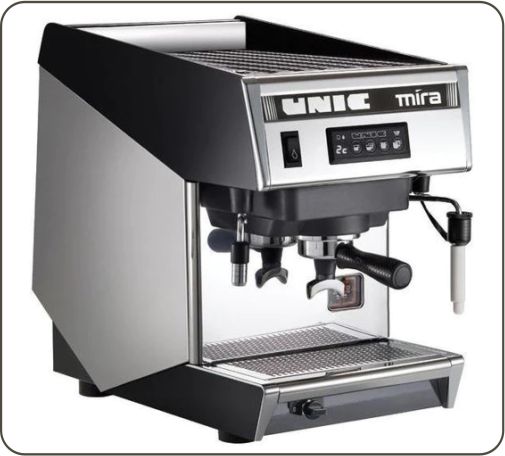 Highlights:
Programmable Volumetric Keys
Maintain Temperature Stable
Dependability
Versatility
Auto-Refill
Product Description:
The Unic Mira is a volumetric espresso machine made of stainless steel, capable of withstanding even the most intensive forms of wear and tear.
Because it is available with options for one, two, or three groups, it can be the answer for a wide range of enterprises, from people who enjoy drinking coffee at home to people who run busy espresso machine coffee shops.
Thanks to its programmable keys, users can quickly determine the ideal quantity of water that should be used for dosing. The fact that it is automatic makes it great for people of varying degrees of expertise.
7. Best Budget Commercial Espresso Machine- Gaggia Accademia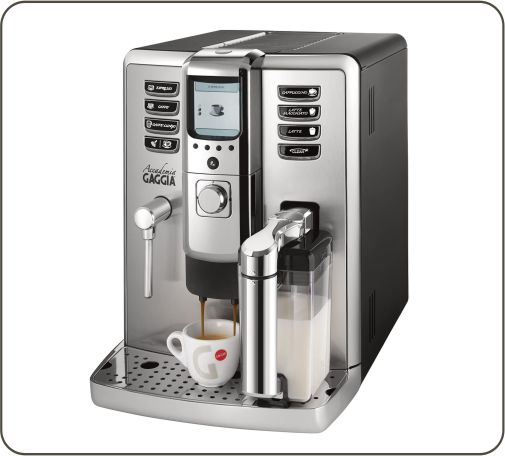 Highlights:
Adjustable Telescopic Coffee Dispenser
Ceramic Burr Grinder
Milk Frother
One-touch Brewing
Product Description:
Cheap Commercial espresso machines like the Gaggia 1003380 Accademia are among the more affordable options. It has a milk carafe and a steam wand, making it suitable for small businesses, offices, and homes.
It's a one-touch brewer with a built-in ceramic grinder and multiple cup sizes that are super-automatic.
Although this option is simple to use, many home coffee drinkers have learned that it requires a lot of upkeep. Because it is made primarily of plastic, it will endure less time than other models.
Like the larger drip pan, smaller drip pans must be emptied more frequently. Only 162-168 degrees Fahrenheit is the ideal temperature for hot coffee.
Small businesses and homes could benefit from an automated machine like this one. This isn't your product if you want a high-volume, long-lasting addition to your company.
Also Read: The 12 Best Budget Espresso Machines
8. Nuova Simonelli Talento- Best Commercial Super Automatic Espresso Machine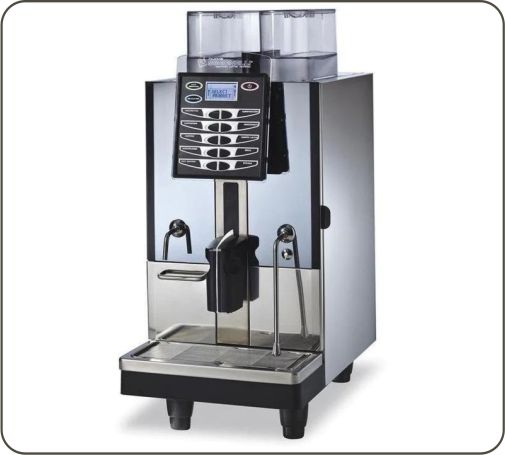 Highlights:
High-Volume Coffee
Stainless Steel Boilers
Built-to-Last
Innovative Quality
Product Description:
With the Talento, you can have a drink ready in less than a minute from start to finish because it is a super-automatic machine.
Because of a simple button press, there is no need to worry about making the best drink possible while you focus on your business and clients.
This user-friendly system can train new users in a matter of minutes. You can choose between a one- or a two-step process depending on your preferences.
A simple press of a button is all that's required in the one-step setting.
It is necessary to fill a pitcher with milk in the two-step configuration. Still, once the pitcher is placed in front of an automatic steaming device, various steaming options are available to you.
9. La Marzocco Linea Mini- Best Commercial Espresso Machine for Small Businesses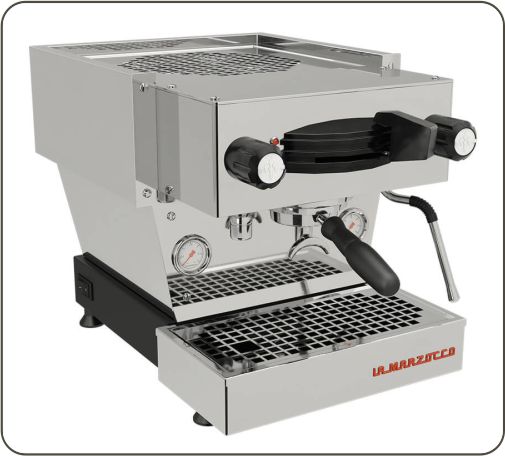 Highlights:
Remote Ability to turn ON/OFF
Boiler Temperature Control
Pre-Brewing Setting
Standby Mode
Product Description:
The Linea Mini, which looks like the famous Linea, has been one of La Marzocco's best-sellers since it came out. This is partly because it looks cool and stands out from prosumer products' typical "chrome box" look.
It combines professional and personal use for small businesses and home users who want to work at home. The Linea Mini is friendly and easy to use but can't be programmed as the more prominent commercial models can.
While a manual brew paddle makes it look like you're in charge, it's just an on/off switch since the pre-infusion has already been set. This is good for making sure that work goes smoothly and quickly.
The Linea Mini is an attractive choice for a commercial setting because it has greater steaming power than comparable household machines.
The brew boiler on this machine is only 0.6 liters, but the 3.5-liter steam boiler takes up that extra space. You can make microfoam in seconds that looks good enough for latte art.
The Linea Mini has an integrated group that isn't present on other La Marzocco machines. This innovative idea delivers a steady temperature like the saturated group in a more petite frame. Rather than a computerized display, a stepping wheel sets the temperature.
10. Slayer Steam LP 2-Group- Best Commercial Manual Espresso Machine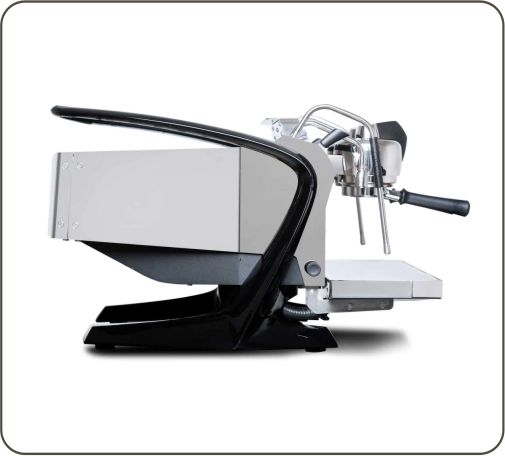 Highlights:
Programmable Pre-Infusion Settings
9-Bar Pump Extraction
Quick and Full Clean Settings
Adjustable Drip Tray
Electronic Steam Wands
Product Description:
Third-wave coffee shops are the anti-Starbucks, where you can sample unique coffee beans. To run a cafe like that, you must be familiar with the Slayer brand.
Slayer's proprietary flow profiling method first made headlines. Using a pressure regulator for a slow pre-infusion and crushing the beans will help you get more taste out of your coffee.
The Slayer Steam combines this cutting-edge streaming technology with an equally innovative milk steaming process.
Between the steam boiler and the steam wand, Slayer invented a vaporizer that generates hotter, drier steam. Those who make their froth with plant-based milk will notice a change in the taste and quality of their finished product.
A benefit of using electronic solenoid valves over mechanical valves is that they are quicker to respond and more energy-efficient.
The Steam LP's manual control and programmability are seamlessly integrated. Once you've dialed in a shot, you may store and use the program repeatedly.
For years, fans have admired how well-designed Slayer machines are. Quality is indeed more important than appearance, but it's even better when both are present.
Third-wave cafes, where customers are more engaged with their drink, benefit significantly from their sleek equipment's low profile.
Also Read: Used Espresso Machines- Where to Buy and Benefits
Buying a Commercial Espresso Machine- A Buyer's Guide
When looking for the best commercial espresso machine, it is vital to consider several aspects, including the type of use, price, how easy the machine is to operate, and how consistent the results are.
Type of Use
You need to know where it will be used to get a suitable commercial machine. Your high-volume business necessitates a fast and efficient espresso-making machine that minimizes wait times. If you're in the business of making money, time is money.
Consider how many people this will serve if it is for an office setting. You'll need a product that fits your living space to get the most bang for your buck.
Cost
When choosing a business, it is critical to consider the financial impact. Anything that doesn't help you succeed wastes time and money.
Establishing your selections will be much easier once you've cut down your machine requirements and budget.
It's still important to consider your needs in terms of usefulness vs. cost, whether you're purchasing a laptop for work or personal use. Everyone wants to get the most out of their money, no matter where they live.
Ease of Use
Pay attention to how simple the machine is to operate while doing research. Do you require it to be user-friendly in a business setting, or do you have trained baristas?
Coffee drinkers who need their caffeine fix throughout the day will appreciate a machine that is quick and simple to use in the workplace.
When purchasing a home-use device, your skill level or desire for adventure should be considered. Everyone benefits from a machine that is simple to clean and maintain.
Consistency
It doesn't matter what you use it for; a machine that consistently produces consistent results is good so that you don't waste time figuring out how to get it to function.
Nobody wants to cope with the agony of trying to get every single shot ideally in focus at all times. Temperature, extraction, and recovery must all be uniform.
Final Verdict
Due to the coffee machine's outstanding performance and productivity, we chose the Nuova Simonelli Appia II as the top pick.
The machine's outstanding qualities influenced this selection, such as a volumetric machine that pulls ideal images. The espresso machine can make 30 to 100 drinks per hour using an 11-liter boiler.
Due to its excellent ergonomic design and capacity to generate more espresso shots, the Jura 15089 GIGA W3 came in second. With this equipment, you can brew coffee and steam and keep the temperatures consistent.
This isn't the best commercial espresso machine, but it doesn't improve performance.
The inexpensive commercial espresso machine pick was La Pavoni PUB 1EM-R. Although the one-group espresso machine is compact and portable, it produces excellent espresso shots.
It is reasonably priced and appropriate for little coffee establishments. Despite its diminutive size, it makes a large number of cups.
If you own the best small commercial espresso machine or medium-sized restaurant or café and don't yet have an online menu, you should consider acquiring one. You can post it on your website, social media, or an app to help your business grow.
FAQs
How long do commercial espresso machines last?
Max 7-10 years with daily use.
Do espresso machines require a lot of care?
Espresso machines are intricate and expensive. However, they're easy to clean.
How much should a good espresso machine cost?
An excellent espresso machine costs roughly $500, but a beginner can obtain one for $100. Commercial machines cost $1,000–$20,000.