Espresso machines cost a lot of money, so only rich people or people who liked coffee would buy one. But now, almost anyone can get a good cup of coffee, and espresso machines are easy to find.
It is not hard to make espresso. You need to put boiling water under a lot of pressure into splendid coffee grounds and leach out the coffee's flavor and strength. Because of how far technology has come, you can also get this on a tight budget.
We looked at a few inexpensive espresso makers. We wrote reviews to help you figure out which ones are the best budget espresso machine. If you want a little more information, we wrote a quick buyers' guide at the end to help you make better decisions.
List of 12 Best Budget Espresso Machines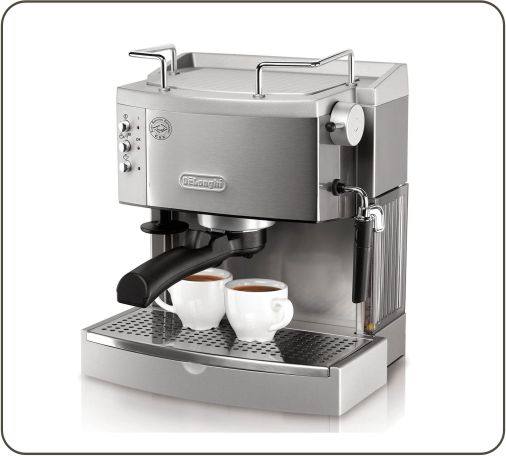 De'Longhi EC702 Espresso Machine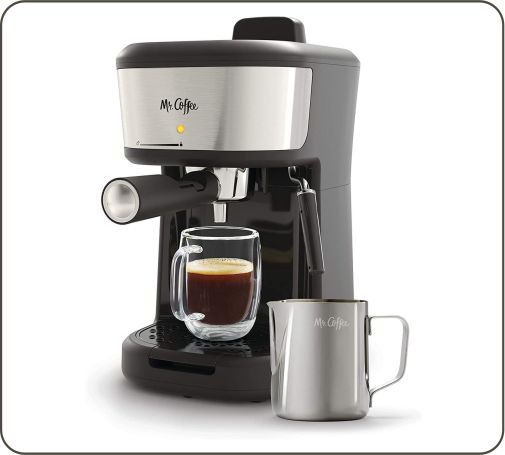 Mr. Coffee Espresso Latte and Cappuccino Maker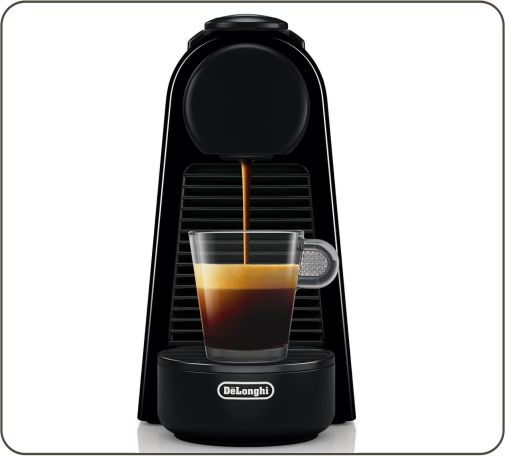 Nespresso Essenza Mini Espresso Machine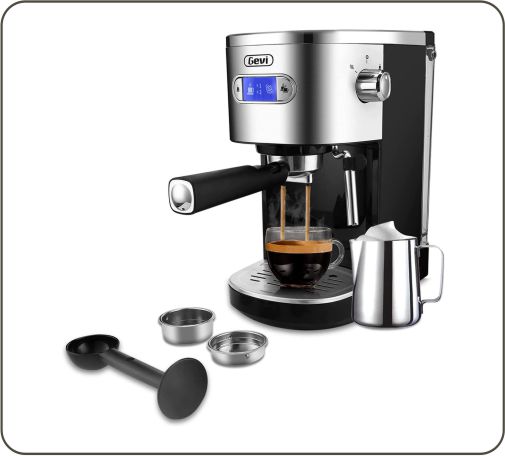 Gevi 20 Bar Automatic Espresso Machine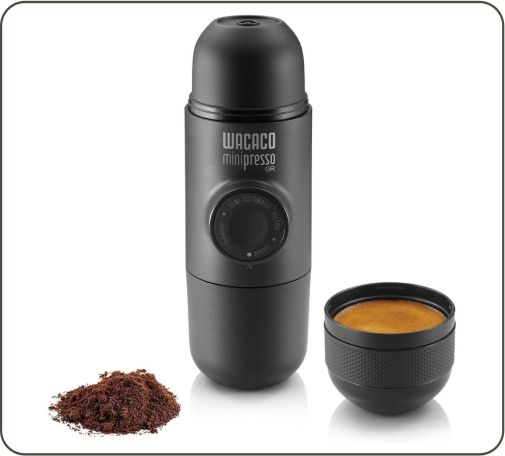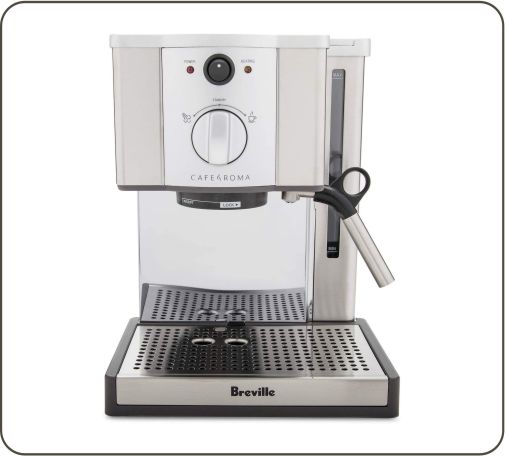 Breville ESP8XL Cafe Roma Stainless Espresso Maker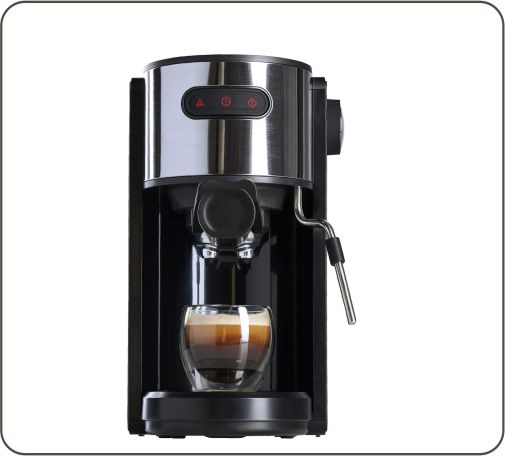 Best For Beginners- Coffee Gator Espresso Machine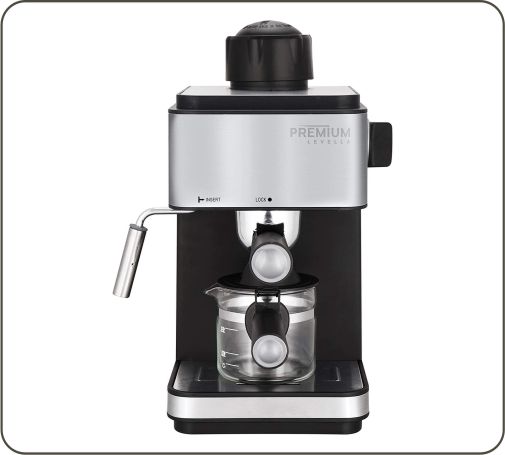 Premium PEM350 Budget Espresso Machine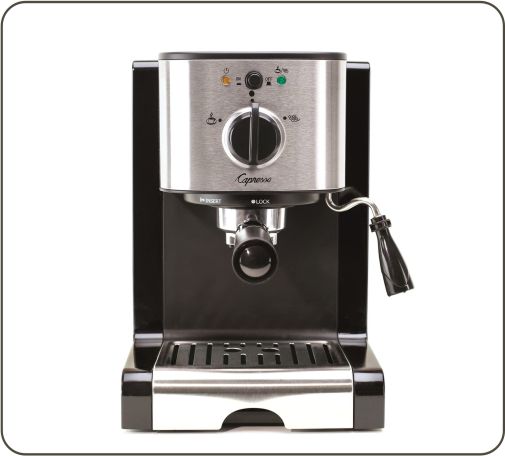 Capresso 116.04 Pump Espresso and Cappuccino Machine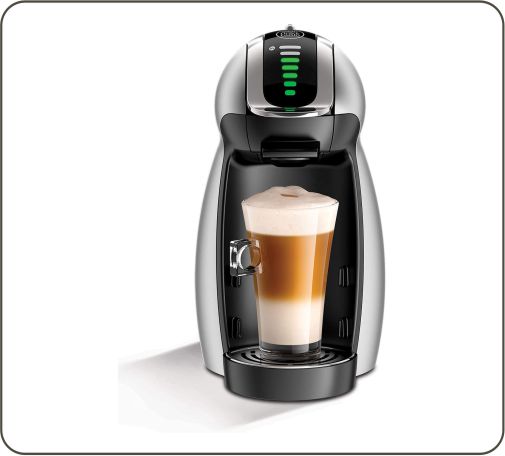 NESCAFÉ Dolce Gusto Genio 2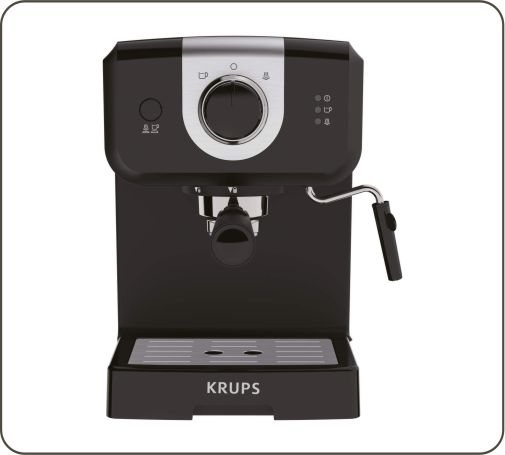 KRUPS Espresso and Cappuccino Maker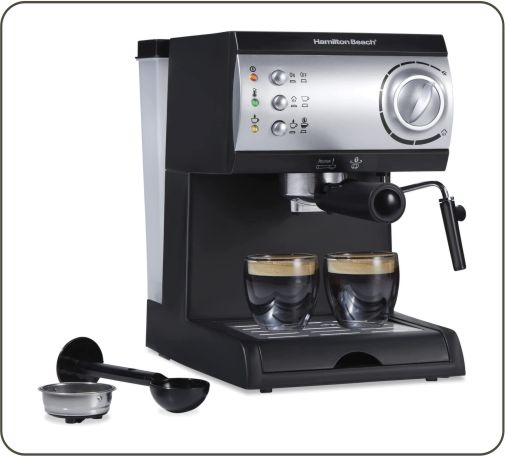 Hamilton Beach Budget Espresso Machine
1. De'Longhi EC702 Espresso Machine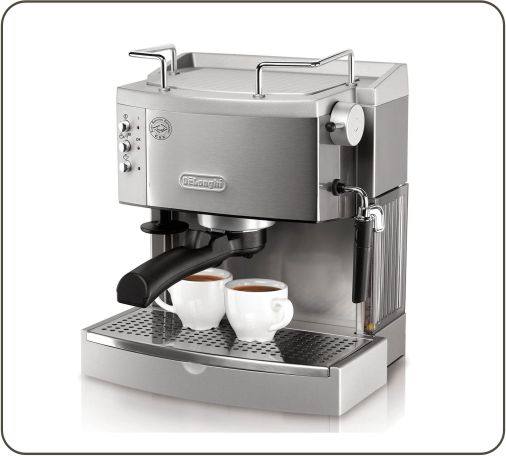 Highlights
15 Bar Pump Driven
Water Level Indicator
Removable Water Tank
ON/OFF Switch
Product Description
This espresso machine includes many features that you won't find in other, less expensive machines, let alone features that perform as well as they do in this one.
Create milky coffee using a manual wand, which allows you to control the amount of froth. Any overflow is collected in the drip pan for easy disposal.
There are also two independent thermostats for controlling the water and milk temperature. If the temperature of your cup of espresso is essential to you, this function is ideal.
It also features a filter basket that is pressured. This helps beginner brewers keep pressure on the coffee grounds for a more extended time, resulting in a better and more balanced shot.
Using the filter holder, one or two shots can be brewed at a time. It also can use an easy-brew espresso pod, a feature that few at-home machines have.
The EC702 also maintains an ideal temperature, unlike most other brewers. Allowing you to brew one cup followed by another without waiting for the equipment to heat up.
Overall, this is one of the best cheap espresso machines available if you're searching for the best. Enjoy having more brew control and prioritize espresso to a higher level.
Pros
Dual Cup Capacity
Pressurized Portafilter
High-Quality Foam
2. Mr. Coffee Espresso Latte and Cappuccino Maker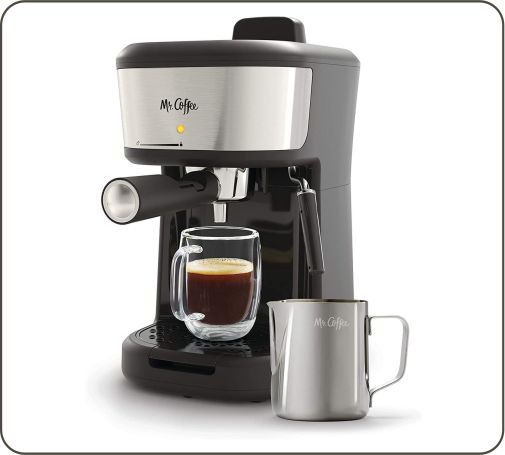 Highlights
Latte and Cappuccino Maker
Extra Large Portafilter
Frothing Wand
Steam Brewing
Measuring Scoop
Product Description
The following company is Mr. Coffee, which makes small espresso machines that look clean and simple and can make up to four espresso cups (or two double shots). This choice is a little more expensive than the top pick, but it comes with many extras that make up for this.
As the best option, it takes a lot of practice to make good espresso shots and steam milk well. Because the filter basket is so big, you can make two double-spots of espresso at once, which is a big plus if you need to make a lot of espresso drinks.
This espresso machine is a great way to make tasty coffee drinks at home on a budget. The machine isn't as well made as the De'Longhi one, which is why this one came in second.
Pros
Brews up to 4 Shots
Stainless Steel Frothing Pitcher
Easy to Use
Cons
Have a Plastic Construction
3. Nespresso Essenza Mini Espresso Machine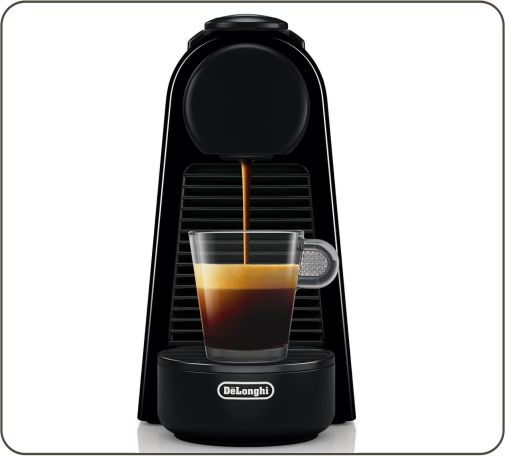 Highlights
Mini Coffee and Espresso Machine
Two Programmable Buttons
19 Bar Superior Pump
Single Touch
Reduced Energy Consumption
Product Description
The Nespresso Essenza Mini might be your best choice if you only want to use coffee pods. It's small, sleek, and designed to work with Nespresso capsules to make great coffee.
Compared to Mr. Coffee, the prices are also much more reasonable. It's a great choice if you don't want to spend that much.
But keep in mind that it's made for capsules. This isn't the coffee maker for you if you want loose grounds. Mr. Coffee can be used with either capsules or grounds.
It is also pretty pricey compared to the rest of the field. It might make excellent capsule coffee, but you'll have to pay a penny.
Pros
Unique Compact Design
Ease of Use
Space Saver
4. Gevi 20 Bar Automatic Espresso Machine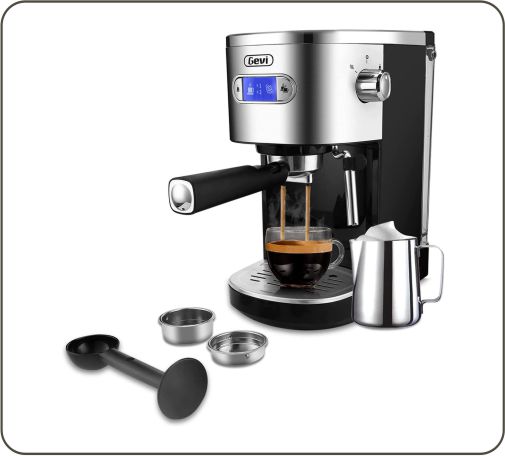 Highlights
Foaming Milk Frother Wand
Removable Water Tank
Temperature Control System
Quick-Heating Automatic Cappuccino Maker
Product Description
This white stainless-steel beauty can also make two cups of espresso simultaneously. So, not only will your guests believe you're a refined coffee connoisseur, but they do not have to wait long to get a coffee in their hand, thanks to the Gevi 20 bar.
You'll probably get the most taste out of your espressos if you use 20 pressure bars. On a budget of under $200, it's simple to use, clean, and maintain.
The Gevi 20 bar espresso machine will get you started as an at-home barista and allow you to enjoy your caffeinated beverage whenever you want it without spending too much money.
Pros
Easy to Clean
ThermoBlock Fast Heating
20 Bar Pressure System
Cons
The filter basket is of poor quality
5. Wacaco Minipresso GR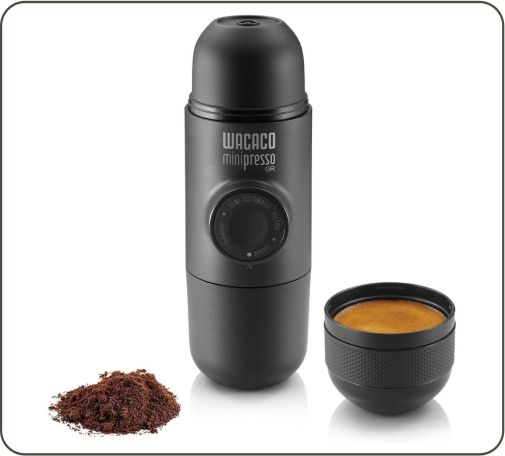 Highlights
Portable Espresso Machine
Compatible Ground Coffee
Manually Operated
Product Description
Let me tell you about an espresso machine that travelers like me love. If you move around a lot, it's essential to have a good, portable espresso machine that you can take anywhere. Some of the unique things about this product make it one of the best espresso machines for the money.
This Minipresso is small and easy to carry. You can put it in your backpack and never worry about not being able to drink your favorite coffee. Also, any kind of coffee roast can be used.
With just a few pushes, you can have a fresh cup of coffee. The design is fun and easy to use. So, to make a simple cup of coffee, you don't have to remember any complicated combinations.
The only thing to remember is that this Minipresso machine only makes 50 ml of coffee at a time. So, if you want to make more coffee, you can add a more extensive water tank to your Wacaco espresso coffee maker.
Pros
Compact and Versatile
Perfect for Camping
User-friendly Design
Cons
Unless upgraded, it only makes 50 ml of coffee at a time.
6. Breville ESP8XL Cafe Roma Stainless Espresso Maker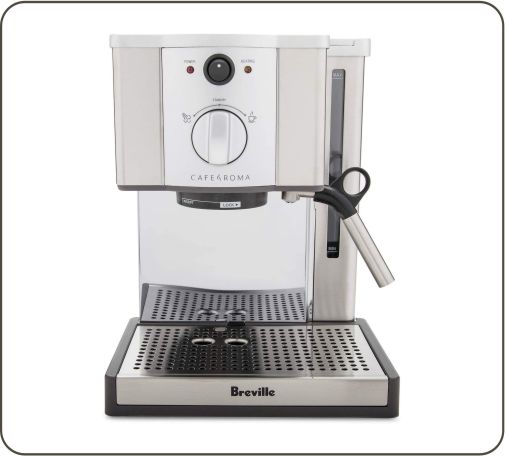 Highlights
Espresso Machine Made of Stainless Steel
ThermoBlock Pump
15 Bars of Pressure
Dual Wall Filter System
Removable Drip Tray
Removable Water Tank
Product Description
Almost all parts of a home espresso machine are made of plastic. This part is likely to break. The Breville ESP8XL Cafe Roma, on the other hand, is made of stainless steel, which looks great and is less likely to get damaged.
It has a 15-bar ThermoBlock pump that, like high-end machines, makes excellent espresso shots. But it also has a filter system with two built-in walls that makes a thick crema.
Also, unlike most machines, the Breville comes with more tools. You get a tool for tamping, measuring, cleaning, and a frothing pitcher made of stainless steel.
Even though the attached steam wand doesn't have precise temperature or flow controls, this machine can still make good foam and a cup of espresso that can stand up to any other options on this list.
Pros
Thermal Coil for a Constant Water Temperature
Built-in Cup Warmer
Filter System provides good Crema
Cons
Lack of Adjustable Temperature Control
7. Best For Beginners- Coffee Gator Espresso Machine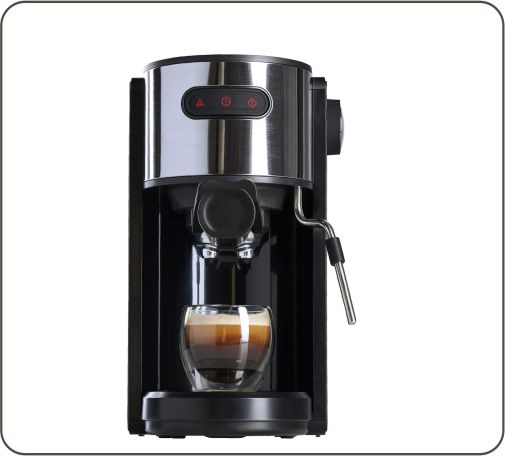 Highlights
Quick Brew Espresso Maker
Milk Frother
Removable Water Tank
20-Bar Pressure Pump
Product Description
This machine is an excellent choice if you're new to making espresso. It's made simple and easy to use, but it can still make coffee that tastes as if it came from a coffee shop. It has a high-pressure pump that pulls out all those great coffee flavors.
The drip tray is removable, making it easy to clean and letting it fit taller glasses. The steam wand can give you hot water and frothed milk so you can make any coffee you like.
This machine looks great and is made in a modern style. It can make good coffee with a thick foam on top. It can make coffee with fresh grounds, or you can make it even easier by using ESE espresso pods. It's perfect for both newcomers and experienced cafe baristas.
Pros
Versatility
Space-Saving
Easy to Clean
8. Premium PEM350 Budget Espresso Machine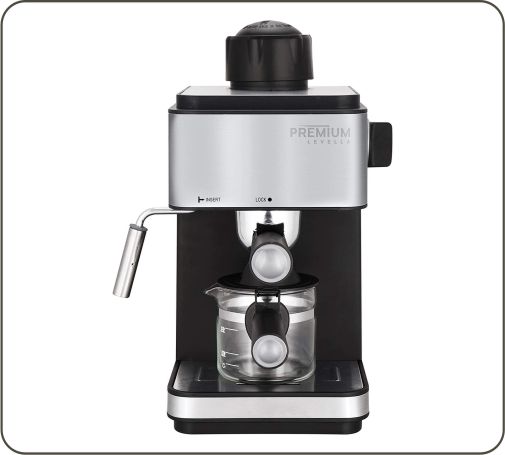 Highlights
Premium 3.5 Bar Espresso Maker
Milk Frother
Stainless Steel Machine
Product Description
The Premium Espresso & Cappuccino Maker PEM350 is an excellent choice for espresso makers because of its reasonable value. For the occasional cup of espresso, it'll do just fine on the counter. It doesn't have the features you need to whip up a double mocha chai latte in seconds.
It also has standard pricing that's hard to beat in this class of products. There's a lot better out there, but it will cost you some money. Remember that the list of the best budget gadgets includes espresso machines.
The fact that it's affordable means that it has some limitations. In any case, they're complicated and prone to clogging. If you use it frequently, you may have trouble getting it to function, and the parts may wear out prematurely.
Cons
Frother doesn't work well
9. Capresso 116.04 Pump Espresso and Cappuccino Machine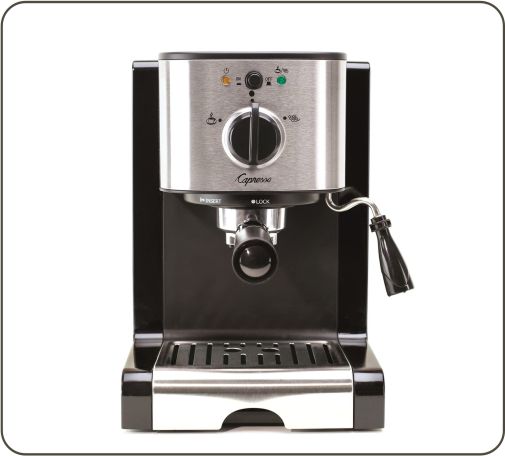 Highlights
Stainless Steel Espresso Machine
ThermoBlock Heating System
Internal Grinder Programmable
Swivel Frother
Product Description
If you want a high-quality espresso machine that costs less than $100, the Capresso and Cappuccino Device might be what you're looking for. It has many features that make you wonder how you got such a good espresso machine for so little money.
This cheap espresso machine has an easy-to-clean drip tray that can be taken out. The machine is also easy to clean in other ways.
The Capresso is simple to put together and use. Just put in your favorite coffee blend and use the milk frother to make a smooth drink that makes you feel like you're done with Starbucks.
This heating system is made of stainless steel and has 15 bars of pressure to make the best espresso with high-pressure brewing. The stainless steel makes the machine last longer. The Capresso also has a built-in warming tray, so your cup stays warm every time you make coffee.
Pros
Removable Water Container
Easy Filling and Cleaning
Large Cup Warming Tray
Cons
The pump is Slightly Weak
10. NESCAFÉ Dolce Gusto Genio 2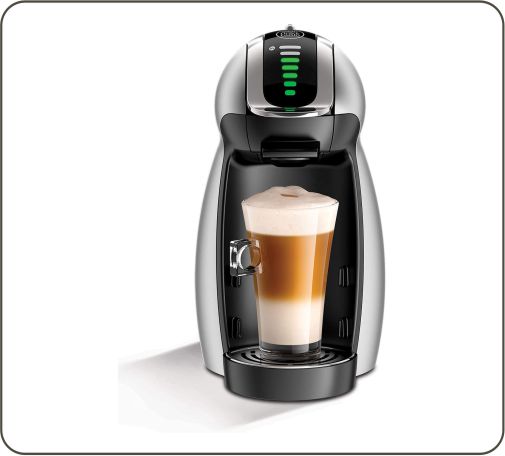 Highlights
Cappuccino and Latte Pod Machine
Pressure Based System
Ultimate Coffee Freshness
Customization
LED Display
Product Description
The Nescafe Dolce Gusto is just like any other espresso machine in that it has an easy-to-use interface. You can change the size and strength of your coffee by moving a toggle stick. This is the main difference between a coffee machine and a Nespresso machine, which can automatically tell what kind of coffee capsule you put in.
The 15 bars of pressure in the Dolce Gusto Genio 2 ensure you get the most flavored cup of coffee. If you like to try new things and try different things, you can pick from 15 different flavors to satisfy your enthusiasm for life.
This coffee machine is an excellent choice for someone who likes good coffee but doesn't want to wait too long to taste it. This machine can also make both hot and cold drinks. It's a big plus, especially in the summer.
Choose this model if you wish to check out this coffee machine. It's a little cheaper than Nescafe, so you won't feel too bad about it if you go back to drip coffee makers. Several customers said you might have difficulty getting off the water tank.
Pros
15 Flavor Varieties
Easy Interface
Hot/ Cold Coffee Options
Cons
Getting off the water tank could be difficult.
11. KRUPS Espresso and Cappuccino Maker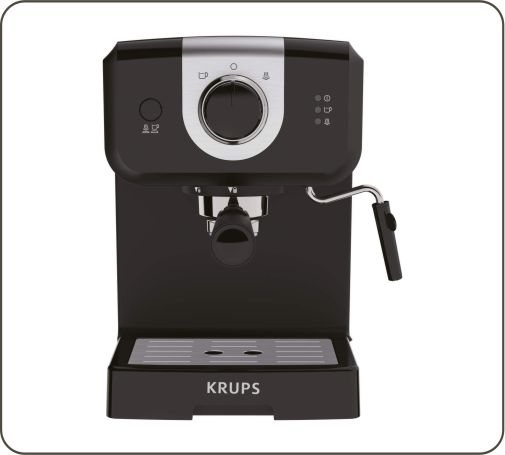 Highlights
15 Bar Pump Espresso
Steam Nozzle
Removable Water Tank
Manually Controlled Selection
Product Description
The Krups is one of the espresso machines that is one of the most reasonably priced choices available.
Like many other branded machines, this one provides you with various options ranging from the best to the most versatile. You can use either a one-shot or a two-shot operation, and the wand may be used to froth your milk and make cappuccinos or lattes.
The 15-bar pump draws out the maximum amount of flavor from the ground coffee, and the manual steam wand enables you to froth milk to your desired consistency, which can then be combined with espresso.
Pros
Easy to Use
Easy to Clean
Flavor Extraction with no Bitterness
Cons
Build Quality is not Durable
12. Hamilton Beach Budget Espresso Machine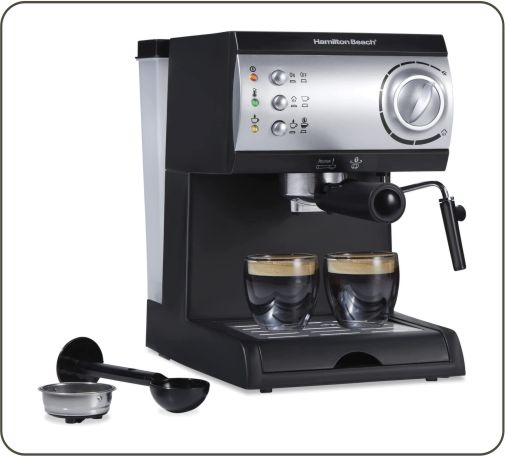 Highlights
Steamer Espresso Machine
No-Fuss Milk Frother
Easy-Fill Water Reservoir
Product Description
It should be self-evident that the Hamilton Beach 40715 would have received a higher grade if it had made a better cup of coffee. It does a slew of extras that set it apart from merely good espresso machines.
It's cheap, doesn't take up much space, and is a cinch to clean up afterward. These are the features you need in a kitchen gadget if you're short on cash, space, or time. However, this machine's primary purpose is to brew espresso, which it fails to accomplish.
The frothing power is relatively modest and takes a long time to heat up. Compared with other models, it doesn't brew a great cup of coffee and is made of flimsy materials.
Pros
Easy to Clean
Affordable
Space-Saving
How to Buy the Best Budget Espresso Maker
From presses to pour-overs to primary drip machines, all kinds of brewing methods can be found in coffee makers. Nothing would be quite like an espresso maker. However, the small number of water powers it under high pressure.
If you're in the market for one on a budget, you'll have to forego some bells and whistles and acquire as much fundamental espresso-making as possible. The following are some warning signs.
Solid construction
You're attempting to cram a pressured jet of boiling water into a tight space. The first thing you'll want to know about your coffee maker is that it can handle this. The quality of your coffee will suffer if your espresso maker cannot consistently deliver the required pressure. What's the purpose of investing in an espresso if you're not using it?
Ease of Use
If you don't have a lot of money, you probably won't be able to buy a highly complex machine. It could be pretty rude. Try to find an espresso machine that isn't too hard to use. It won't have a lot of knobs, toggle switches, or buttons that can be used to do different things.
Most likely, it will just be a simple, necessary operation. If you are shopping on a price limit, make sure the machine you buy is easy to use.
Ease of Cleaning
Making espresso can be messy, which is something that doesn't get enough attention. That buildup of grounds and other stuff can slow down the machine and make your coffee taste sour. Keeping the coffee machine clean is part of making great coffee. Look for an espresso machine that will be easy to clean.
Price
You have a budget when shopping because you don't want to spend much money. Consider the price when looking for one of the best cheap espresso machines.
But you probably don't want to buy the cheapest one. Instead, you should put a high value on getting the most for your money. Find the best espresso machine for your money by comparing the price to the features you need.
Conclusion
The top choice was the Mr. Coffee Café Barista. It can do everything, but the best thing it can do is make great coffee. It just costs a lot. Nespresso's Essenza Mini is a little cheaper and comes with the convenience of pods, but it doesn't have as many uses as the top pick, so it came in second.
The best value was the Premium Espresso & Cappuccino Maker PEM350, which was an easy choice.
We hope you found these reviews and our buyers' guide helpful, and we wish you the best of luck in finding the best espresso machine on a budget for your needs.
"This article contains affiliate links, which means that Best Coffee Sip will be compensated if you buy something after clicking on one of the links. Read full disclosure statement."