So, you spent a lot of money on a brand-new, shiny espresso machine. But the machine isn't the only thing you need to buy to make your espresso. You'll still need a good grinder, fresh whole beans, and a good set of best espresso cups.
Espresso is more than just drinking a rich, caffeine-filled drink to wake up in the morning. For many, it's a ritual; the whole experience is much more important than the intense burst of energy.
In all honesty, not all cups are made the same. Some aren't even good for serving espresso, even though they are marketed to people who drink espresso.
After reading this article, you would have enough information to be able to buy some stylish and valuable espresso cups.
List of 13 Best Espresso Cups and Glasses
1. De'Longhi Double Walled Thermo Espresso Glasses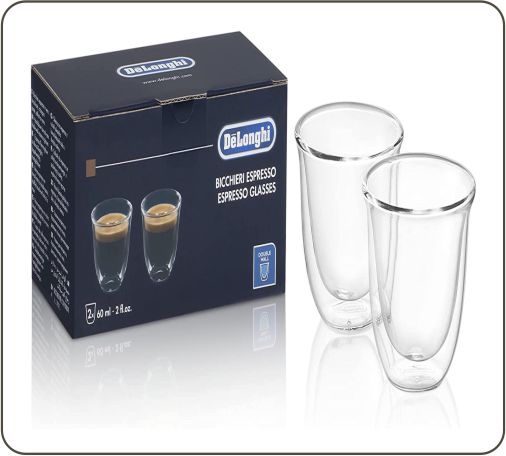 Highlights:
Double-Walled Thermo Glasses
Keep Drinks Hot
Dishwasher Safe
Product Description:
The double-walled construction of these thermos glasses ensures that your beverages stay hot or cold for longer and prevents condensation from forming. BPA-free, the Borosilicate glass helps prevent breakage. Each bottle holds 60 milliliters or 2 ounces.
According to one customer, this shot glass allows you to experience coffee and how it should be appreciated. Crema and the delicate hues in a good shot are considered just as significant to the taste of the coffee, and this cup allows you to appreciate both.
Other reviewers praised the product's basic and adorable appearance and noted that it was an excellent value for the money.
Pros
Easy to Hold
Easy to Clean
Lightweight
Giftable
2. Le Creuset Petite Espresso Mug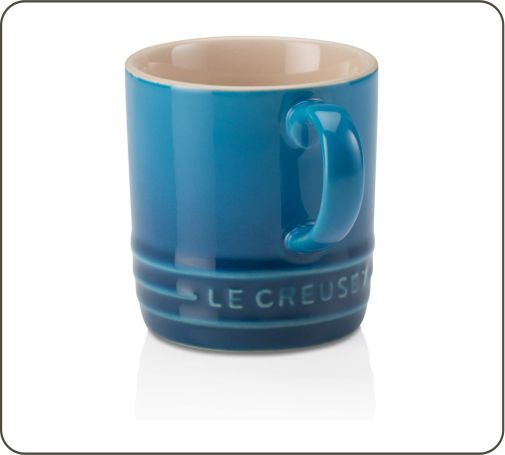 Highlights:
Stoneware Espresso Mug
Unmatched Thermal Resistance
Impermeable Exterior Enamel
Product Description:
These are excellent options if you're searching for something different. Dutch ovens are, of course, the primary product line of Le Creuset. But it also really knows how to prepare an espresso cup.
The Le Creuset 3.5 Ounce Petite cups are made of ceramic, not glass like the De'Longhi counterparts. An excellent natural insulator, ceramic is a fantastic choice. This eliminates the need for a second layer of protection.
Since these mugs will be a little more durable and ready to take some abuse, they'll be worth the investment.
In addition, customers are absolutely in love with the bright and cheery hues. When looking for mugs, whether you're looking for one hue or a rainbow of colors, it's a good idea to look at the alternatives.
Compared to the De'Longhi, these mugs are slightly larger and have 2.5 inches. Two shots and even a little milk can be easily accommodated. You can use them for a traditional macchiato or a cortado, depending on the strength of your shots.
Pros
Comfort
Sturdy Ceramic
Easy to Clean
3. Real Deal Espresso Cups- Best Overall
Highlights:
Double Wall Insulated Cups
Food Grade Quality Steel
Double Powder Coat Color
Versatile Handle
Product Description:
They're fashionable, long-lasting, and keep the coffee hot, all at the same time. Many manufacturers only offer two of the three options. Isn't the case with these top-ranked Real Deal Steel cups? They have a remarkable combination of qualities.
These 3-ounce stainless steel cups are double-walled to keep liquids hot and your hands relaxed.
This espresso cup will withstand anything you throw at it. You may leave them on the counter, take them camping, or use them as little cups for your children. In that scenario, it's best not to fill them with espresso. The powder-coated finish is just as durable as stainless steel.
Powder coating adds a fashionable touch. Blue, black, white, and natural stainless-steel mugs are available in various colors to match any decor. They're dishwasher-safe so that you can clean them at home.
Pros
No Peeling, Chipping or Washing Away
Protects Hands
Dishwasher Safe
Cons
Unable to keep the Espresso Hot
4. Bodum Pavina Glass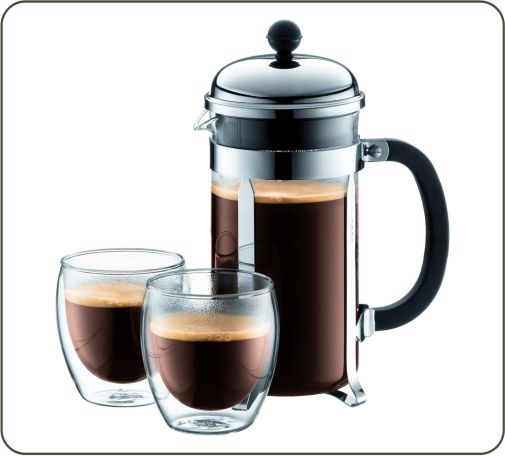 Highlights:
Double-Walled Insulated Glass
Heat Resistant
2-Layer Design
Prestigious European Award Winner
1-Year Limited Warranty
Product Description:
One of the world's most popular glassware manufacturers is Bodum. Bodum also makes espresso cups in addition to milk frothers, teapots, and French presses.
Coffee lovers will appreciate these double-wall demitasses. Because the borosilicate glass includes a layer of air between the glass walls, you won't burn your fingers while drinking your hot beverage.
Although these cups are scratch-resistant, they may be washed in a dishwasher, microwaved, and even baked in a conventional oven (up to 350°F).
Demitasses like these aren't cheap. On the other hand, this quartet was meticulously crafted by master glassblowers. Try these out if you're searching for a bit of self-care.
Pros
Microwavable
Dishwasher Safe
Ease Cleaning
5. Sweese Porcelain Espresso Cups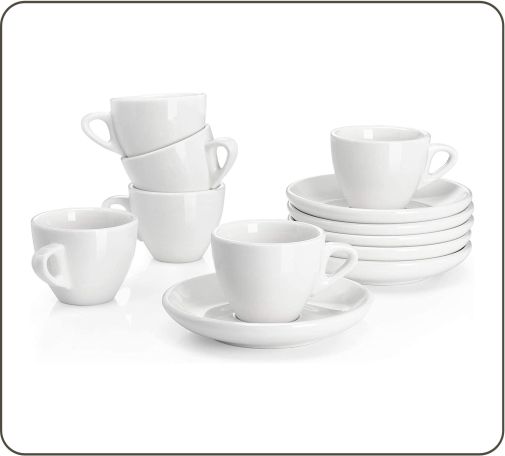 Highlights:
Espresso Cups with Saucers
Pro-Grade Porcelain
Bright White Coloring
Product Description:
Sweese is a good alternative if you're looking for a set of espresso cups. Similar to espresso pieces, these porcelain cups come with a matching saucer and feature a more classic design. A set of white or colorful cups is available for purchase.
They are available in two sizes: 2 oz. And 4 oz. If you have limited counter space, these cups may not be ideal because they don't stack nicely. If you're in the market, you can find an affordable set of espresso cups at Sweese Espresso Cups.
Pros
Ideal for Everyday Use
Durable Porcelain
Value for Money
Cons
Need more space for Stacking
6. Bodum Assam Double-Walled Espresso Shot Glass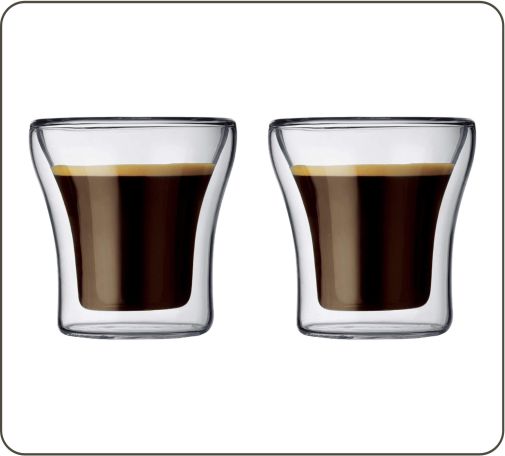 Highlights:
Borosilicate Glass
Double Walled
Mouth Blown
Transparent
Product Description:
The Bodum Assam espresso cups have many beautiful qualities. How could anyone dislike them? Because each of these mouth-blown borosilicate glass Demitasses with double walls is slightly different from the others, you could say that they are all slightly one of a kind.
The design of the double-walled construction, in addition to being an excellent insulator, also gives the impression that the coffee is floating within the glass. The shape and design of these cups have been praised highly, and they have gone on to win several honors.
You don't need to look any farther if you're searching for espresso shot glasses with genuinely one-of-a-kind designs that will make a statement when displayed on the table in your home; the image doesn't do these glasses justice.
Pros
Sturdy
Easy to Hold
Durable
Cons
Difficult to Wash without Brush
7. Bruntmor Espresso Cups with Saucers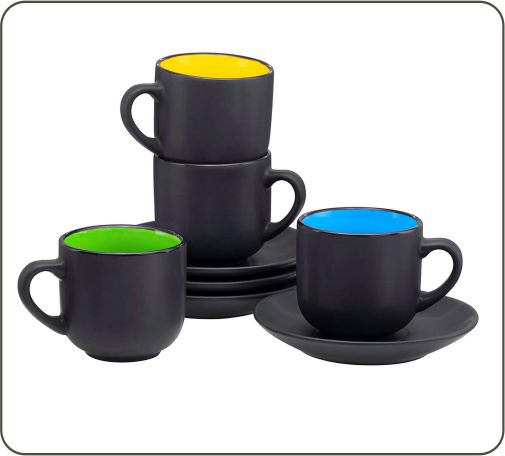 Highlights:
Matte Black Exterior
Solid Color Interior
Chip and Heat Resistant
Stackable Set
BPA Free Ceramic
Product Description:
Simple, bright, and contemporary, these espresso mugs make a stylish addition to any home bar. They'll last a long time because they're made of high-quality ceramic. They've built the outside walls as thick as possible to maintain the ideal temperature for your espresso or other hot beverage for as long as possible.
Four different colored cups and saucers are included in each set, all of which have a matte black appearance. Each cup's ergonomic form makes it simple to use one hand to grip the saucer while using the other.
A teaspoon and two biscuits or sugar cubes fit perfectly in the saucer.
Pros
Elegant and Smooth
Retain Heat and Aroma
Safe to Use
Also Read: The 11 Best Thermos for Coffee in 2022
8. Joy Jolt Savor Double Wall Insulated Glasses Espresso Mugs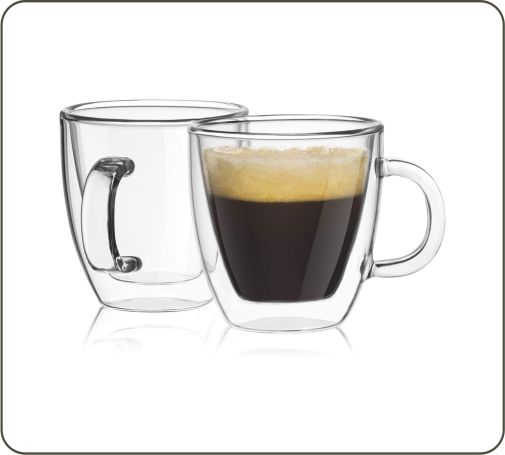 Highlights:
Borosilicate Glass
Double-Walled Insulated Glasses
Heat Resistant
Product Description:
With a crystal-clear BPA-free borosilicate glass composition, it's more durable than your typical coffee glass cup, the traditional espresso cup.
The air between the walls of most double-walled espresso cups improves the coffee's heat retention and prevents your hands from burning.
You may use this coffee cup for a double shot of espresso in your home Nespresso machine or any other available.
For those of you espresso lovers out there, this is the ideal present because it comes packaged in a gorgeous designed box!
Pros
Dishwasher Safe
Microwave Safely
Beautiful Crystal Design
9. Farnworth & Lloyd Stainless Steel Double Wall Espresso Cups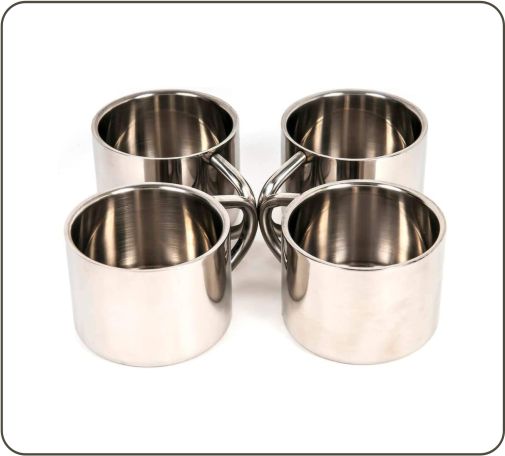 Highlights:
Durable Stainless-Steel Construction
Condensation Free Design
Easy to Clean
Giftable
Product Description:
Farnworth & Lloyd's stainless-steel demitasse set is a more avant-garde option. These cups have handles and are large enough to hold a typical cup of coffee. You may prefer a handle despite manufacturers' assertions that the cup will keep the drink's heat inside.
The set can be purchased with a black, silver, or dark red finish to accommodate your kitchen's color palette.
10. Aozita Italian Espresso Cups & Saucers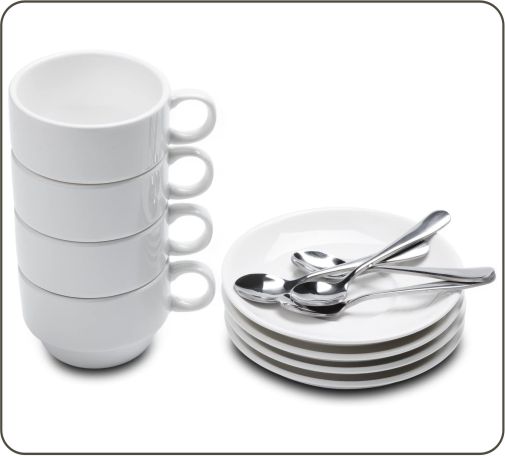 Highlights:
Stackable Espresso Mugs
Premium Material
Dishwasher Safe
Product Description:
The modern and simple look of the Aozita Italian Espresso Cups makes them stand out. Customers like how well they stack and go with Aozita's spoons and saucers. These mugs are also durable, making them a good choice for a busy family or a café.
In addition to being strong, these cups can also be cleaned in the dishwasher, which is another thing that will make life easier.
Most of the time, Aozita sells these along with spoons and saucers. This means you'll be able to match your whole outfit, which will impress your guests.
Customers like these cups a lot, and they think it's brilliant that they can be stacked. The researchers don't rank them higher because, for the most part, they cover the basics without really standing out. But experts think you'll love these cups if you want something simple and durable.
Pros
High Quality
Chip Resistant
Cons
Slightly Less Capacity than other Options
11. Easy Living Goods Espresso Cups & Saucers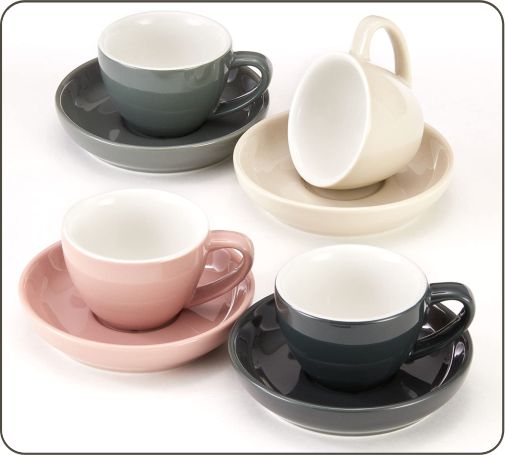 Highlights:
Premium Porcelain
Microwavable
Dishwasher Safe
Product Description:
Think about shrinking down your favorite cup to the size of a cube. The Easy Living Goods 3 Ounce Espresso Cups & Saucers give us that impression. The saucers come in various colors so that you can choose your favorite.
They have a great weight and feel in the hand because they are constructed of porcelain. They are also dishwasher and microwave safe.
These are an excellent choice if you want to step up your hosting game. An exquisite set of Easy Living cups is sure to wow your guests.
Although these aren't the most stylish, experts think they're an excellent option for everyday use and provide a comforting sense of familiarity.
Pros
Convenient to Hold
Durable
Easy to Clean
12. Gibson Espresso Expression Cups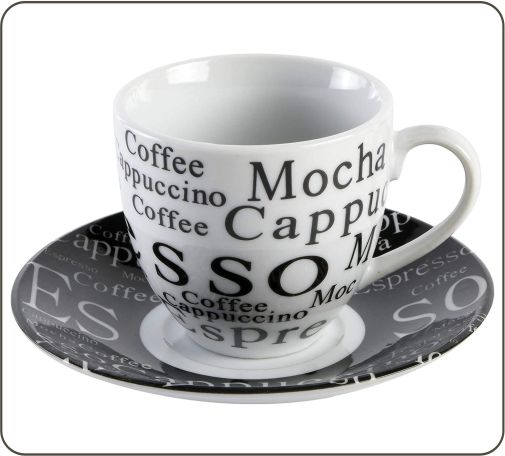 Highlights:
Espresso Saucer Set
Set of 6 Espresso Cups
Dishwasher Safe
Microwave Safe
Product Description:
Gibson's Espresso Expression cups are a terrific choice if you want something stylish and ornamental. This set of stoneware cups features terms like "Espresso," "Mocha," and "Cappuccino" printed on the outside. The cup rack that comes with these decorations is a nice bonus.
These cups are fun, but they're not for everyone, so experts didn't give them a higher score. This could be a superb purchase if you want something quick and easy.
Although these mugs are safe in the microwave and dishwasher, several customers have complained that they have not held up well over time. They must be kept in a safe place to avoid chipping, otherwise.
Pros
Value for Money
Giftable
Stand for Cups Included
13. Zenco Espresso Glass-Cups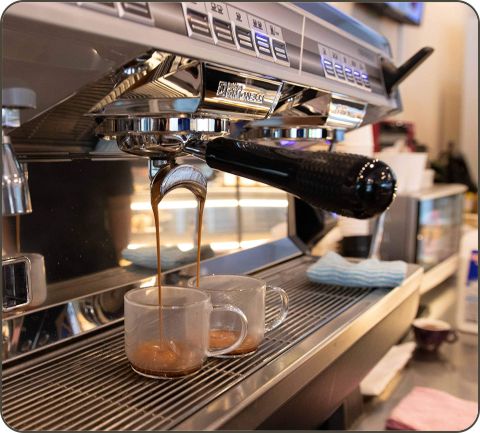 Highlights:
Set of 6 Glass Espresso Cups
Transparent
Lightweight
Elegant Glass Styling
Product Description:
The 4 Ounce Espresso Coffee Glass Cups from Zenco, like the Joy Jolt and De' Longhi alternatives, have a stunning glass aesthetic. On the other hand, these cups are not insulated, so the shots will chill down soon.
If you are an espresso purist, these are a terrific choice because they allow you to drink your shot immediately rather than letting it cool down.
Zenco has made them specifically to hold a lungo drawn from a Nespresso machine, which is convenient. This means that any lengthier shot, or even a triple shot, will have plenty of areas to land in the cup.
An additional perk is a wide handle. The handles on these cups are functional, as opposed to the handles on some other cups, the majority of which are purely cosmetic.
Those who have arthritis or other forms of debilitating joint pain will appreciate this feature most.
Pros
Easy to Hold
Value for Money
Large Handle
Also Read: Best Gifts for Coffee Lovers – Top 35
Buyer's Guide- Finding the Best Espresso Cups
After having the opportunity to investigate our top thirteen choices, you should now give some consideration to the factors that are most important to you personally.
The following is a list of valuable pointers that will be of assistance to you in your search for the ideal espresso cups for your requirements:
Insulation
Some are double-walled, while others are single-walled. Investing in insulation would allow you to enjoy your shot for a more extended amount of time. While steaming your espresso, avoid burning your fingers on a hot cup.
Consider a stoneware or ceramic cup if you dislike double-walled options (such as the Le Creuset). This thicker material will slow heat transfer.
Storage
Even though espresso is best with the company, you may as well buy an entire set of these cups. An excellent place to start planning for mug storage is when you realize you will have a lot of extras.
For convenience, some of the favorites, such as the Gibson cups, can be purchased with a convenient rack. Cups and saucers will be easier to find when you use this method. Additionally, cups with handles can be readily stacked, such as the Joy Jolt Cups.
Size
Choosing a cup size is a decision that should be taken very seriously. To enjoy a lungo, cortado, or any other similar concoction, you'll want to seek a cup with a bit larger capacity. All of these cups can contain two shots comfortably.
Final Verdict
We sincerely hope that you have found these reviews to be informative. After sorting through the dizzying array of possibilities, you should be prepared to find the ideal espresso cup that caters to your specific preferences.
The De' Longhi 2 Ounce Double Walled Thermo Espresso Glasses come in first place as the top choice, and the Le Creuset 3.5 Ounce Petite Espresso Mugs come in second place as the runner-up.
"This article contains affiliate links, which means that Best Coffee Sip will be compensated if you buy something after clicking on one of the links. Read full disclosure statement."