If you like espresso but dislike the work that goes into making it, you may only need an espresso machine that is easy to use. Check out our list if you want a unique or convenient espresso machine. Here are the twelve best super automatic espresso machine. We'll discuss how each one works and why you might want to purchase one.
Learn more about how we arrive at our unbiased product recommendations by reading the research and reviewing what goes into our work. We may receive a small commission by clicking on our links and making a purchase.
Top Picks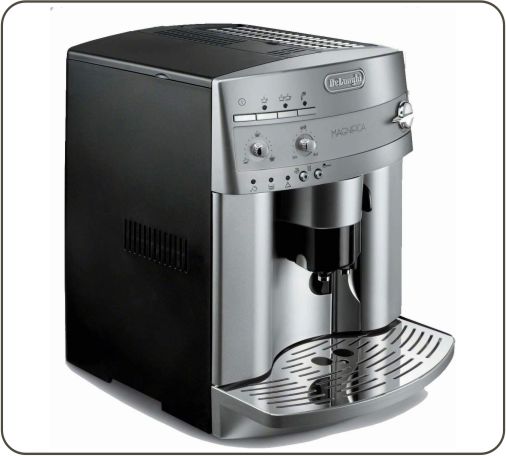 Your coffee is ground to perfection with a burr grinder made of high-quality steel and features 13 different settings.
The Anima espresso machine from Gaggia is one of the company's numerous pieces of equipment and is ideal for coffee drinkers who also like drinks.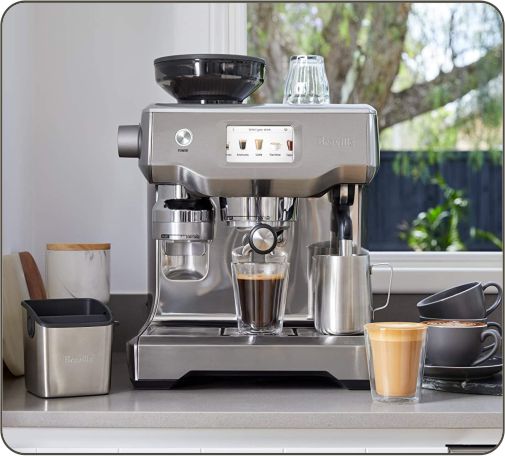 The Breville Oracle Touch is probably a favorite fully automatic espresso maker since it is versatile.
Comparison Table
| Sr. No. | Product | Dimension (inches) | Brewing Capacity | Price Range |
| --- | --- | --- | --- | --- |
| 1. | DeLonghi Magnifica Super Automatic Espresso Machine | 11″D x 15.3″W x 14.4″H | 1.8 Liters | $799.95 |
| 2. | Gaggia Anima Prestige | 8.7″D x 16.93″W x 13.38″H | 3.8 Pounds | $757.98 |
| 3. | Breville Fully Automatic Espresso Machine Oracle Touch | 14.5″D x 14.7″W x 17.6″H | 480 Milliliters | $2,799.95 |
| 4. | Saeco Xelsis Super Automatic Espresso Machine | 14.49″D x 23.43″W x 20.47″H | 1.7 Liters | $1,799.00 |
| 5. | Philips 3200 Series Fully Automatic Espresso Machine | 10″D x 17″W x 15″H | 3.8 Pounds | $799.00 |
| 6. | Espressione 8212S Fully Automatic Espresso Machine | 7″D x 15.6″W x 12.4″H | 1.2 Liters | $469.99 |
| 7. | DeLonghi Digital Super Automatic Espresso Machine | 10.2″D x 18.36″W x 14.16″H | 61 Ounces | $2,199.95 |
| 8. | Jura 15068 IMPRESSA C65 Automatic Coffee Machine | 16.1 x 11 x 13.6 | 64 Ounces | $642.98 |
| 9. | Gaggia Brera | 10″D x 15.5″W x 11.5″H | 40 Fluid Ounces | $447.98 |
| 10. | Jura A1 Super Automatic Coffee Machine | 12.7″D x 20.5″W x 18.6″H | 4 Ounces | $819.95 |
| 11. | Miele CM6350 | 16.75 x 10 x 18.13 | 8 Cups | $2,189.00 |
| 12. | Nuova Simonelli Prontobar Touch | 25″ H x 21" D x 13" W | 1.5 Liters | $14,355.00 |
List of 12 Best Super Automatic Espresso Machines
Product Details
1. DeLonghi Magnifica Super Automatic Espresso Machine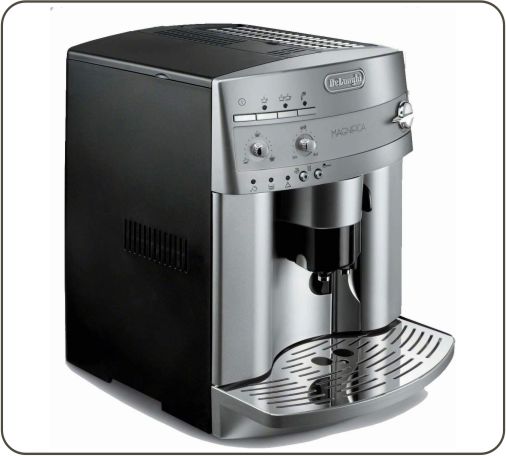 Highlights:
Professional Burr Grinder
13 Adjustable Settings
Consistent Brewing
Easy to Clean
Product Description:
Automatically grinds your coffee using a high-quality steel burr and 13 grinding settings. While you watch, the pressure pump starts brewing the coffee once the grounds have been ground and tamped. Easy to operate, this camera is a must-have for every photographer with a wide range of settings.
As a bonus, you can save your settings for future use. Using only one button, you can achieve the ideal shot of espresso every time. The fact that the brew unit can be easily removed for cleaning means a lot to us.
When it comes down to it, the frother isn't anything spectacular. Some machines have an automatic frother that makes it even easier to do your work. While it would be good to have, this machine does everything else with the best results in the industry.
Pros
Rich and Creamy
Compact and Extractable
Tons of Brew Options
2. Gaggia Anima Prestige
Highlights:
Prestige Automatic Coffee Machine
Super Automatic Frothing
OneTouch Brewing
Temperature Control
LED Display
Product Description:
Gaggia's Anima espresso machine is one of many in the company's lengthy line of equipment, and it's perfect for coffee lovers who also enjoy cocktails. The Anima also includes an automatic frother in addition to a grinder, tamper, and heater.
Many espresso machines have a manual frother. You can froth the milk before or after producing the espresso shot. The Anima doesn't mess about; it froths and adds it to your cup without your participation. It also saves your drink favorites, including temperature and drink kind. Not to mention, the auto-cappuccino technology is simple to use.
Refilling the vast reservoir is easy, so you can drink cup after cup without stopping. The built-in milk carafe can be removed and utilized as a spout for the water to prepare Americanos, which are more like a cup of coffee or hot tea.
Pros
Programmable Brew Settings
OneTouch Frothing
Internal Cleaning
Cons
Poor customer service and repair.
3. Breville Fully Automatic Espresso Machine Oracle Touch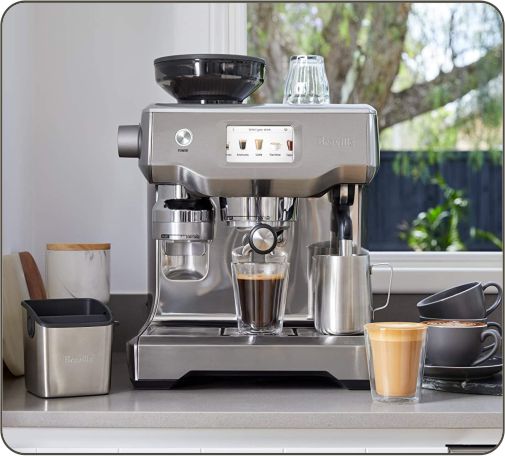 Highlights:
Achieving Optimal Water Pressure
Dose Control Grinding
Touch Screen
High-Quality Espresso Extraction
Texturing of Microfoam Milk Automatically
Product Description:
The completely automatic espresso machine that can do marvels, the Breville Oracle Touch, is a personal favorite. Although this is a high-end machine with a hefty price tag, it performs admirably compared to other super automated espresso machines.
Selecting your beverage choice is accessible using the phone's touchscreen as a control panel. It's done! Grind the beans, obtain the appropriate amount, tamp them, and even pre-brew them to let the coffee bloom! You'll get the perfect espresso shot due to the machine's precise temperature and pressure control.
In addition to the usual espresso, cappuccino, latte, and Americano, the Breville Oracle Touch can also brew additional beverages. If you're a coffee artist, you can let your creative side run wild with the high-quality steam wand.
With this Breville espresso machine, you'll be able to create the perfect cup of coffee every time.
Pros
Durable Construction
Customization Options
Easy to Clean
4. Saeco Xelsis Super Automatic Espresso Machine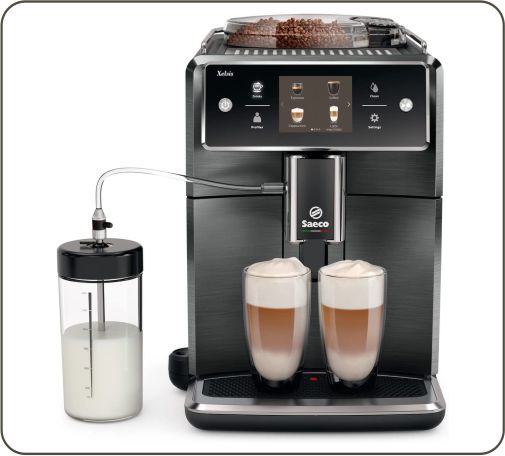 Highlights:
Premier Programming
Touchscreen Control System
Steam System
Double Thermo Blocks
Refined Ergonomics
Product Description:
Thanks to the Saeco Xelsis SM7684, your friends will want to drop everything on Sundays to come over for brunch instead. You can brew two lattes at once with Xelsis's Latte Duo feature. You can brew 15 various espresso and coffee beverages if you have a group of picky drinkers.
Using this device, you can adjust the precise temperature of every drink in your recipe book. The Xelsis combines the best of Seaco's design options, including a front-access water tank and adjustable spouts.
Pros
Ceramic Burr Grinder
12 Different Grind Settings
OneTouch Technology
5. Philips 3200 Series Fully Automatic Espresso Machine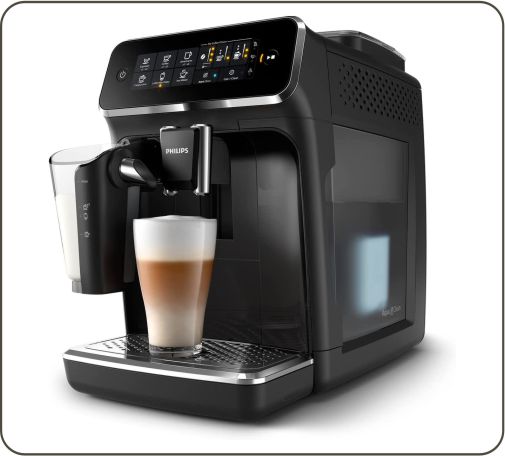 Highlights:
Programmable Espresso Machine
Intuitive Touch Display
12-Step Grind Adjustments
Product Description:
You can't go wrong with the Philips 3200 when shopping for a home espresso machine. With its sophisticated control panel and two-drink capacity, you may mistake it for the Saeco Xelsis at first glance.
This Philips maker is a favorite among coffee lovers since it comes equipped with a milk frother that uses steam to create a frothy beverage.
Once the milk is added to the two-part frother, steam it until it reaches the desired level of foaminess. There is an automatic milk-based menu in the new LatteGo system in the Philips 3200 series; however, if you want a hands-off milk system.
To ensure that your cup of joe is perfectly brewed, Philips' Aroma Extract technology ensures that the water temperature is maintained between 90 and 98°C.
Pros
Durable Ceramic Grinders
Preserves Coffee Bean Flavor
Affordable
6. Espressione 8212S Fully Automatic Espresso Machine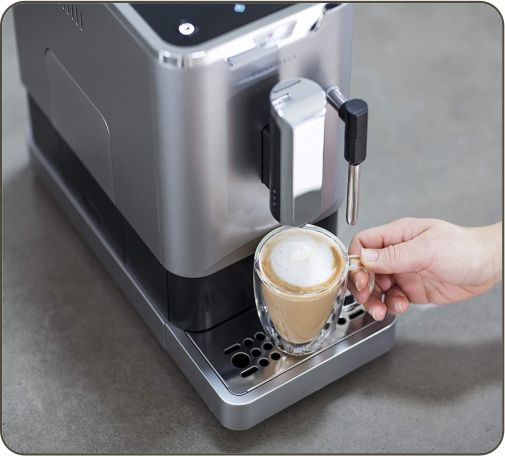 Highlights:
Elegant LED Panel
ThermoBlock Heater
Stainless-Steel Coffee Grinder
Programmable Automatic Shut OFF
Product Description:
In a variety of ways, this machine's architecture is intriguing. At this pricing point, stainless steel burr grinders are rare. Because of its small size can be used in places where a standard super-automatic machine cannot. Last but not least, there aren't any pre-selected beverage selections.
Espresso shots can be made using this device. It's up to you how you want to use the espresso it produces. According to the company's assessment of this machine, they consider it less super-automatic than a standard machine.
Pros
Cheap
Easy to Carry Thin Design
Cons
Requires Frequent Cleaning
7. De'Longhi Digital Super Automatic Espresso Machine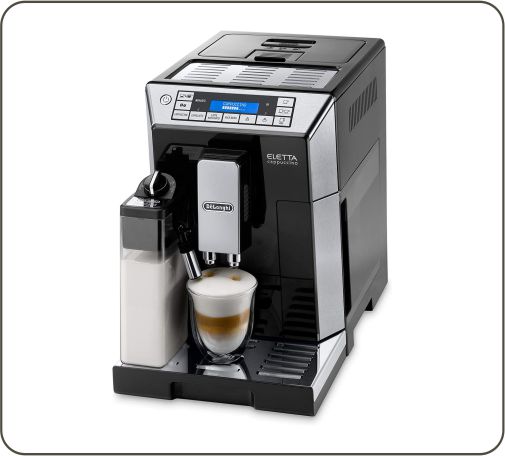 Highlights:
Silent Conical Burr Grinder
Whole Bean Storage
Customizable Settings
Product Description:
With over $800, the De'Longhi Digital Super Automatic Espresso Machine may be just the ticket for those looking for more from their Super Automatic espresso machine.
There are 13 settings in this digital machine's silent burr grinder, so you don't need to worry about waking up to jarring grinds in the morning. Espresso and milk tanks have independent heating components, so each gets the care they deserve.
The three single-touch milk drink buttons, which deliver the optimum amount of dairy and foam, complement this incredibly customizable feature. Latte Crema System by De'Longhi boasts deep, long-lasting foam for your morning cup of joe.
Pros
Push Button Control
Self-Cleaning
Noise Free
Cons
Need to Learn How to use this machine
Also Read: How to Use an Espresso Machine 8 Easy Steps
8. Jura 15068 IMPRESSA C65 Automatic Coffee Machine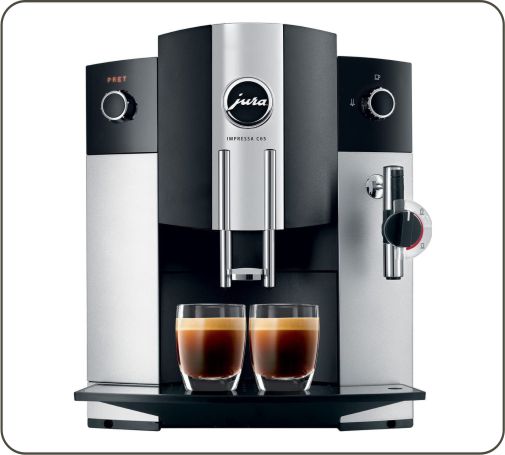 Highlights:
Easy to use
Height-adjustable Coffee Spout
Fine Foam Frother
High-Quality Materials
Product Description:
The Jura Impressa C65 does everything to impress (forgive the pun). The machine's design is unique, focusing on clean, angular lines. Even the frother appears to be a piece of scrap metal—no doubt about that.
The "smart rotary switch" on the Jura allows you to select your preferred beverage. The term "knob" is used by those who aren't in marketing. You can choose your drink of choice by twisting this rotary switch.
When looking at this photo, look to the top left corner if you can't determine where the screen and knob are. If you don't see it in person, you won't be able to tell it's an LED display.
The spout's height can be adjusted. Depending on your preference, you can put your latte or Americano in either a small espresso or a larger cup. The Jura super-automatic is a solid and well-built machine that costs less than $1,000.
Pros
Excellent Modern Design
Keeps Temperature Consistent
Quick Servicing and Cleaning
Cons
A Restricted Range of Pre-programmed Drinks
9. Gaggia Brera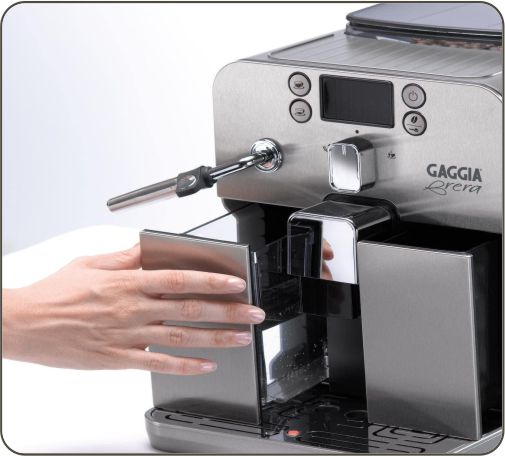 Highlights:
Espresso Maker with Auto-off
High-Speed Steaming
Pannarello Wand Frothing
1-Year Warranty
Product Description:
If you want to start a career as a barista, the Brera will make your home feel like a cafe. The stainless steel Panarello's adjustable knob allows you to switch from preparing hot water for tea to steaming froth while brewing espresso.
At the heart of the Brera is the creation of customized coffee. Opti aroma technology may choose between three levels of intensity and richness for your espresso based on how much coffee is delivered to your cup.
Pros
Customizable
Adjustable Ceramic Grinders
Compact Machine
10. Jura A1 Super Automatic Coffee Machine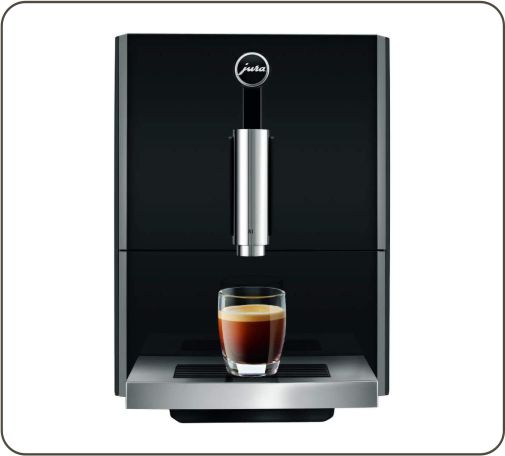 Highlights:
OneTouch Operation
Conical Burr Grinder
Product Description:
The Jura A1 cannot be beaten in terms of flavor and texture. Using a specialized Pulse Extraction Process, you can manufacture barista-quality ristrettos and espresso shots at home. The burr grinder's angled blades reduce grinding time by half while preserving all the flavor and aroma of the coffee beans you use.
Individual cups of high-quality coffee can be made quickly and easily with the Jura A1 single-cup machine. There are a few programmable features, but they're not numerous. You may choose between two different coffee strengths and three different cup sizes on the one-touch screen.
Pros
Portable Size
Multi-Level Burr Grinder
11. Miele CM6350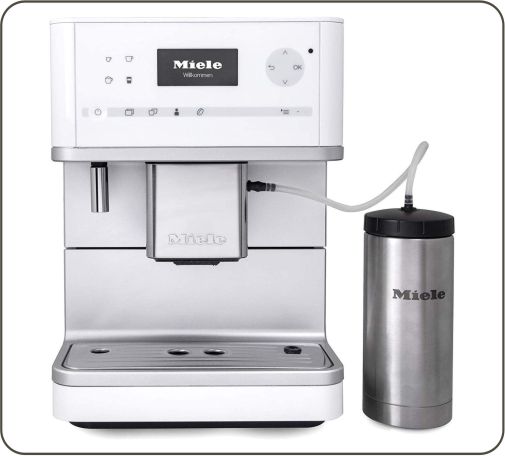 Highlights:
Countertop Coffee Machine
One Touch Operation
Built-in Cup Warmer
Product Description:
This machine is among the most programmable ones we have ever encountered. The pre-infusion time, coffee dose, drink duration, and milk and water temperatures are just some of the many variables that can be adjusted for each pre-programmed beverage.
Using one of the 10 accessible user profiles makes this convenient. This allows you to customize your espresso just how you want it, rather than constantly changing the settings because another family member has different tastes.
It can make espresso that is as hot and delicious as espresso from a coffee shop. To achieve this, Miele has incorporated its AromaticSystem, which causes the brew chamber to expand once hot water starts to flow in.
This allows for an entire blending of water and coffee. This could be why the brewing procedure took a little longer than usual, but a few more seconds are worth it for high-quality coffee.
The automatic milk frothing system employs a milk carafe, is rapid and efficient, and provides excellent uniformity. The milk's temperature, though, cannot be altered and might not be as scalding for some.
The frothing system's ability to self-clean is one of its most vital features. When the drop tray is connected to the tube, the machine will push boiling water to remove the milk altogether.
Pros
High Programmability
Delicious Espresso
12. Nuova Simonelli Prontobar Touch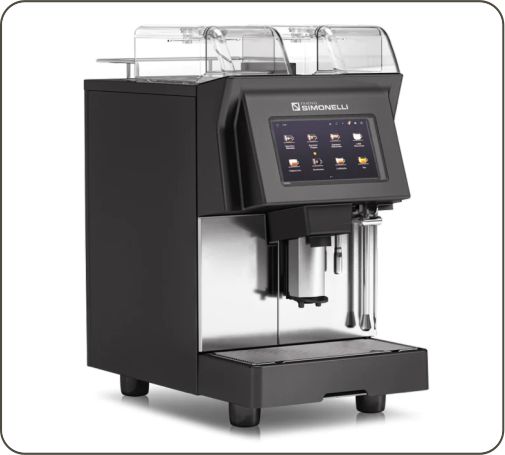 Highlights:
Super Automatic Machine
Touch Screen Operation
2 Years Warranty
Product Description:
There are several espresso machines with high-tech touchscreens than Franke super automated espresso machines. This Nuova Simonelli Prontobar Touch is evidence of Nuova Simonelli's capacity to stay current.
Users will use the machine's magnificent full-color touchscreen panel to operate it, just as the Franke super automated machines on this list. Selecting an icon from a digital menu is all it takes to prepare a drink.
Even though it's an ultra-automatic system, you'll have full authority over the brewing parameters. The screen also allows you to change the settings for the group head, brewing and steaming, selecting drinks, and adjusting espresso extraction.
Control over these parameters is essential for creating the ideal espresso, as any expert barista will tell you.
Also Read: 11 Best Espresso Machine under $1000
Buyer's Guide- Best Super Automatic Espresso Machine
Super-automatic espresso machines have many factors to consider before purchase. Make sure you know what you're getting before buying an espresso machine that costs a lot of money. We'll discuss the most critical factors when choosing a super-automatic espresso machine.
What's Your Expenditure??
Your budget is the most crucial determinant of the type of machine you can purchase. Even if you have a lot of money, you may not be able to get the features and quality you want. Having a budget before looking for a new machine will help you eliminate too expensive machines for your needs.
What Specific Functions Do You Desire?
Consider which elements are necessary and which ones are only good when putting together your budget. Super-automatic espresso makers include many features, some of which may not interest you. You don't want to waste money on parts that will be used only once or twice a year.
What's the Deal with Grinders?
The grinder is the most crucial factor. An excellent grinder that consistently yields acceptable grounds for great espresso may make or break a shot.
Steel conical burrs Stainless steel burrs will outlast practically every other component of your machine and will never need replacing.
Conical burrs are the industry standard for uniformity, so be sure any device you look at has them. Ceramic burrs are acceptable replacements, but you may need to replace them if you want to use your machine for years.
Longevity Suggestions
Because super-automatic devices are expensive, proper maintenance is required. Well-maintained equipment can endure many years. Most machines feature a light that comes on when descaling is needed.
Some machines don't have a descaling light and propose it after a specific time interval. Look for a device with a light. Without an automatic light, it's easy to forget to descale your machine, reducing its longevity.
Aside from descaling, you should clean your machine once a month. Cleaning a device with a removable brew unit is significantly easier. Research if you must buy a machine without a removable brew unit.
Brew units need to be rinsed often and require periodic maintenance. Lubricating non-removable brew units is far more complex than removable lubricating ones.
Remember Customer Service
The reliability of a company's customer service is sometimes overlooked. Even the most excellent quality and costly super-automatic espresso machines will occasionally malfunction.
When your machine isn't working correctly, you must know that reliable customer care is available. Call a company's customer service hotline before buying a machine. Long wait periods or unfriendly staff are huge red flags.
Ask customer service about the availability and cost of replacement parts. Some manufacturers provide lifetime warranties with free replacement parts. Knowing you have options in case of an issue helps reduce buyers' regret.
Best Super Automatic Espresso Machines- FAQs
What are super automated coffee makers?
You may activate the espresso of your choice by pressing a few buttons, and the machine will automatically grind, extract the coffee, froth the milk, and clean itself. In contrast to a manual espresso maker, these don't require much experience.
This category contains various variations. For instance, some need you to move your cup to the water or milk frother, while others, like the Oracle Touch, use a portafilter and cross between semi-automatic and utterly automatic espresso machines.
Which coffee blends are suitable for an espresso machine?
Espresso machines can be used with any type of coffee. To improve the flavor of your espresso, use beans that are medium or dark in color. It is generally agreed that an Italian or Mocha roast provides the most robust flavor and intensity. To avoid clogging and other issues, DO NOT use oily beans in a machine.
Can You Get an Automatic Espresso at Starbucks?
The Mastrena, "the best" fully automatic espresso maker, is reportedly used by Starbucks. The Swiss business Thermoplan AG created the espresso machine for serious coffee drinkers.
It has a digital menu, a milk carafe, multiple burr grinders, and individual drink settings so that they may quickly and easily make coffee beverages of varying intensities for a large number of customers.
Having to rush to meet production targets means that quality takes a back seat to quantity while serving coffee.
You can produce some of the best coffee drinks if you buy a high-quality burr grinder and use above-average coffee beans.
In what ways is an espresso machine best cared for?
Cleaning and descaling an espresso machine regularly is routine maintenance. If you use your device every day, at least once a week is a minimum time you should spend cleaning it. A weekly backflush with water is all that is required for the necessary cleaning.
However, a complete backflush is required every 200 shots to ensure the machine's continued smooth operation. When that happens, it's time to break out the cleaning powder or tablets.
Do all automatic espresso machines accept pre-ground and whole bean coffee?
A super automated espresso machine is built for convenience while making espresso-based beverages. Some of the most advanced coffee makers accept pre-ground beans.
These units have a dedicated hopper or dosing chamber for use with ground coffee. Although convenient, this feature is optional on most super automated espresso machines, which can only use whole beans due to their higher quality.
Conclusion
Hopefully, these reviews have been helpful to you! Purchasing a super-automatic espresso machine is a decision that should not be taken lightly. We hope that our suggestions and buyer's guide will assist you in locating the ideal super-automatic for your needs.
The De'Longhi Magnifica Super-Automatic Espresso Machine comes highly recommended by us. It's an excellent entry point into super-automatics since it strikes the perfect price-to-feature ratio.
As an alternative, the Gaggia Brera is an excellent low-cost option. This machine produces superb espresso even if it isn't as handy as the De'Longhi. As a result, the Breville Fully Automatic Espresso Machine is the best in-home espresso experience money can buy, with a one-button operation.