A French press is one of the most popular ways to brew coffee because of its simple elegance. A French press is all you need to make a rich cup of coffee. But there are so many great categories of coffee out there. Which one will work best?
We've chosen the best coffee from beans to pre-ground for a French press.
Each brand has a comprehensive review that looks at price, flavor, quality, deliciousness, and more so that you can be sure you're making the right choice. A pot of French press is ready for you.
List of 11 Best Coffee for French Press
Product Details
1. Verena Street Swiss Water Process Coffee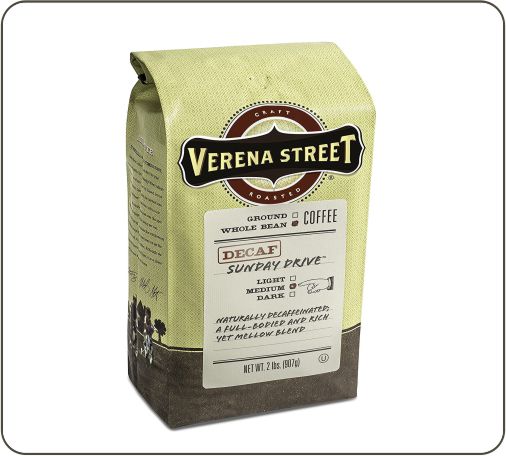 Highlights
Swiss Water Process Decaf Beans
Decaffeinated Medium Roasted
2 Pound Whole Bean Coffee
Rainforest Alliance Certified Arabica Coffee
Product Description
The Swiss Water Method of Verena Street, an Iowan family-run business, brings us Sunday Drive. The company's name pays homage to the street where the founders grew up and are sentimental.
Organically grown Rainforest Alliance-certified coffee beans are used in the Swiss Water Process decaffeination method.
Roasting these beans at a medium level removes the bitterness from the flavor profile. If you've got a sensitive stomach, this may not be your best solution.
This decaf is milder than a medium roast, yet it still provides a mellow sense of well-being.
Pros
Smooth Profile
Delicious Aroma
Naturally Decaffeinated
2. Death Wish Coffee- Best High Caffeine Roast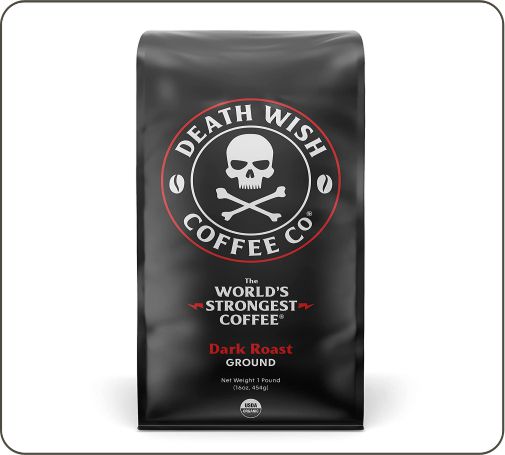 Highlights
The World's Strongest Coffee
Bold Flavor
Organic Fair Trade
Substantial Coffee Grounds from Arabica
USDA Certified Organic Coffee
Product Description
Death Wish' French Press coffee beans are a must-have if you need a powerful caffeine boost. With a name like this, you can expect a robust energy boost from its blend of solid roasts.
When it comes to a beverage or coffee roast that will keep you going all day, this is a great choice. One cup of Death Wish's coffee to get through the day. Every fluid ounce of coffee has 60mg of caffeine, twice as much as comparable brands.
French press it in your glass carafe for a few minutes before sipping to guarantee you get the most out of its fruity yet rich body. There are no artificial ingredients, and the quality and freshness of the product are always consistent.
Pros
Freshly Packed
Simple and Supreme Gourmet Coffee
Unique Flavor Profiles
Cons
Dark and Bitter for some Consumers
3. Koffee Kult Dark Roast Coffee Beans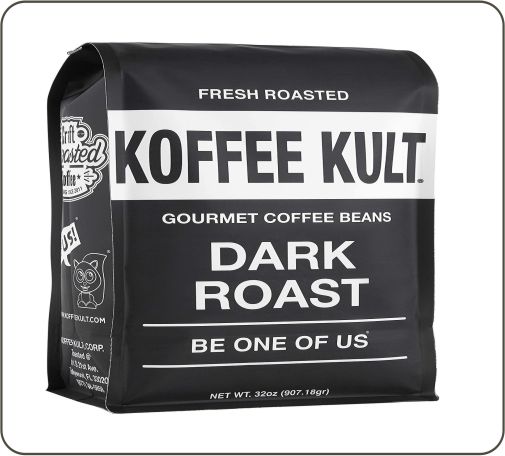 Highlights
Dark Roasted
Whole Bean Coffee
Gourmet Aromatic Artisan Blend
Product Description
Coffee lovers will appreciate this Koffee Kult product, made with just roasted dark beans and exquisite flavorings. There is no oil on the beans of fresh coffee beans.
The good thing is that most of us have previously encountered the problem of keeping coffee and discovering old oil with the beans, so this is terrific news.
Colombian coffee beans blend Colombian, Sumatran, and Guatemalan varietals. It's made with only the finest arabica beans so you can taste the difference immediately.
Coffee beans rarely have a smoothness that surpasses their robustness.
The coffee-to-water ratios of 1:6 make this a cinch to make. It would be best to use a French press to make a delicious cup of coffee by putting one tablespoon of coffee in 6 ounces of water.
This is an excellent choice for those who want their coffee dark and sweet.
Even when they're whole, ground, or brewed, beans have an incredible aroma. On top of that, the enticing and robust perfume ensures you will get out of bed in the morning.
Pros
Precisely Roasted
High-Quality
Low-Acidity
4. Stone Street Cold Brew Coffee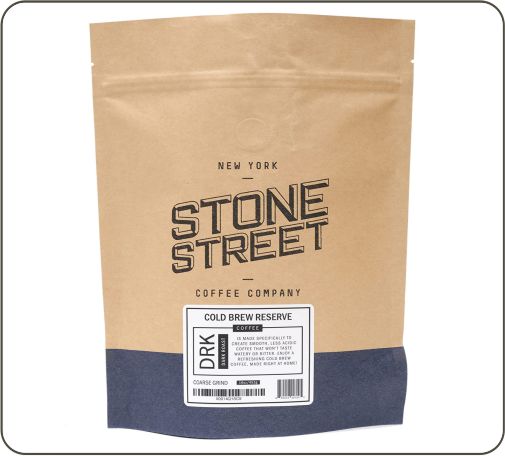 Highlights
Strong and Smooth Blend
Low Acidity
100% Arabica
Dark Roast Gourmet Coffee
Colombia Single Origin
Product Description
Stone street coffee is one of the best cold brew items you can get at a reasonable price. It comes with a generous supply of rich, dark-roasted coffee beans so that you can have a satisfying cup of joe any time of day.
The three-layer packaging keeps the freshness alive without affecting the taste or preserving it to ensure you get the best possible flavor.
For cold brew, there are numerous options, but Stone Street is one of the few that works well.
The beans' origin, size, and roast can all contribute to a unique flavor you'll crave in your daily life.
Colombian-grown Arabica beans are used in this product. You'll also appreciate the gradual extraction in the coarse grounds.
One tablespoon for every four fluid ounces of water is commonly used for specialty coffee to achieve an ideal cup. It will be well-balanced, smooth, and intensely caffeinated at this coffee-to-water ratio.
Pros
Well Balanced
Smooth and Delicious
Good Quality with Safe Packaging
5. Peet's Coffee Major Dickason's Blend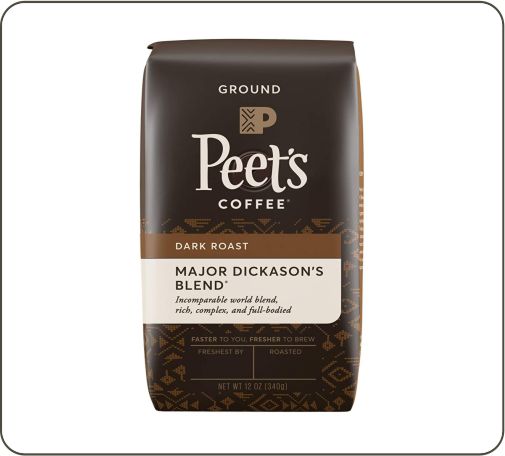 Highlights
Whole Bean Coffee
Rich and Complex Profile
Available in 3 Roasting Mediums
Product Description
Peet's Coffee Major Dickason's Blend has been the brand's defining coffee for half a century. It's a dark roast with a devoted following thanks to its fresh, sweet scent.
This blend offers a full-bodied flavor and a kick to match dark roast coffee enthusiasts who believe that "the stronger, the better" is the rule.
This pick isn't for the faint of heart when it comes to flavor. There is no doubt that this potent concoction may help you get up and going in the morning or lift your spirits during the workday.
Even after adding flavor enhancers, the rich, black flavor of this coffee remains unchanged as a true coffee lover's cup of joe.
Pros
Affordable
Distinguished Aroma
Full-Bodied Flavor
6. Best Organic Roast- Lifeboost Coffee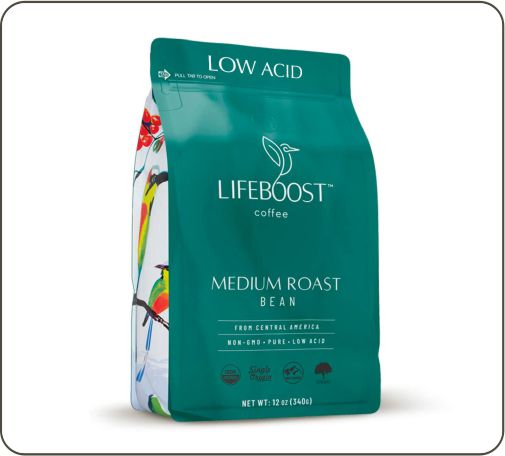 Highlights
Medium Roasted Coffee
Non-GMO Whole Beans Coffee
Certified Organic Coffee Beans
Single Origin USDA Organic Coffee
Third-Party Tested for Mycotoxins and Pesticides
Product Description
Keep a lookout for Lifeboost, a futuristic coffee firm. Non-blended, single-origin coffee beans from this company rank among the finest available.
As far as organic ratings go, Lifeboost has a lock on the market's top spot.
The medium roast from Lifeboost has a rich, smooth, well-balanced flavor with low acidity.
The inclusion of almonds, strawberries, and a rich chocolate aftertaste enhances the smoothness and sweetness of each French press cup.
This Medium Roast Coffee has low acidic levels, indicating that it is the ideal coffee bean to alleviate digestive and stomach-centric difficulties, teeth decay, and other problems stemming from excessive levels of acid in most coffees.
An excellent example of a more well-being coffee blend can be found in the form of Lifeboost.
Pros
Well-balanced Flavors
Low-Acidity
Premium Quality
Cons
Not for those who prefer Dark Roast
7. Lavazza Crema E Gusto Ground Coffee Blend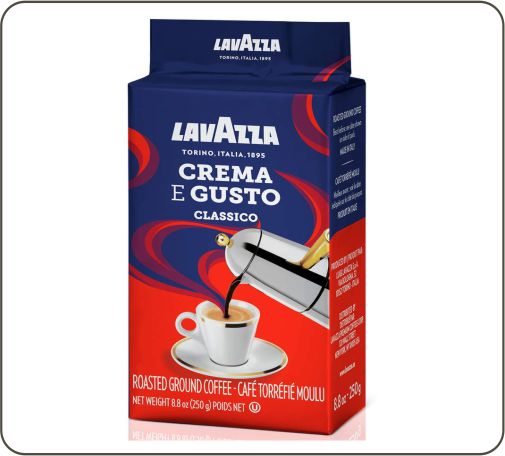 Highlights
Espresso Dark Roast
Full-Bodied Dark Roast
Non-GMO Value Pack
Blended and Roasted in Italy
Authentic Italian
Product Description
In total, there are four 8.8 oz bags in this bundle. This is one of the creamiest and longest-lasting when it comes to natural Italian textures. If you have one of them in the morning or even right before bed, you'll be in heaven.
The creaminess and richness of the texture are enough to make this dessert a pleasure to eat.
For coffee connoisseurs, the aftertaste is also somewhat enjoyable. Pure cocoa chocolate notes are detectable. Genuine Italian manufacture is also included in the Non-GMO product.
As a result, these beans have been roasted with care and keeping in mind to ensure that each one tastes like magic. These can be served with a cup of espresso. Try them out if you're using a coffee maker.
Pros
Rich and Nice Texture
Pure Italian Smooth Blend
Creamy Tastes
Cons
It has a bit of a tart flavor.
8. Royal Kona Hawaiian Kona Coffee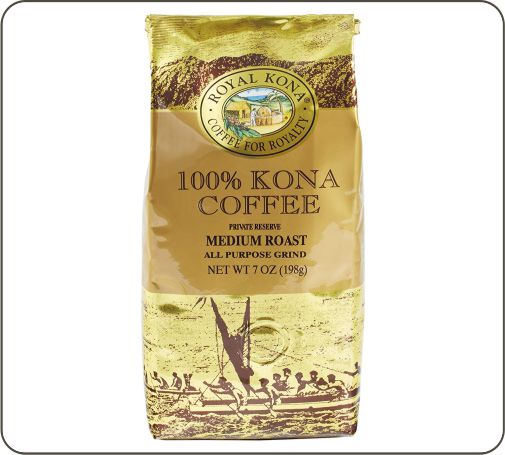 Highlights
Hawaiian Coffee
Medium Roasted Coffee
100% Kona Blend
Product Description
Authentic Kona coffee, which can only be found in Hawaii, is a delectable experience. Kona coffee is a favorite among coffee connoisseurs, but finding the right mix for home brewing may be a challenge.
They've been selling and roasting 100% and 10% Kona mix coffee for years, and they'll give you a taste of Hawaiian coffee that you won't be able to get anywhere else.
Mild and non-acidic, this coffee comes straight from the islands of Hawaii. An earthy, nutty aftertaste follows intense aromas of citrus and red berries. You'll never want to eat anything else again after trying this.
Pros
Smooth and Mild
Acid-Free Taste
Not Bitter
9. Bulletproof Coffee French Kick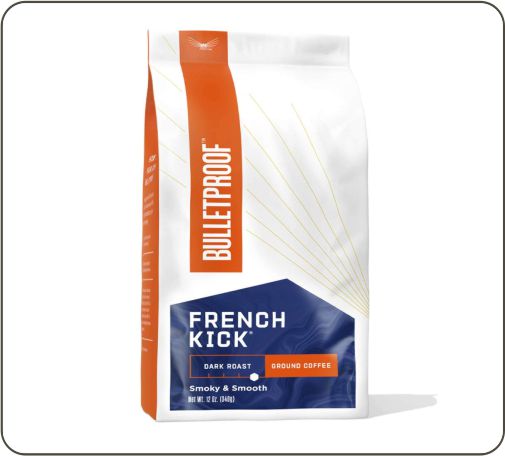 Highlights
Dark Roast Ground Coffee
Bulletproof Keto Friendly
100% Arabica Coffee
Certified Clean Coffee
Sustainable Standards
Product Description
A great combination that doesn't contain any caffeine might be just what you're looking for. If you're a fan of French coffee, Bulletproof is the place to go. Without caffeine, it has all of the authentic flavors you'd expect.
Decaffeination and the non-solvent technique work together to give the beans a clean taste. A Swiss water technique must be used for its production.
It has a generous 12 ounces, although that may not be enough for everyone. However, the price and quality of organic beans for a French press coffee remain excellent options.
The flavor is just as lovely as a cup of joe, and the texture is unexpectedly pleasant. For the most part, consumers will enjoy its robustness and well-balanced flavor profile, which is uncommon among actual coffee grounds.
Pros
Non-Caffeine Ingredients
No Bitter Taste
High-Quality Beans
10. Ethiopian Yirgacheffe Coffee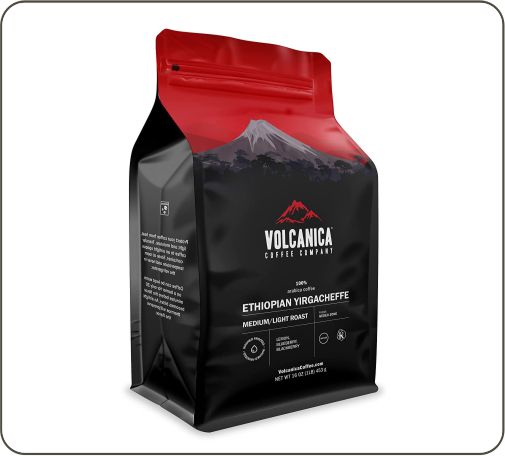 Highlights
Fresh Roasted Whole Bean Coffee
100% Arabica Coffee
Fair-Trade Certified
Kosher Certified
Product Description
These coffee beans will leave you with a lasting impression because of their fruity and floral aromas. These come from Yirgacheffe, Ethiopia, where wild coffee trees are produced.
Yirgacheffe coffee has a pH of 5.1, making it exceptionally acidic. If you're a fan of coffee's acidity, this is the recipe for you. Compared to your typical dark-roasted French press coffee, this one has a more wine-like flavor with a medium roast.
Pros
Mild-Fruity Tones
Winy Tones
Organic
11. Kicking Horse Coffee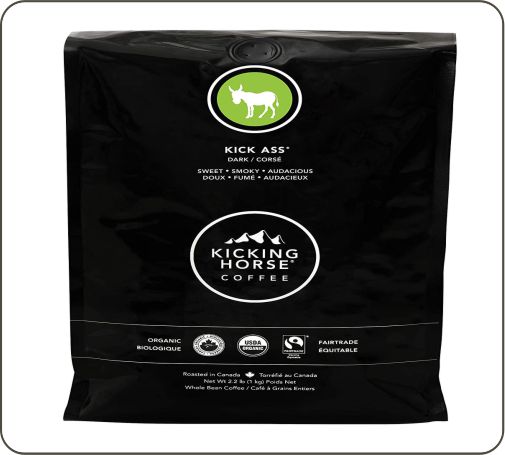 Highlights
Whole Bean Coffee
Certified Organic
Fairtrade Kosher Coffee
Product Description
Thanks to its delicious aroma of smokey vanilla and dark chocolate, this coffee will have your neighbors begging for a cup.
The right blend of beans, sourced from Indonesia and South America, gives this coffee a licorice-like flavor with powerful, earthy overtones.
Your French press will thank you if you use 100% Arabica beans. These tastes and roasts come from diverse regions, and they all have distinct tastes. You can always try a new roast if you don't like the flavor of the first one.
Pros
Eco-friendly
Sweet and Smoky
Low-Acidity
Buyer's Guide: Finding the Best Coffee for French Press
If this is your first time using a French press, you might be tempted to use pre-ground coffee. You can use pre-ground coffee because you're still working on your technique and need to get it just perfect.
Ideally, you'll want to grind your beans at some point to get the most out of your coffee. The grind, beans, and technique all have a role in the success or failure of a French press.
Grind
The ground level may be the most crucial component in crafting a perfect cup of a French press. The beans must be coarsely ground for this process to work.
Coarsely ground coffee can block the plunger and clog the device. The grinds are too fine if you can't press the piston down. This will result in you eating your coffee with a spoon or having a gritty residue in your cup.
The beans are too coarsely ground if the plunger is too easy to push, leaving you with bland coffee.
Finding the correct balance is a challenge. It's like learning to drive a manual shift car: you have to practice on your own for a few moments to find the balance and nuance of the approach.
To achieve the most incredible flavor from the French press, you should grind your beans.
Also Read: 12 Best Coffee Grinder for French Press 2022 Reviews
Beans
Of course, you want to pick a favorite coffee bean. Pre-ground coffee is an alternative if you want it. Choose a medium pre-ground coffee like those listed above.
It's your cup of coffee, so get whatever beans you choose. If you don't like the flavor of pre-ground coffee, purchase a coffee grinder and experiment!
Choosing The Best Roast for your French Press
The most delicate roast for your French press is a question of personal taste, aside from the obvious considerations of quality. The first step in making a heartfelt cup of steaming hot French pressed coffee is to know the grind and roast type of coffee you prefer.
Roasting time and temperature are two essential aspects in determining the flavor of a product.
As a result, light roasts are better for individuals who prefer milder brews, while dark roasts are better for bolder, more intense flavors. It's a matter of personal preference.
Light Roast
Coffee beans that have been lightly roasted have a low oil content and a pale tint. Acidity is at its peak in these, allowing the fruit's distinct flavors to shine through. A French press isn't the best way to brew a cup of coffee with a light roast because the flavor is too mild and easy on the palate.
Also Read: 13 Best Light Roast Coffee of 2022 (Reviews and Guide)
Medium Roast
When it comes to French press coffee, mild or medium roasts are ideal. Overall, they have a well-rounded and balanced flavor profile with a darker brown color and an oily surface.
Medium roasting preserves the beans' inherent flavor while bringing their sweet caramel undertones.
Also Read: 16 Best Medium Roast Coffee Beans in 2022 Review
Medium-Dark Roast
For French press coffee, medium-dark roasts are the best bet since they allow you to experience all the chocolate and flowery overtones in every sip.
They roast to a darker color and have an oilier surface, but their acidity is significantly lower than medium-roasted beans. They do, however, have the most taste and the most robust body when compared.
Dark Roast
Dark roasted coffee is the most acceptable option for people who love their coffee to be exceptionally robust.
Despite their dark brown color and low acidity, these beans succeed in capturing the darker, more prosperous, and deeper tastes of coffee with notable overtones of nutmeg, chocolate, and caramel in their blend.
If you're going to use French press coffee, you'll probably want to go with a different roast.
Also Read: 13 Best Dark Roast Coffee Brands of 2022
Conclusion
The flavor of French press coffee can be rich, smooth, and deeply delicious if you utilize high-quality coffee beans in the process. What characteristics distinguish a high-quality French press coffee?
There are numerous options, flavors, roasts, and regions. The coffee selection is a personal preference that coffee connoisseurs take seriously, and we're here to assist you.
Grab a French press and a beautiful bag of beans you've wanted to try, and work experimenting with them. Have a good time, and keep brewing!