Some people like light roasts, while others prefer dark. Someone might like pour-over, while someone else might use a French press. If coffee geeks can argue about something, they will.
We've put together the best gift for coffee lovers to improve their mornings no matter how they like their coffee. Our best gift ideas for coffee lovers include unique coffees, popular brewing equipment, and gift sets.
These are the best gifts for coffee lovers on birthdays, holidays, or any other day.
The 50 Best Gifts for Coffee Lovers
There exists a perfect coffee machine, gadget, or tool that will delight any palate, whether you favor dark and roasted coffee, rich and creamy coffee, or fragrant and herbal coffee.
So, if you know someone passionate about coffee, consider getting them a present that keeps giving, such as a coffee subscription box, a reliable milk frother, or a professional-grade espresso machine.
We've compiled a list of tools, accessories, and more to make things easier. The selections range from tried-and-true classics to more creative suggestions.
Coffee and Espresso Makers
1. Chemex Six Cup Classic Coffee Maker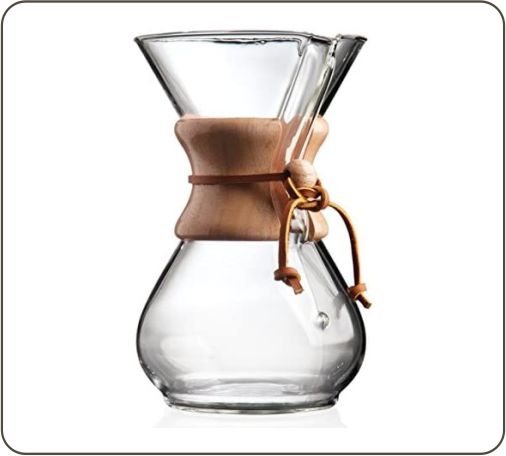 The Chemex is the gold standard of pour-over brewing equipment and is a thoughtful and stylish present. This simple carafe-style coffee maker from 1941 impressed our taste testers with its clean, flavorful coffee.
Additionally, the Chemex has a six-cup capacity.
2. Cafflano Klassic Original Pour-Over Coffee Maker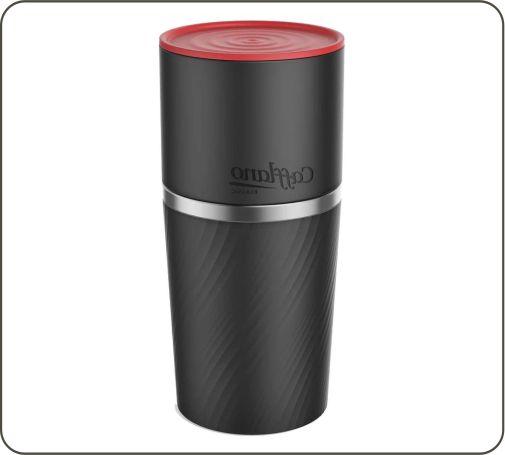 The Cafflano Klassic has a ceramic coffee grinder, a pot, a stainless filter dripper, an insulated bottle, a lid, and everything else you need to keep coffee warm.
People who reviewed the Klassic on Amazon liked that it is easy to use, lightweight, and carried anywhere.
3. Delonghi Nespresso Essenza Mini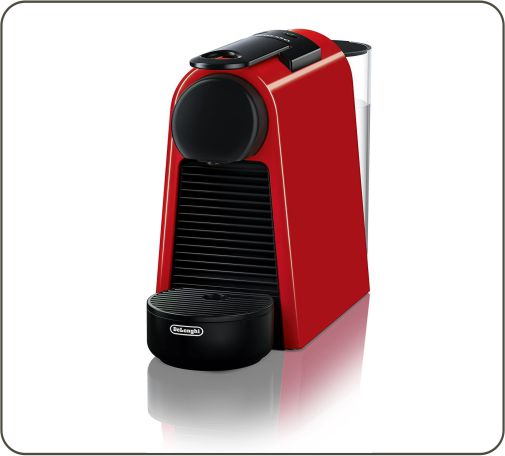 In the 1990s, a natural coffee flex had your own bulky, generator-sized espresso machine. The same person might want a Nespresso Essenza Mini these days.
The simplicity has us smitten with the pint-sized Nespresso machine, which produced drinks of the same caliber as those costing $400 or more.
Simple steps include inserting a capsule, choosing between espresso and lungo, and filling the reservoir with water. A rich crema will be on top of a perfect espresso in a few seconds.
Plus, the Essenza Mini is backed by Nespresso's technical support team for the duration of your ownership, not just the warranty period.
4. Espro P3 French Press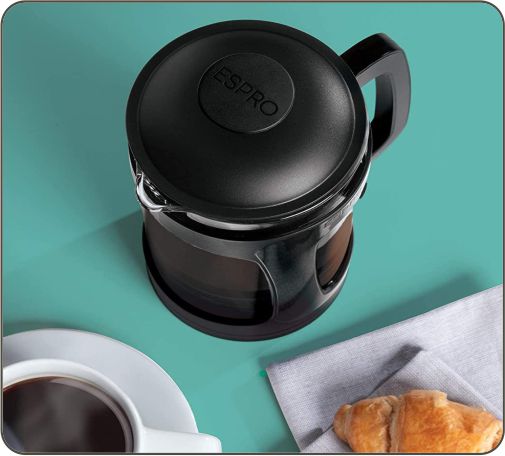 A French press is a great way to make coffee if you don't have a lot of counter space and want a rich, smooth cup of coffee quickly.
Over the years, we've used more than 75 different coffee pots while evaluating 15 different presses, and we've found that the Espro P3 is the best.
With its thick beaker glass, it not only produces delicious coffee but also helps keep it hotter for longer. The Espro is easy to clean because it can go in the dishwasher.
5. OXO Good Grips Cold Brew Coffee Maker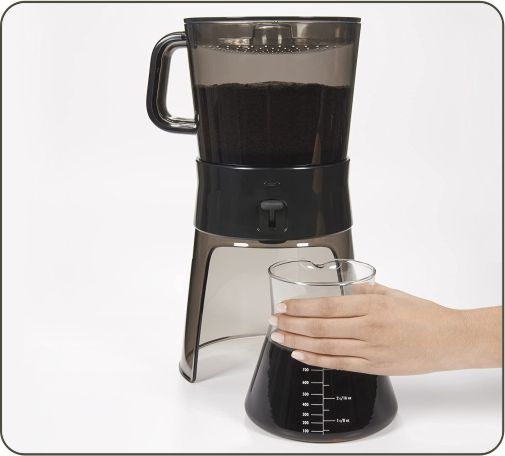 A lovely cold-brew coffee maker would be a welcome gift for anyone who enjoys drinking iced coffee all year round. The coffee grounds are soaked in cold water for several hours. This makes a coffee that tastes sweeter and less bitter and acidic.
The OXO Good Grips Cold Brew Coffee Maker emerged as the clear winner in our review, brewing cold brew coffee with better acidity, fragrance, and finish than any other model we tried.
Furthermore, the OXO was the simplest to operate and disinfect after use.
6. Bialetti Moka Express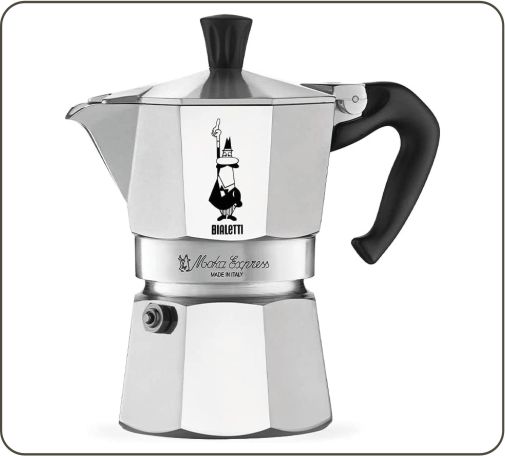 Moka pots, standard in Europe and Cuba, employ the pressure of boiling water to push through the ground coffee, producing a drink with espresso-like characteristics.
This pot's simplistic build makes it a breeze to operate and clean, and its coffee is just as flavorful and refined as that made in more expensive devices. Lastly, its shape is mid-century modern and looks stylish on any counter.
7. AeroPress Go Travel Coffee Press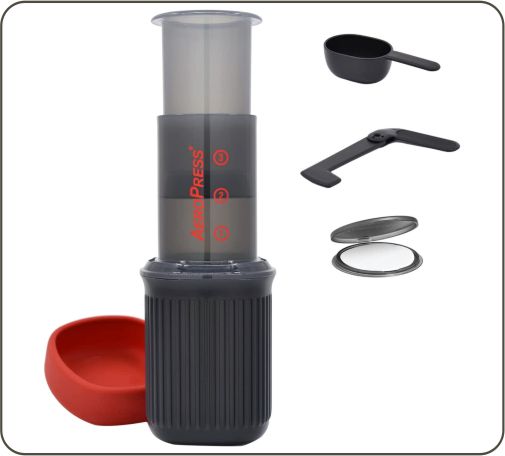 The original AeroPress is one of the best portable coffee makers because it only needs hot water and ground coffee to make great coffee.
The AeroPress Go makes it even easier to make coffee while traveling because it comes with a container that holds all the parts. In addition, the Go is small enough to fit neatly inside a Christmas stocking or a mailing envelope.
8. Ovalware RJ3 Cold Brew Maker and Tea Infuser
If you're looking for the perfect gift for someone who loves coffee, look no further than the Ovalware RJ3 cold brew maker and tea infuser, as it is an excellent addition to any coffee lover's home.
The cold brew maker makes a delicious and potent cold brew that can be enjoyed over ice or hot tea. The tea infuser allows you to make unique and delicious teas with no mess or fuss.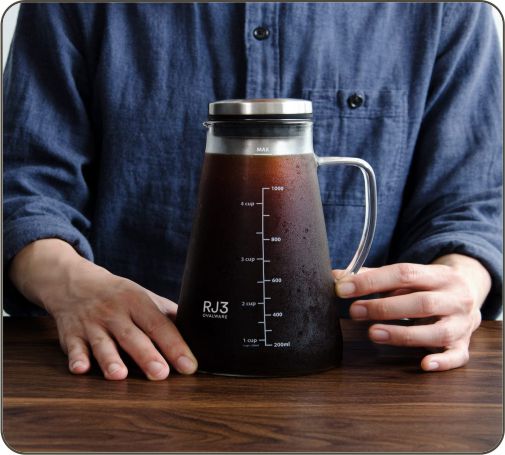 The RJ3 cold brew maker features a copper heating coil, letting you make rich, flavorful cold brews in just minutes. The tea infuser attachment makes it easy to make delicious iced tea or coffee drinks, regardless of your beverage preferences.
9. Bonavita Connoisseur Coffee Maker
It is the ideal choice for those who love their morning coffee. This coffee maker is simple and convenient to store, making it a perfect gift for the coffee lover.
This high-quality machine makes delicious coffee that will leave them wanting more. Plus, it's a great way to show them that you care about their cup of joe.
10. Breville Infuser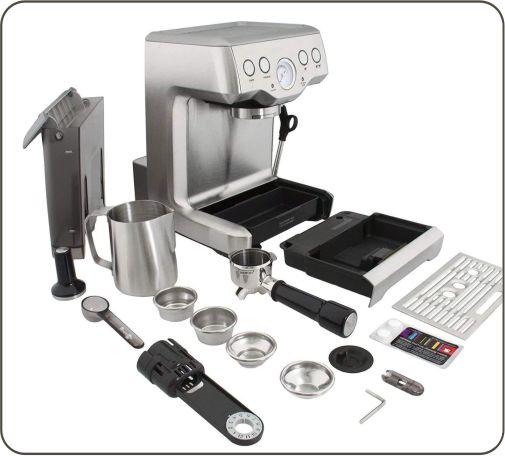 This nifty device allows you to enjoy delicious cups of joe without dealing with the mess and aroma of regular coffee brewing. Plus, it's perfect for those who appreciate high-quality coffee without spending an arm and a leg.
This unique coffee maker infusion makes delicious lattes and cappuccinos quickly and easily. Plus, it's easy to use and clean.
Coffee
1. Atlas Coffee Club Subscription
The best gift is a subscription to Atlas. Not merely from Colombia or Ethiopia, the coffee is imported from a different nation every month. Additionally, Atlas imports beans from nations including Papua New Guinea, Rwanda, and Peru.
Therefore, this service is perfect for those who frequently travel or are interested in trying new foods from around the world.
Each includes a postcard with relevant information about that nation's coffee business, and the recipient can specify their preferred method for roasting and grinding the coffee.
2. Grounds & Hounds Coffee Co.
There are so many good coffee brands that it's almost impossible to track them all. But if the coffee enthusiast on your list is also the giving type, you might want to consider a gift that gives back.
Grounds & Hounds Coffee Co. produces delicious coffee and donates 20% of its sales to innovative and impactful rescue programs.
3. Canyon Instant Coffee
People say that instant coffee is terrible. But there are some tremendous instant coffees out there. Moreover, the convenience of making a cup without equipment will be well worth the skepticism for the coffee user on your list who is always on the go.
Because it was the instant coffee that most closely resembled freshly brewed coffee and was also one of the most sophisticated cups we tried, we think Canyon Instant Coffee makes a great present.
4. Driftaway Coffee Subscription
Consider giving coffee lovers a subscription to Driftaway Coffee. This specialty coffee company only sources beans from select small-batch roasters, so you can be sure each cup is exceptional. Plus, their delivery service guarantees that your coffee will always be fresh.
This coffee company specializes in single-origin, barrel-aged coffees. They offer a variety of subscription plans that let you customize your coffee experience.
So, whether the coffee lover in your life is into dark roasts or bright flavored blends, they'll find something to their liking at Driftaway Coffee.
5. Bean Box World Coffee Tour
Consider a bean box world coffee tour! This unique experience will take you to some of the earth's most fascinating coffee destinations.
You'll learn about bean-to-cup brewing methods, taste unique coffee variants and even purchase your beans to take home with you.
Kettles
1. Jirushi Slim Pot Kettle
Tsuki Usagi, a Japanese enamelware manufacturer, has a small stovetop kettle that has gained a devoted following for several reasons. For one thing, the pour spout on this pot is very precise and easy to control.
Furthermore, the Jirushi Slim Pot's slim build and sophisticated style make it an attractive addition to any kitchen's shelf space. Some people even use it to water plants.
2. Fellow Stagg EKG Electric Gooseneck Kettle
Gifting a pour-over fan with a sleek electric gooseneck kettle will be much appreciated if they're made with an old, rusty pot. One of the finest examples of the Fellow brand was this one.
The recipient can set the temperature anywhere from 135 to 212 degrees Fahrenheit with the turn of a dial. The kettle will maintain the temperature you specify for up to an hour.
The angled spout allows for precise water flow regulation, and the matte black pot is an architectural marvel.
3. Hario V60 Buono Power Kettle
V60 Buono Power Kettle is a fantastic technology perfect for those who enjoy a cup of joe. Not only it is powerful and efficient, but it's also stylish and unique.
This kettle heats the water quickly and efficiently, making it perfect for a delicious cup of coffee, and it will fit well in any kitchen. Also, its durable construction will make it a long-lasting gift.
4. Chantal Oslo Electric Kettle
The Chantal Oslo Electric Kettle is a stylish appliance that makes making a cup of coffee easy and hassle-free, and it comes in many different colors to fit any décor.
Whether you're giving it as a special gift or want to upgrade your kitchen with something classic and chic, the Chantal Oslo Electric Kettle is an excellent choice.
5. Smeg Electric Kettle
Consider gifting an electric kettle from Smeg. A quirky appliance makes it easy to make a great cup of coffee – and it's sure to be a hit with anyone who loves good coffee.
Plus, since it uses less energy than a stovetop or microwave, this kettle is a great way to reduce your carbon footprint.
Grinders
1. Technivorm Moccamaster KBGV
The Moccamaster KBGV is a beautiful present. The absence of settings or timers makes the device immune to breakdowns. The Moccamaster KBGV can make 10 cups of coffee in less than 5 minutes.
This machine's eye-catching appeal is bolstered by the fact that it is available in a range of pastel and shimmering hues.
2. Baratza Virtuoso+ Coffee Grinder
This grinder is built to last and always does a good job grinding. For heavy coffee drinkers seeking reliable results, designers found it a quick and helpful tool.
If you're serious about making pour-over coffee at home, Coffee Project New York co-founder Chi Sum Ngai suggests investing in a Virtuoso+ grinder.
3. Kalita Wave 185 Dripper
A decent pour-over demands better if your coffee enthusiast likes coffee with rich flavors and just the correct quantity of everything.
Because of its user-friendly construction and consistent water drainage, the Kalita Wave 185, a single-cup coffee maker, consistently produced delicious, well-balanced brews.
Furthermore, it is available in glass, ceramic, or stainless steel to be customized to the individual's taste.
4. Fellow Ode Brew Grinder
Why not gift your coffee lover the fellow ode brew grinder this holiday season? This grinder is perfect for those who love their coffee freshly ground.
It has a high-quality burr, so you know your beans are being grinded perfectly. Plus, it's a sleek and modern design that will look great on any kitchen counter.
5. Brew Conical Burr Coffee Grinder
Look for a grinder like the Brew Conical Burr Coffee Grinder as a gift. This unique coffee grinder is perfect for making consistently great-tasting coffee. Not to mention, it makes for a great addition to any coffee lover's kitchen.
It can make French press, drip, or espresso coffee, so it's the perfect addition to any kitchen. This grinder is an excellent choice whether you're buying for a friend or family member.
Coffee Accessories
1. Cometeer Frozen Coffee Pods
Cometeer Frozen Coffee Pods are great for people who care as much about the environment as they do about great-tasting coffee.
The recyclable aluminum capsules hold an iced tab of concentrated coffee. Add hot or cold water and milk, or put it in a Keurig or Nespresso machine.
Even though it doesn't take much work, the drinks that come out are nothing short of amazing. Their taste is, of course, a result of how hard they were made.
In an instant, Cometeer freezes each of the seven brewed extractions to -321 degrees Fahrenheit, preserving their coffee shop-fresh flavor for up to two years.
2. Bodum Latteo Milk Frother
A milk frother can make the difference between your friend's morning coffee being medicinal or enlightening for your latte-loving pal.
Because the glass carafe is microwave and dishwasher-safe, your recipient can warm the milk. When they drink their cappuccino, they'll think of you.
3. Airscape Ceramic Canisters
Coffee beans must be kept fresh in an airtight container and a cool, dry place. The Airscape ceramic canisters are just what you need.
The canisters come in small and medium sizes, perfect for a moderate coffee drinker, a coffee addict, or someone who likes various bean options.
By pushing air out, the vacuum seal keeps the contents fresh. And because they are simple and have bamboo lids, they will look cute on a kitchen counter or shelf.
4. Bestinnkits Smart Coffee Warmer
Someone who drinks coffee throughout the day will appreciate a mug warmer, so their beverage doesn't go cold. The Bestinnkits Smart Coffee Warmer stood out because it can hold any size mug and keeps the temperature of the coffee steady for hours, between 133°F and 135°F.
Although the Bestinnkits may only be used in locations with an available wall outlet, its compact size makes it suitable for placement on any tabletop.
5. Timemore Digital Coffee Scale
The Timemore digital coffee scale is easy to use and accurate, making it an excellent choice for those who want the perfect cup of java every time. Plus, it has a convenient on/off switch and a bezel that prevents accidental spills.
6. Escali Primo Lightweight Scale
This precision instrument is perfect for weighing coffee beans and measuring their grind size. It's also great for measuring water temperatures and other liquids.
7. Third Wave Water Mineral Supplements
These supplements are great for helping to keep your body energized and healthy, and they make a great addition to any coffee lover's collection.
Made with natural ingredients and are guaranteed to improve their health and taste. Plus, they're affordable and easy to find, making them the perfect choice for anyone who enjoys their morning coffee cup.
8. Apace Living Coffee Scoop (Set of Two)
Give an apace living coffee scoop (set of two) as a gift for a coffee enthusiast. These unique and practical gifts are sure to please any coffee lover.
Not only do they make delicious brewing coffee incredibly easy, but they also look great on any kitchen counter! Pick up a set today and see how much easier your morning can be.
9. NanoFoamer Milk Frother
It is a unique and fun item. Also, it can be incredibly helpful in making great coffee.
A NanoFoamer milk frother is a particular type that uses nanotechnology to create foamy milk. This technology has produced a more consistent and richer foam than traditional frother.
This type of frother is also tiny, making it easy to store and travel. Plus, it's perfect for giving as a gift.
10. Fellow Shimmy Coffee Sieve
The one-of-a-kind accessory will help make even the most mundane cup of joe taste amazing.
This sieve is perfect for straining any sediment or fines from durable and non-toxic plastic. And best of all, it's a great way to show appreciation for someone's love of coffee.
11. Collapsible Reusable Metal Straw
This item is perfect for sipping your favorite drink and helps reduce waste. Plus, it makes a great addition to any coffee lover's collection.
12. Coffee Body Scrub
It's a great way to pamper coffee lovers and enjoy their company simultaneously. Plus, it's easy to clean up after a morning of caffeine indulgence.
13. Instant Pot Milk Frother
This nifty little tool makes creating rich, creamy milk drinks easy without standing over a stovetop. Plus, it can be a fun addition to any coffee lover's kitchen arsenal.14. D.S. & Durga Breakfast Leipzig Candle
This candle is hand-poured in Germany and features the beautiful goddess Durga eating the demon Mahishasura's heart. It makes for an exciting and aromatic addition to any coffee table and can please even the most ardent coffee lover.
15. JYRAY Coffee Bean Ice Cube Tray
This innovative gift is perfect for any coffee lover and makes a great addition to any kitchen counter.
This tray is easy to use and can hold up to 16 ice cubes made from durable plastic. Plus, the unique design makes it a fun and unique gift idea.
Cups and Mugs
1. New York Coffee Cheeky Ceramic Cup
Nothing rivals the rush to grab a cup of coffee from a street vendor and run to the train on a beautiful New York City morning.
With a sustainable twist, this ceramic cup, which was modeled after a vintage to-go cup from 1963, at least approximates that scenario in part: Unlike the original paper cup, this one can go in the dishwasher and microwave.
This is the perfect present for the New Yorker who has left the city but still longs for its excitement.
2. Sleek Stacking Hasami Mug
Whether you're buying for a purist or an indulger, you can't go wrong with a cup from the 400-year-old Japanese ceramics company Hasami.
Because the cups stack well, a collection of these contemporary mugs in varied sizes and complementary colors will still seem fashionable.
3. Forever Warm Ember Mug 2
James Hoffman, a coffee lover and co-founder of Square Mile Coffee Roasters, devised a way to keep a drink at the perfect temperature in a mug. The Ember Mug2 lets you control the temperature from 120°F to 145°F with an app on your phone.
4. Easy-to-Transport Zojirushi Stainless Steel Mug
The Zojirushi mug's vacuum insulation means that coffee can be enjoyed for hours without losing its temperature, even in the chilliest of environments. This travel mug will make your loved one as happy as you.
The Zojirushi container doesn't leak a drop because of how well the lid locks. In addition, you may choose from a range of charming color options for this model to ensure that the recipient is delighted with their gift.
A smaller mug might be more convenient for the espresso drinker on your gift list. The press-fit lid and double wall of the GSI Outdoors Glacier Insulated Doppio Mug work together to keep beverages hot for longer. This mug comes in a rainbow of solid and spotty color options.
5. Twee Felt+Fat Espresso Cup
Felt+Fat's tiny, colorful cups are perfect for the espresso drinker on your list. The cups are available in various hues, and their 3-ounce capacities make them ideal for a morning cup of coffee.
6. Bodum Pavina Double Wall Insulated Glasses
It's frustrating when a cup of hot coffee cools down, or an iced coffee warms up. These stylish tumblers are heat-resistant borosilicate glass and have two walls to avoid problems.
This keeps drinks at the right temperature for longer. Also, these glasses feel good to hold. They can also go in the dishwasher, microwave, oven, and freezer.
7. MiiR Flip Traveler
This handy little gadget can easily be attached to a mug or travel mug to keep your coffee warm and fresh all day. Plus, it's easy to use and perfect for on-the-go drinkers.
8. KeepCup Reusable Coffee Cup
KeepCup reusable coffee cups are the perfect way to show appreciation for someone who enjoys a cup of joe.
Not only are they environmentally friendly, but they're also easy to clean and store. Whether you're giving as a gift or keeping one for yourself, there's no denying that a KeepCup is a perfect addition to your coffee lover's collection.
9. Ozeri Moderna Artisan Series Coffee Glass
These handsome glasses are crafted with meticulous care and feature a sleek design perfect for adding a touch of elegance to any gathering.
Plus, they are a great way to show appreciation for all your friend or loved one enjoys about coffee – from its rich flavor to the caffeine-filled buzz it can give.
10. Coffee Prescription Mug
These unique and personalized mugs are perfect for anyone who loves their morning cup of joe. Whether you're a fan of traditional black coffee or prefer something with a little more flavor.
Each mug is made from a high-quality ceramic material to last longer and look great.
FAQs
Do coffee mugs make good presents?
A mug is an excellent gift that you can be sure will be used. Many people are used to repeating the same thing repeatedly until it no longer works. An engraved mug with a special message is a great gift, whether they prefer beer or coffee.
What does a cup of coffee mean?
For many people, a coffee mug is a sign of social support, a way to say thank you for what friends and family have done, or show appreciation. It's a way to show someone you care about them and appreciate what they've done for you.
How are coffee mugs packed?
Wrap the packing paper around your mug so that most of it is around the handle. The wrapped mug should be put into a 44-gift box. It should fit nicely. Pack the bottom of the box with bubble wrap by folding a 12″ x 12″ sheet in quarters.
What is a coffee enthusiast known as?
A person who enjoys coffee may be referred to as a coffee enthusiast, coffeeholic, or coffee addict.
Conclusion
There are so many great gifts out there for people who like coffee. We have what you need, whether you want something useful or fun.
If you want to give the best gift to coffee lovers, a hot cup of joe is a great choice. This gift idea will not only make someone's day, but it will also make them smell nice all day.
Additionally, coffee is one of the world's most popular beverages, and there are numerous ways to consume it. Whether you like black or white coffee, flavored or not, there is a mug or cup.