A Keurig is a wonderful start to getting your coffee fixed in the morning. But if you've never used it before, it can be hard to know what to do. Here is a simple article on using a Keurig coffee machine to brew a cup of great coffee quickly. We'll show you how to use a Keurig coffee maker for each model.
How to Use a Keurig Coffee Pot
To prepare coffee with a Keurig, fill the reservoir with water. Next, you'll want to close the lid after dropping a coffee pod. Last, press the button that says "brew."
The Coffee Geek Lab has made step-by-step guidance on how to use a Keurig coffee machine. You can make tea, cocoa beans, hot chocolate, and many other things in a coffee maker. Some models also have built-in water filters to ensure your drink tastes as clean as possible.
Anyone can use any of the many different models. Filtered or packaged water is better because tap water leaves mineral and bacterial deposits in the coffeemaker. When brewing with a Keurig, the foil is pierced with a special needle.
There are a lot of different Keurig varieties on the market, and the best one for you will depend on the model and design. The 1.0 series machines can only use K-cup pods, while the 2.0 series devices can only use Keurig-licensed pods.
Some Keurig's can make shots that taste like espresso and have a milk frother built in so you can make mochas and cappuccinos.
The coffee made by Keurig K-Mini Plus makers is consistently high quality. This coffee machine is not only compact but also packed with functionality. Since the brew is individual, it can be tailored to your tastes. This model also makes coffee that is tasty and full-bodied.
Also Read: Coffee Maker Black Friday Deals and Offers 2022
How to Use a Keurig Pod (K-Cup)
Folgers has a full flavor that even die-hard fans of freshly ground coffee can't argue with. The K-Cup pod system makes it easy to prepare a delicious coffee in minutes.
Turn on your Keurig coffee maker.
Lift and remove the water tank; put it in if you have a Keurig water filter.
Rinse the water tank before filling it to the top.
Put the filled water tank on your coffee maker and turn it on. The water will start to get hot right away.
Put a cup under where the coffee comes out.
Lift the handle on top of your Keurig coffee machine, put a K-Cup in the compartment, and then close the lid. "Ready to brew" will appear on the screen.
Choose the size of brew that fits your cup.
Be patient as your Keurig brewer dispenses your freshly roasted Folgers K-Cup.
How to Use a Keurig Mini Coffee Maker
Using a Keurig Mini to make coffee is similar to using larger brewers. What you have to do is:
Initially, fill the reservoir with water (between 6 and 12 ounces worth) by opening the top and rinsing it off.
Put your mug on the drip tray underneath the coffee outlet.
Raise the grip and insert a K-Cup pod. Close the compartment's handle.
If you like a stronger cup of coffee, hit the "Strong" button before pressing the "brew" button.
When the light stops blinking, the brewing is finished.
Raise the handle and pull the K-Cup pod out to throw it away.
Also Read: How Many Ounces in a Cup of Coffee?
How to Use Keurig 2.0 Coffee Machine
The Keurig 2.0 works just like older brewing systems. The discerning coffee drinker can choose between four-cup carafes and individual pods. Please turn it on, fill the water tank, put your mug in place, and add your coffee. Your coffee will be ready in no time.
Remember that the Keurig 2.0 only works with Keurig 2.0 compatible K-Cups bearing the "Keurig Brewed" seal. No stopgap measures will be taken, and no used pods will be used. This is written on a ring around the outside of each pod.
The packaging of pods that work with Keurig K-Cup Brewers also makes it clear that they can be used with these machines.
How to Use a Keurig K-Duo Coffee Maker
The K-Duo Basics and also the K-Duo+ Single Serve Coffee Maker perform their functions in the same manner. Following these simple instructions, you can get the most out of your coffee machine's dual functionality:
How to Use Keurig K-Duo Carafe:
Prepare a single coffee cup with your Keurig K-Duo by following these steps:
Step one is to plug it in to use your K-Duo.
Clean the carafe and place it on the heating plate; second, lay a large clean cup on the drip tray.
Unclip the reservoir and pull it out before filling it up to the top with water.
Take out the filter tray and place your preferred number of serves of ground coffee inside. Most people say to use one tablespoon per cup.
Put the filter basket back in, ensuring the carafe is still on the heated surface.
It would help if you cleaned the K-Duo by washing and drying the filter basket and then wiping the outside.
How to Use the K-Duo Single Cup Brewer:
Plug your K-Duo in.
Set a spotless mug above the drip tray.
Unclip the water tank and pull it out to fill it with water.
Lift the compartment handle with the K-Cup holder, put your pod in the holder, and then close the holder securely.
Press the "OZ" button and sit tight as your coffee is brewed.
Raise the handle and pull out the K-Cup pod, which you can throw away.
Consider one of these chic K-Cup holders if you need a new way to store and show off your K-Cups.
How to Use K-Cups Without a Keurig
You can use a K-Cup in more than one way if you don't have a single-serve brewer. Depending on your preferences and the tools you already have at home, you can make coffee with either one. Let's start making coffee with K-Cups without using Keurig machines.
1. Only use the Coffee Grounds
Taking out the coffee grounds and using them with a different brewing technique is the quickest and easiest way to operate a K-Cup without a machine. Open up a couple of K-Cups by snipping off the foil tops with scissors. Place the grounds in a pour-over filter or drip coffee maker to make coffee.
Always remember that the K-Cup contains finely ground coffee, which isn't suited for drip or pour-over brewing methods. As a result, you won't require as much caffeine as normal. Your coffee might taste a little more bitter or stronger than usual.
2. Use the K-Cup as a Pour-Over
You can also use a K-Cup like a pour-over to make coffee. The K-Cup contains a cemented filter, which can be used as a little pour-over brewer with a few adjustments.
Take your time severing the foil top from the K-Cup. Carefully pierce the bottom of the K-Cup with a pen or small knife, not damaging the filter. Put a coffee mug out and boil some water. Next, carefully add hot water to the K-Cup and coffee grounds and let it steep for a few minutes.
Tongs or an electric mitt may be needed to hold the cup due to the heated plastic and hot water. Slowly pour, making sure the grounds don't get too full. Pour more coffee into the mug until it's full.
3. Steep and Filter the Grounds
Are you looking for a way to use K-Cups easily without brewing equipment? You might like the immersion method. This method is similar to the French press, but you'll recycle the K-Cup filter instead of utilizing a metal filter in the plunger.
Pour boiling water into a coffee cup, Mason jar, or heat-resistant container. Use a container with a spout for the best results. After that, remove the foil on top of the K-cup and add the grounds to the boiling water.
Infuse the grounds for four to five minutes, giving you a range of strength options. Be careful not to pierce the paper filter as you puncture the base of the K-Cup.
Carefully discard the used K-Cup and transfer the brewed coffee to a new cup. So, there you have it: a tasty cup of K-Cup coffee made without equipment or electricity.
How to Use a Keurig Single-Serve Coffee Maker
Step 1
Ensure the appliance is powered on and the plug is securely in the wall. Most units' power buttons are on the top right. At 192 degrees Fahrenheit, the water will begin to gurgle and heat as soon as the electricity is switched on. Don't touch anything until the heating cycle is complete.
Step 2
Fill up the tank. Keurig machines use large water reservoirs to make multiple cups of coffee. Some models' reservoirs are removable, but water must be poured into a fixed pool with others.
The top of the reservoir is on the left side of the machine. Lift it to pour water in. You might hear something buzzing. This is normal. The device pulls liquid into the heating chamber, which makes this sound.
Step 3
Pick the coffee you want. K-cups are single-serve plastic pods that include a filter and coffee in one convenient package, and many coffee machines ship with a starter supply of these. K-cups are not only for coffee; you can brew hot chocolate and tea on your device. You can pick the flavor, but don't remove the foil lid.
Step 4
Put the K-cup in the coffee maker. The K-cup is placed in a front-loading tray. To access it, gently raise the gray lever on the unit's front. This will show where the coffee is stored. Drop the pod in and secure the coffee chamber with the handle.
When the chamber is completely closed, your Keurig will say "Ready to Brew" If your machine doesn't have a screen, the knobs on the right side that let you pick a new cup size will flash.
Step 5
Put your cup on the tray in the middle of the bottom of the machine. Check the specifications of the coffee maker you intend to use to determine what size mug you should use. Most trays can only accommodate mugs that are 10 ounces or less in capacity.
Step 6
Suppose your machine lets you choose the size of your mug. Some devices require a push of the "brew" button before use. Pressing the button for the right mug size will start the brewing process for the others.
Select the smallest size available on your Keurig if you have never used one before to avoid spilling.
Step 7
Always remember to take out the used K-cup by opening the coffee compartment. The coffee maker's chamber should remain unlocked and open while not in use.
The 7 Best Keurig Coffee Machine Recommendations
Keurig K-Classic Coffee Maker
Keurig K-Mini Plus Coffee Maker
K-Cafe Single-Serve K-Cup Coffee Maker
Keurig K-Select Coffee Maker
Keurig K-Duo Plus Coffee Maker
K-Supreme Plus Coffee Maker
Keurig K-Elite Coffee Maker
Learn more about how we arrive at our unbiased product recommendations by reading the research and reviewing what goes into our work. We may receive a small commission by clicking on our links and making a purchase.
1. Keurig K-Classic Coffee Maker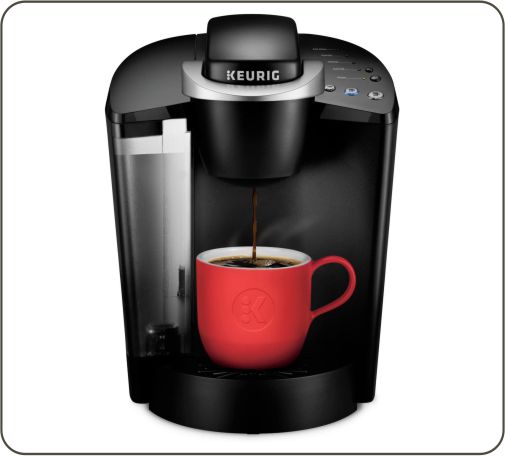 This coffee maker has been around for a long time for a reason. It's simple to operate, can hold a lot of water, and comes in various cup sizes. Furthermore, the price tag is well below $100.
2. Keurig K-Mini Plus Coffee Maker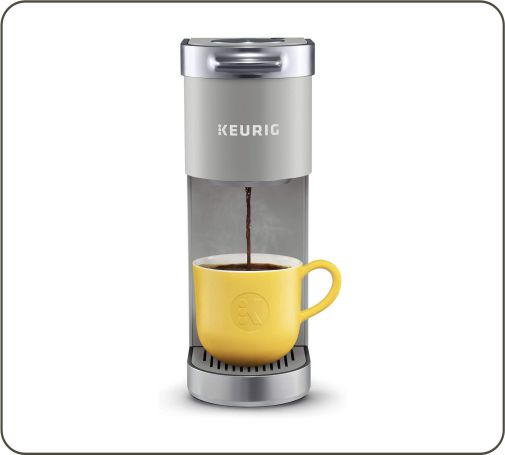 The Keurig K-Mini+ is a compact and space-saving appliance, perfect for apartments or other small living quarters, with a width of fewer than five inches.
3. Keurig K-Cafe Single-Serve K-Cup Coffee Maker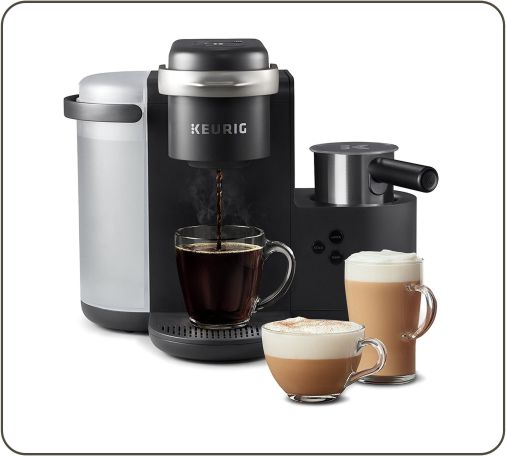 The Keurig K-Café is ideal for a versatile coffee machine that can make anything from drip coffee to lattes and cappuccinos. A K-cup pod can brew the coffee, and the integrated milk frother can create frothy milk.
4. Keurig K-Select Coffee Maker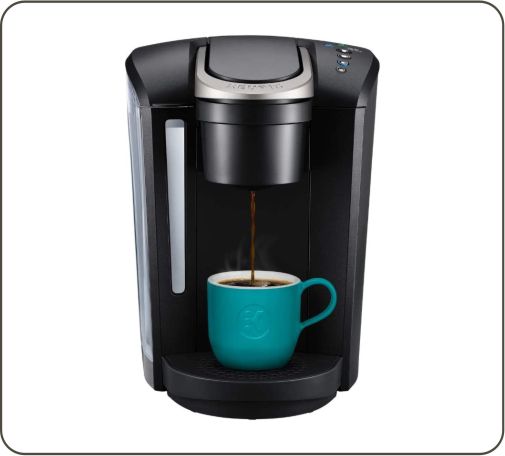 This coffee maker has a "strong brew" option, four different cup sizes, a huge reservoir, and straightforward button controls.
5. Keurig K-Duo Plus Coffee Maker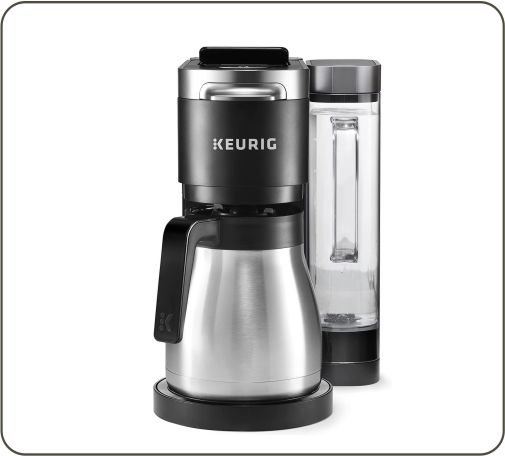 Try this coffee machine if you like to drink several cups of coffee during the day or if you live with people who do. There's a 12-cup carafe included for making coffee in bulk, and you can choose from three different serving sizes for your cups.
6. Keurig K-Supreme Plus Coffee Maker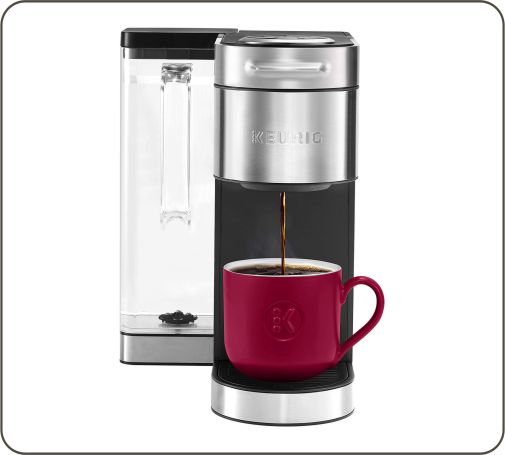 With this Keurig machine, you can make the most flavorful cup of coffee you've ever had. It has MultiStream Technology, which uses multiple water streams to get more flavor out of each K-cup.
7. Keurig K-Elite Coffee Maker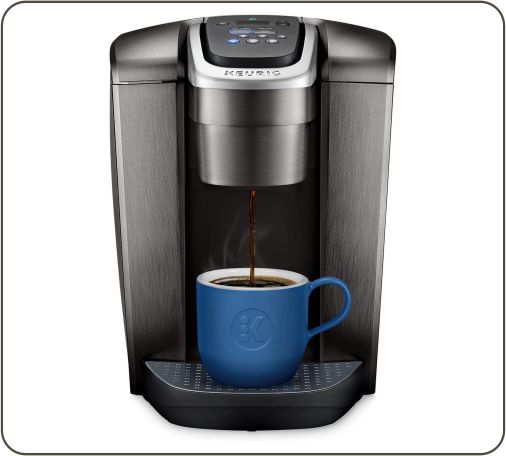 The Keurig K-Elite has a button for heated air on demand, cold brew coffee, strong coffee, and 5 different cup sizes to have your coffee hot or cold.
Rules- How to Use Keurig Coffee Maker
Following the steps outlined below, your Keurig brewer will last for years and produce consistently delicious coffee.
Make sure your mug is big enough for the coffee you choose.
Always wash your Keurig after use, paying special attention to the K-cup intake needle.
Distilled water should never be used in a Keurig maker.
Don't put too much water in your water tank.
One should never use the same K-Cup pod twice or an alternative brewing method.
Before each brewing cycle, you should run the machine through a single cleaning cycle with no coffee and only clean water.
Check out these chic K-Cup holders if you need a new method to store and show off your K-Cups.
Cleaning a Keurig Coffee Machine
If the problem continues, you may need to take the Keurig apart and clean its parts. Before you start taking apart the water reservoir, unscrew the water pump. A clogged or damaged impeller prevents water from reaching the coffee grinds.
When the water pump has been cleaned using a damp towel, it should be reattached. When you need to replace the tank, get one fastened to the ground.
After plugging the machine back in, you can test it by putting water in it and pressing the "brew" button. If it doesn't work, you'll have to take the machine apart and clean it from top to bottom.
FAQs
What makes the Keurig Mini the best Single-Serve coffee maker?
The Keurig Mini is a great option if you want a tiny, easy-to-use single-serve coffee machine that may yet meet your demands. The Keurig K-Pod Carafe's holder is universally designed to accommodate all standard-sized K-Cup pods.
As a bonus, you can store it on your kitchen counter because of how compact it is, so you can have coffee ready in no time.
How to use a Keurig Mini Plus?
Check that the Keurig Mini Plus is hooked to an electrical outlet and that water is in the reservoir before use. Then, put a K-Cup on the machine's top and shut the lid. The coffee will be dispensed into your cup as soon as you press the brew button.
How to make coffee in a Keurig using ground coffee?
All of Keurig's brewers can use a special adapter for ground coffee. You only need this reusable filtration system to use freshly ground coffee in a maker designed for pods.
You can also try our instructions for a single-serve coffee hack, which you can find above. If you use coffee grounds more often than cups, you might want to look at the K-Duo or Keurig 2.0 range, which gives you the best of both worlds.
How to make coffee with a Keurig Single Serve machine?
Single-cup coffee may be made quickly and easily with a Keurig, a compact gadget. An individual serving of coffee grinds is pre-measured, contained in a coffee pod, and then used to brew a cup. You can make different kinds of coffee with varying pods of coffee.
How to make a Keurig work?
Most units make it easy to find the button that turns them on. The power button on a Keurig 2.0 or Keurig Plus Series brewer may be on the touchscreen device's lower right corner. When the device is plugged in, it is instantly ready for use.
How often should I clean my Keurig?
If you use your Keurig daily, the company suggests a quick wipe-down before each brew and a thorough descaling once every three months. You can also postpone descaling for up to six months using vinegar or the Keurig Descaling Solution.
Can my Keurig maker make chocolate, tea, and other drinks?
Keurig has different pods for different kinds of drinks. Make sure to thoroughly clean your brewer after making any sweet drinks. If you don't take care of sugary substances immediately, they can quickly build up and be hard to eliminate.
Conclusion
If you want to buy a coffee maker that uses pods, Keurig is a great option. If you take care of it (which doesn't take much), it should keep making you good coffee for years.
Use a mug that fits your Keurig, clean it out every few months with a vinegar solution, and make it your life's purpose to sample every K-cup flavor.
We hope this article on how to use a Keurig coffee maker was helpful to you. If you still have questions after reading the above, we encourage you to ask them in the comments section.