When you're looking for a new coffee machine to replace your old one in the coffee maker section, it's hard to miss the Ninja machines that stand out from the rest. The Ninja designs are just a little more edgy and sleek, and they will never quite fit in with the crowd. Strangely, they also make people happy, as you'll learn in this article.
As we learned more about the Ninja family, we also learned that a Ninja coffee maker is more than a pretty face. Along with their incredible looks, many Ninja machines have remarkable features.
There are so many choices that it might be hard to choose. But don't worry. We're here to figure out the best Ninja coffee maker for you. We'll go over some of the favorite Ninjas and talk about their pros and cons so you can choose the one that best fits your brewing style and preferences. Onward!
List of the 6 Best Ninja Coffee Maker
1. Ninja Specialty Coffee Maker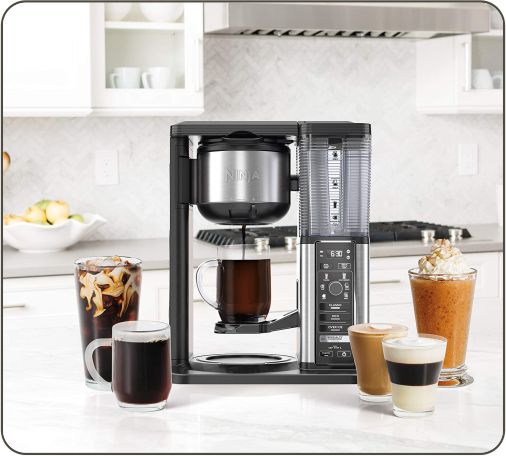 Highlights
Coffee Maker with a Capacity of 10 Cups
Built-in Water Reservoir
Four Different Brewing Methods for Ground Coffee
Product Description
As one of only a select few home coffee makers, the Ninja Specialty Coffee Maker has received approval from the Specialty Coffee Association (SCA). SCA-certified home brewers must-have equipment that meets stringent standards, including temperature and extraction uniformity.
Glass or thermal carafe options are available for this model. Carafes of 50 ounces (10 cups) are available for both types. The warming plate is not included in models with the thermal carafe.
Consumer Reports recommends the Specialty Coffee Maker. It has a five-out-of-five rating for customer satisfaction from those who have used it.
A milk frother is included in the Ninja Specialty Coffee Maker. So, you can use it to whip warm or cold milk. Milk and other flavorings have little effect on concentrated coffee. The resulting drink has an espresso flavor, similar to a latte or cappuccino.
If you prefer iced coffee, this machine is an excellent option. You'll almost always have a weaker concoction when making iced coffee with ordinary coffee. To prepare more concentrated coffee, the Over Ice method requires less water. It's as simple as pressing the cup size button and placing an ice cube in the brewer's base.
2. Ninja Dual Brew Pro Specialty Coffee System CFP301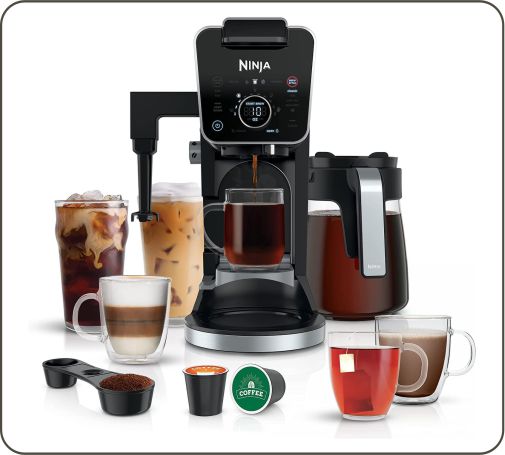 Highlights
12-Cup Coffee Maker
K-Cup Pod Compatible
4 Brew Styles
Product Description
The Ninja Dual Brew Pro Specialty Coffee System's "Standout Features" list continues.
There are 13 different brew sizes, making it difficult to pin down an exact brew time, but the Ninja specialty coffee maker warms up faster than the usual Keurig machine. When it comes to the time it takes to have the first cup of coffee, the faster, the better!
To ensure that each cup of coffee is brewed correctly, the Ninja Dual Brew Pro incorporates an extra-large shower head. The amount and type of brew you select automatically adjust the brewing time and temperature. This way, your cup of joe will always be the best it can be.
3. CF111- Ninja Coffee Bar Single-Serve System
Highlights
Single-Serve Portable Coffee Maker
Automatic Frothing System
5 Brew Styles
Thermochemical Flavor Extraction Advancement
Product Description
Like the top recommendation, this model emphasizes Ninja's single-serve possibilities.
This is a slightly older edition in that range, so you get all the same technology and features at a slightly more manageable price for your budget.
4. Ninja CP301 Hot and Cold Coffee Maker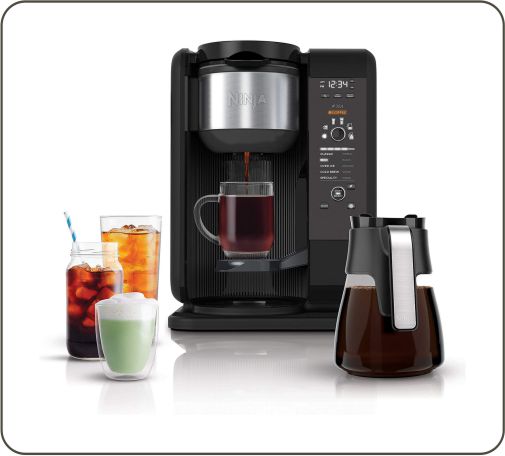 Highlights
Auto-IQ Coffee and Tea Maker
Multiple Brew Sizes
Built-in Frother Feature
Thermal Carafe
Product Description
With a smaller footprint than the Ninja Coffee Maker, Ninja CP301 has the edge over the Ninja Specialty Coffee Maker's visual appeal. You'll be pleased to learn that the $179.99 price tag on Amazon doesn't include all that's going on behind the hood.
Additional features include an in-built milk frother, an intelligent warming plate for the glass cup, and numerous cup sizes. Also included is the ability to create a cold brew.
Cold-brew coffee made with a coffee maker and brewed over ice for 10 minutes at a lower temperature may not be authentic. But Ninja isn't a slouch when capitalizing on popular culture.
This Ninja coffee maker is likely to please anyone who enjoys a cup of hot tea and hot coffee. Adjustments are made depending on the type of brew basket that has been introduced into the machine.
The CP301 will automatically change the water temperature and the number of brewing steps based on your choice of tea. Tea lovers, rejoice!
5. Ninja 12-Cup Programmable Drip Brewer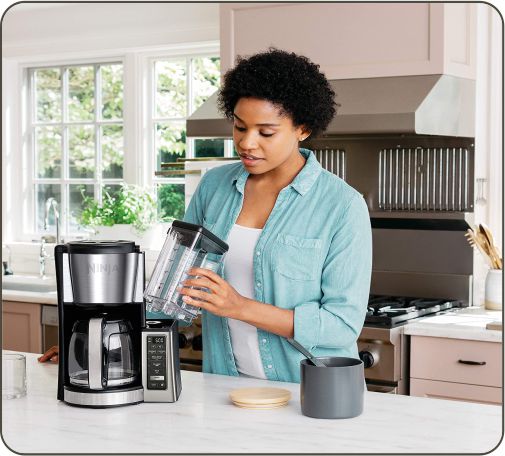 Highlights
12-Cup Programmable Coffee Maker
Water Reservoir
Thermal Flavor Extraction
Product Description
A 24-hour delay can be set on this Ninja model, making it your butler.
The warming plate on the 12-cup glass carafe can keep drinks hot for four hours. In terms of fragility, glass can be more vulnerable than a thermal carafe, and the warming plate might lead to bitter coffee if left for too long.
Auto-shutoff after two hours is an excellent safety feature for folks who are a little OCD about turning off equipment, alternatively, if you're in a rush one morning.
The hotter brewing technology and flavor straw ensure a hotter cup of coffee and excellent flavor. The flavor straw mixes coffee and water thoroughly for the best-tasting hot coffee. The more area the coffee and water have to circulate, the better.
Only traditional and rich brew options are available on this model. For a fuller flavor, the shower head design of this coffee maker spreads the hot water evenly over your cup.
Without risking third-degree burns, pour yourself a coffee halfway through the brewing process. It is simple to clean with dishwasher-safe parts and a water reservoir that can be removed.
6. Best Versatile Pick- Ninja Coffee Bar- CF097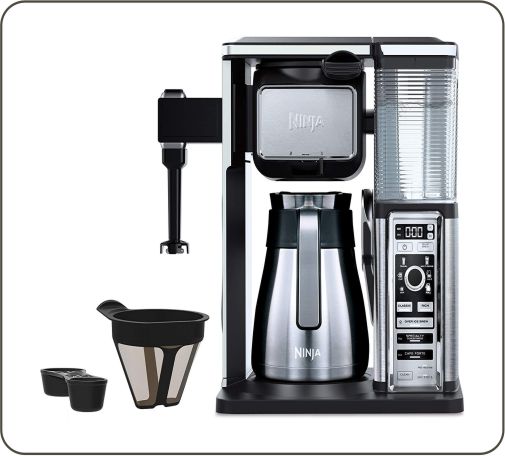 Highlights
Plastic Stainless Coffee Bar
Thermal Carafe System
Pod Free Single Serve Coffee
Built-in Frother to Brew
Product Description
The innovative thermal flavor extraction technique of the Ninja coffee bar CF097, which has a patent pending, should make you believe that your home coffee is on par with the best in the business.
This Ninja coffee maker's vacuum-sealed 10-cup thermal carafe keeps coffee hot for two hours. This coffee machine includes a recipe book, a detachable water tank, and a clever scoop.
For a great cup of coffee, this model incorporates the Auto-IQ and thermal extraction technology that automatically selects the best settings.
This Ninja coffee shop has six brew sizes and five varieties, including traditional, wealthy, over ice, and specialty. Customizing your coffee has never been easier.
Forget about a hot plate; the thermal carafe can keep your coffee warm for hours. Instead of needing to pull out the coffee maker, it has a door that swings open, making it much easier to use.
This coffee machine offers self-cleaning options, but if the instructions are followed correctly, it may be challenging to turn off the cleaning light (similar issue as the Ninja Coffee Bar Single-Serve System).
Also Read: The 11 Best Thermal Coffee Maker of 2021
Ninja Coffee Maker Considerations
Consider the following before purchasing to ensure that you get the best Ninja coffee maker for your requirements:
Physical Size
If you despise having anything on your worktop or in your apartment, whether it will fit is a critical concern. Make sure the Ninja coffee brewer you're considering can fit on your counter by measuring its measurements.
You don't want to continually move things out of the way or into an organized storage area (if it even fits in a cupboard). In terms of size, the Ninja CE251 is the smallest, while the Ninja CF087 is the largest.
Serving Sizes
You don't need a machine that will fill an entire carafe of coffee when you only drink one cup in the morning if you live alone.
So, if you're traveling alone, your best bet is a single-serve coffee maker. The Ninja coffee makers with a whole carafe are great if you have a large family who enjoys coffee.
Convenience
To obtain an extra five minutes of sleep, do you frequently use the snooze button first thing in the morning? To avoid waking up in the dark, you may want to invest in an automatic coffee maker that can make your cup of joe and keep it ready for you until the last minute before you get out of bed.
Or maybe you like the fragrance of a freshly brewed cup of coffee in the morning.
The ability to set a timer so that your coffee is ready when you are will not be included in any of the budget plans. How much time do you have to spare in the morning to make a cup of coffee?
Brewing Options
When your coffee maker includes a wide range of brewing settings, it's easier to tailor your cup of joe to your personal preferences. More expensive Ninja machines can make up to six drinks, including iced coffee and cold brew.
You can save money by purchasing a less expensive coffee machine, but there is a price to pay for this convenience.
Frother
If you enjoy milky coffees like cappuccinos and lattes and keep cold milk in your refrigerator, a frother can be worth the extra money.
While a standalone frother may be purchased reasonably, it is less handy than having one built into your coffee maker.
Cost
Are you going to use all of those features equipped with the most expensive coffee maker? A basic model will be enough for you if all you want is a quick and easy cup of coffee at home if that's the case.
Current or Previous Version
Some earlier Ninja coffee models may be more challenging to acquire or replace if they break. This includes the Ninja Coffee Bar, which has been discontinued.
When you invest so much money in a coffee maker, the last thing you want to happen is that it breaks, and you're unable to fix it.
Final Thoughts
The Ninja coffee machines we've discussed here look lovely on your counter and provide delicious hot coffee. High-quality features that are easy to use and a pleasure to own are included in each model's specifications.
Pick the one that best suits your requirements. When it comes to making the perfect cup of coffee, Ninja has you covered. The company has you covered no matter what type of brew you're in the mood for.
Regardless, the outstanding reviews it has received from customers mean you're almost sure to find your favorite coffee maker here. We sincerely hope that the information we've gathered might assist you in your hunt for the ideal coffee maker for your home!
"This article contains affiliate links, which means that Best Coffee Sip will be compensated if you buy something after clicking on one of the links. Read full disclosure statement."