Properly ground coffee beans are an essential part of making a great cup of joe. To get the most out of your cup of joe, make sure the grinds are even. A high-quality coffee grinder is essential to getting the optimum effort.
For those times when your home electric grinder is unavailable, or you need something portable, a manual coffee grinder should be kept on hand as a backup.
A well-designed, precise, and reliable hand grinder is essential for your preferred brewing method because not all manual coffee grinders are represented equally.
The following are the best coffee grinders that you can use by hand.
11 Best Manual Coffee Grinders
1. Orphan Espresso Fixie – Best Overall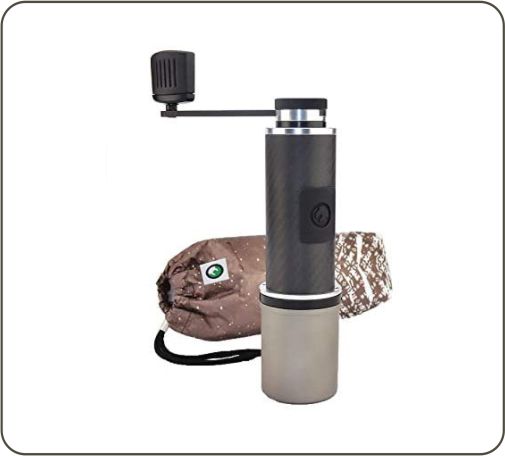 Highlights
Diameter: 1.75×1.75in
Hopper Capacity: 30g
Weight: 11.5oz
Grinding Adjustment: 3 macro and 19 micro-Settings
Burrs are made of Hardened Steel.
Product Description
In 2011, luxury brand Orphan Espresso introduced the first Lido manual grinder, which has since become a favorite among coffee enthusiasts. Subsequent features and benefits have been added to each new grinding since then.
As with the Lido 3, OE has taken the hardened steel burrs from the Lido 3 and produced a grinder much better for traveling. The weight has been reduced to only 11.5 oz. They are using a combination of aerospace aluminum, carbon fiber, and steel elements.
The most significant change is in the way the grind is set. Orphan Espresso's understanding is that most people only bring one type of coffee maker with them when they travel.
You can choose from three "fixie" discs, which allow you to adjust the coarseness or fineness of your grinding. Shims made out of Teflon can then be used to make small changes.
Locking the grinder in place ensures that it may be used with any brew method you want while you're on the road. While filling up the grinder, you won't have to worry about changing any of your settings.
Pros
Almost Excellent Portable Grinder
Portable Perfection in Particle Distribution
Extremely High Level of Craftsmanship
Cons
Gasket Ripped in 30 days.
2. 1Zpresso Q2 Manual Coffee Grinder – Most Versatile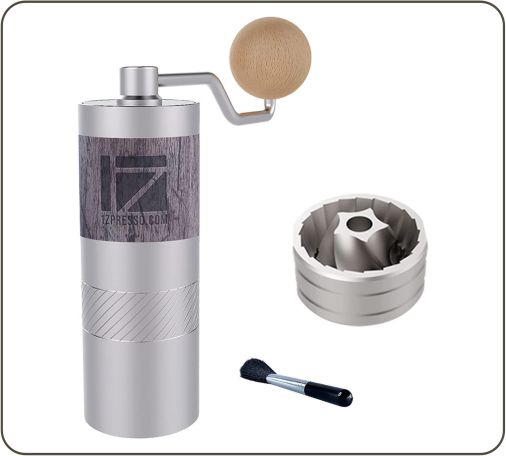 Highlights
20g Hopper Capacity
13.6 oz Weight
Dimensions: 5.5x2x2in
Stainless Steel for the Burrs.
Step-by-step Grind Adjustment: 60 Positions
Product Description
1Zpresso Q2 is the smallest of the 1Zpresso grinders in size and capacity. The 1zpresso has a smaller footprint and is less expensive. Despite this, the Q2 is still a premium brand in a small, travel-friendly compact, thanks to its high-quality build and materials.
While working at the office, you don't have to compromise on your freshness by bringing the Q2 with you on camping trips.
1Zpresso Q2's only significant issue is its 20g capacity, which could be lower depending upon the type of beans you're using. If you're brewing coffee for more than one person at a time, you'll need to grind more than once here.
Overall, though, the 1Zpresso Q2 manual coffee grinder's appearance, quality and design, ease of use, and total cost ratio make it the top pick.
Pros
Convenient Size
Excellent Burr System
Ease of Maintenance.
3. COMANDANTE C40 MK3 Nitro Blade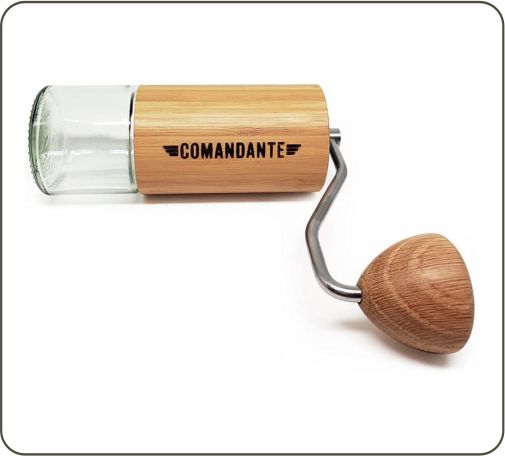 Highlights
Comandante C40 MK3
Nitro Blade American Cherry
One Size
Multi-Colored
Product Description
In recent years, the Comandante grinder became one of the most prominent designs. It's a stunning piece of technology that has been painstakingly crafted in Germany.
Several top models in this class share the Comandante C40's design. The axle is mounted on ball bearings and has conical steel burrs. The handle is designed to be comfortable to grip and turn.
Glass is used to make the catch cup on the C40. Due to its anti-static properties and ease of cleaning, this design is ideal for everyday usage.
As a result, there may be some people who are concerned about dropping it. Don't worry about this because you receive an extra catching cup when you purchase the grinder. In addition, the company sells replacement parts for a reasonable price.
Currently, this grinder may be purchased in a variety of finishes. The traditional one has a wood veneer finish, but the most recent models come in solid colors.
Pros
Stylish Design
A Wide Selection of Grind Sizes is Available
A High Degree of Grind Uniformity
Constructed from Long-Lasting, High-Quality Materials
Cons
Expensive
Plastic is used in the construction of this product.
4. Snow Peak Barista Field Grinder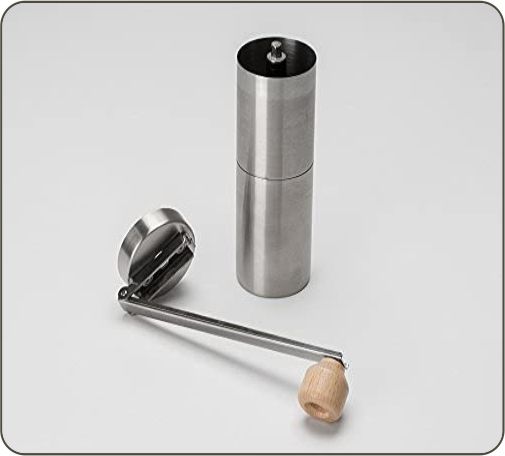 Highlights
Barista Coffee Grinder
Modeled with Professional Barista Tools
Product Description
The negative of a hand grinder is that it requires a significant effort to grind a sufficient volume of beans for use. Because it takes 8–10 minutes of rigorous milling to get enough coffee for a single cup out of the Snow Peak, its slim handle and long handle spin with minimal force, which is a positive thing.
There aren't a lot of grind modes on this model, but they are easy to identify and lock in if you look in the right places for them.
Pros
A Well-Balanced and Small Package
Cons
Expensive Product with Weak Engineering
5. Hario Skerton Plus Ceramic Coffee Mill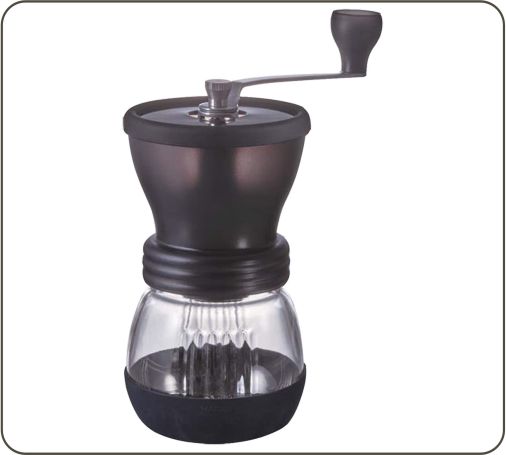 Highlights
Grinder Type: Ceramic Burrs
Capacity: 100 g (3.5 oz)
Dimensions: 3.6 x 6.8 x 9 inches
Weight: 1.2 pounds
Warranties: 90-day
Product Description
This coffee grinder is praised for its strong build and convenience of use by reviewers. With a glass jar at the base to catch the grinds, it's the shape of an hourglass.
There is enough room in the hopper for up to 50 grams of coffee grounds and enough space in the jar for 100 grams of coffee beans.
Although the grinder has a huge capacity, it is quite compact, measuring 6.8 inches wide by 9 inches high. The base can double as a storage container for grounds by securing the jar's cover to the bottom.
The rubber base of this grinder serves to maintain the mill in position while you crank the handle. A ceramic conical burr is also included. Compared to a blade grinder, this is a better option because it doesn't heat the coffee beans, damaging their vital oils.
Enabling you to clean the hard-to-reach regions disassembling the complete machine is simple. By hand or in the dishwasher, it should be cleaned at least once a month.
Pros
Value for Money
Large Capacity
Ease of Filling
Cons
Coarser Grinds can be Inconsistent
Screw Loosens When Grinding
6. TIMEMORE Chestnut C2 Manual Coffee Grinder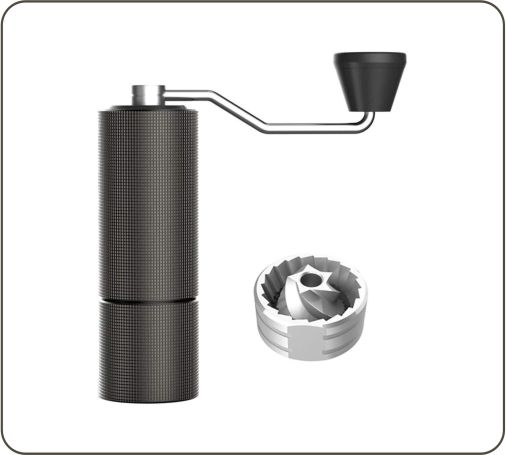 Highlights
Aesthetics
"Z" Handle
Portable
CT Conical Burr Design
32 settings
Product Description
The Timemore Chesnut C2 is like a younger sibling who can beat you up, and you may be noticing a trend here. Because it's so popular with everyone, it's also a household favorite. So, the debate is, should that be done?
This conical burr grinder is comparable to its elder and more refined sibling in engineering and construction quality. Why would someone spend more money on a product that has the same superior grip feature, mobility, and grind consistency?
In terms of volume, the Timemore Chesnut isn't the largest on the list, with a capacity of just 25 grams.
When comparing to the Nano, you may question why that is a disadvantage because the Nano holds less. It's not uncommon for people to pay extra for less output because the Nano is so small and lightweight.
If you're a fan of the Chesnut and want a larger device over the Nano, then this is the best option for you. You can't go wrong with this conical burr grinder, which has excellent grind uniformity, ease of use, and great build quality.
Pros
A Great Deal for the Money.
Great Consistency (Especially at Medium to Coarse Levels)
Fast Grinding Speed
Wide Range of Grinding Options
Cons
This Item is Made of Plastic.
It has a Limited Amount of Storage Space (25 grams)
7. Zassenhaus "Santiago" Mahogany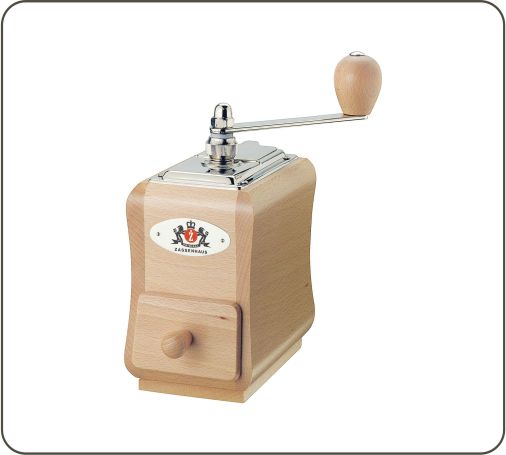 Highlights
Santiago Manual Coffee Mill
Black Stained Beech Wood
Large Grinding Capability
Product Description
This is the manual grinder to choose if you want the best-looking one on the market. It gives you the impression of an ancient wood stove.
The beechwood used to build it is also sourced from Europe. Beeswax was used to stain and protect. The ground coffee is conveniently stored in a small drawer on the side of the machine.
The carbon steel burrs are basic and conical in shape. This shouldn't worry you. Among its various uses are tools and meat grinders.
Carbon steel is a naturally occurring common steel. It remains sharper longer than stainless steel burrs, despite stainless steel's corrosion advantages.
The process is straightforward. Shifting the handle nut allows you to change the grind's intensity. Tuning a pepper mill is a lot like this.
You'll have to experiment a bit until you get the right grind. The scene won't be the same when repeated in the future. You'd have to do that all over again.
Because of its size and weight, this isn't considered a portable grinder. You might bring it to work and show it off. It is possible to select from one of four styles.
Pros
25-Year Warranty on the Grinding Mechanism
Beautifully Designed Grinder
Consistently Excellent Grind Quality
Cons
The Capacity is only 30g, which is a little.
The Grind Dial has no numbers, making it difficult to switch styles.
8. Handground Precision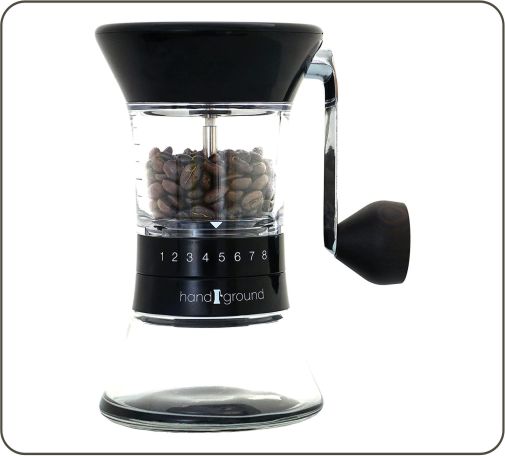 Highlights
Large Capacity
Ceramic Burrs
Product Description
It has ceramic burrs. Glass with an aluminum handle. That's 100 g of grinder chamber. The grinding mechanism is on top, driven by a sideways-mounted hand crank. It's easier to crank in this position. Maybe if the components were finer, they would endure longer.
It's shaped like a candy jar and will look great in any kitchen. It weighs 2 lb. Your options are 15 only. This precision grinder's name misleads. If you don't make espresso, this is a good substitute. Assemble it on a level surface, glass dominates.
Pros
Easy to use and Grinds with Huge Capacity
Good stability, especially for finer settings
Excellent Grinding System
Cons
Huge and Weighty
Grind Container can't hold Whole 100g Hopper
9. Best Versatile: AkiraKoki Manual Coffee Bean Grinder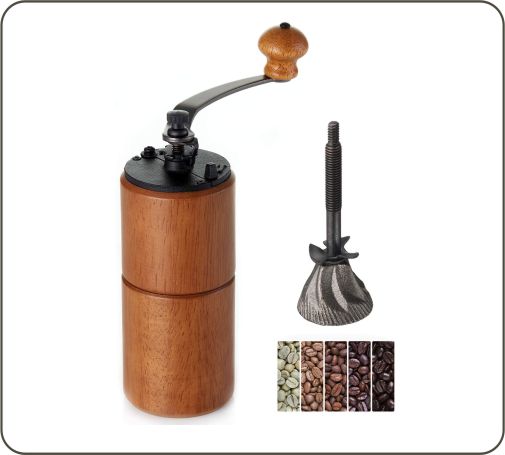 Highlights
Grinder Type: Cast iron burrs
Capacity: 55 grams
Dimensions: 2.8 x 2.8 x 7.2 inches
Weight: 1.6 pounds
Warranty: Lifetime limited
Product Description
Its solid timber body and iron trimmings are stunning. It comes in white, black, and brown wood. The burr is composed of quality cast iron that doesn't heat up, smell, or rust.
The hopper holds 35 grams and the bottom container 55 grams. It produces coarse aggregate grinds for various coffee brews.
The ergonomically built crank provides ample leverage for a smooth, quiet, and effortless grind. Reviewers adore the calm, soothing crank.
Cleaning this device is a little more difficult than cleaning steel grinders. Keep it dry, and after each use, shake out any residual coffee grounds using a tiny brush.
Pros
Inexpensive Yet Aesthetically Pleasing
Cons
Longer Than Average Grinding Time
A Smaller entrance in the Hopper
10. Best Stainless Steel: JavaPresse Manual Coffee Grinder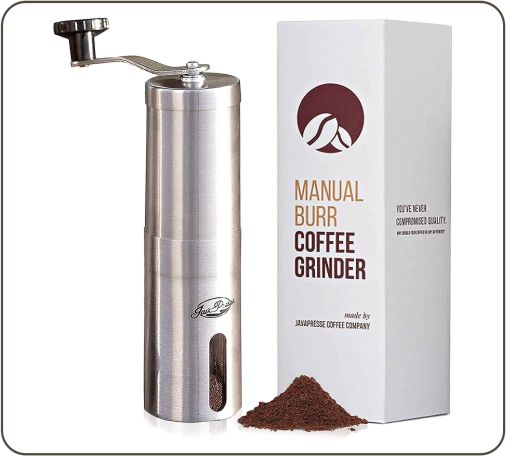 Highlights
Grinder Type: Ceramic burrs
Capacity: 40 grams
Dimensions: 1.8 x 1.8 x 7.5 inches (without crank arm attached)
Weight: 9.4 ounces
Warranty: 6 months
Product Description
Stainless-steel construction and inexpensive pricing make the JavaPresse Manual Coffee Grinder suitable for a wide range of kitchens with a roughly 40-gram capacity.
This manual grinder is ideal for most brewing systems, even in houses where numerous coffee consumers are present. According to reviews, it grinds coffee beans slowly, so you'll need to work hard if you want to make a full pot of drip.
For parents who like to brew coffee while their children are still in bed, the ceramic burrs of this grinder make it a great option. Another wonderful aspect of the grinder is that it clicks when you adjust it so that you can keep track of the coarseness.
Grind coarser with many clicks than more granulated with a few clicks. Also, it's simple to disassemble the item whether you're cleaning it or preparing to travel.
Pros
Affordable
Clicks to Indicate Grind Size Adjustment
Cons
Coarse Grinding has Received Mixed Reactions.
Slower Grinding
11. Porlex Mini Stainless Steel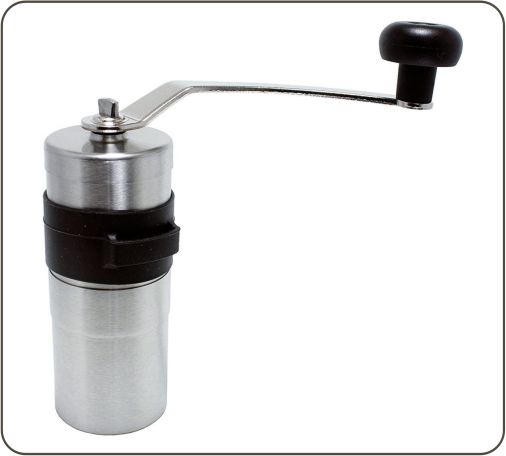 Highlights
20-gram Capacity
47 mm Diameter and 130 mm Tall
Ceramic Conical Burrs can Grind from Powder to French press
Made in Osaka, Japan
Stainless Steel, Static-Free Body
Product Description
This following hand grinder is also a good choice. It is lightweight at 8 ounces (ca. 302 g). It doesn't have the same specifications as the previous one, but it's cheaper. This item is manufactured in Japan. So says the copy. The argument is that Japan produces high-quality items. They have a good reputation.
Porcelain burrs are used in this hand grinder's burrs. This is a good option. It comes with detailed instructions and a diagram of how to assemble the burrs.
From 2011 onward, there have been a few distinct models of this grinder. In other words, their product is well-liked by the general public. Newer models are more expensive because the manufacturer has been making advancements.
Don't forget to tighten the handles and the rest of the construction. The handle was a problem for certain customers. In addition to the burrs, the handle is also crucial.
It has a capacity of 20 grams. Remember that the grind's coarseness will have an impact on how much you can produce at a time. At a medium grind setting, you can expect to get 16-18 grams.
Pros
Made in Japan
Portable, 8 ounces
Cons
Complex to Disassemble
The Handle Could Fall Apart.
Burrs Made of Porcelain
Buying a Hand Grinder: What to Consider
Budget, coffee brewing method (espresso versus drip), consistency of grind (burr, stainless steel, easy to use, aesthetics) are all factors to consider when purchasing a manual grinder.
After all, the best coffee beans require the best manual grinder to brew the perfect cup of coffee. Get comfortable as we guide you to the optimal grinder.
How To Clean a Manual Grinder?
It's easy to clean and maintain most manual coffee grinders. To keep your coffee grinder running smoothly, it's a good idea to clean it out now and then.
Dismantle your grinder and any parts that can be separated. The lid, handle, and ground catcher are normally removable. To remove the burrs, it may be necessary to unlock the device, which varies by model.
The larger sections can be washed in the same manner as a typical dinner plate. If the stains are very tenacious, rinse them in hot soapy water before washing them.
The burrs, for example, may necessitate a more sensitive approach to cleaning. It is possible to use a cotton bud or a small brush to clean your burr grinder.
It depends on the brand, but most manual coffee grinders are not dishwasher safe because of their fragile parts. To ensure that your grinder does not break or lose its guarantee, be careful to follow the manufacturer's instructions.
Reassembling the manual coffee grinder when it has dried completely is critical. If you use a clean towel, you can speed things up. If you're not sure how to reassemble your grinder, you may wish to consult the instructions handbook.
You may verify that all pieces have been reinstalled by turning a knob on the grinder's adjustment lever. Afterward, you may adjust the grind's coarseness to your preference and begin preparing your cup of joe.
Things To Look For in a Serious Hand Grinder?
Manual grinders are less expensive than burr coffee grinders, which are more expensive. Why is it the case?
There are fewer types, technologies, and use-cases, so there are fewer things to think about all around.
It is important to keep in mind, however, that there are three basic factors.
Travel:
If you plan to take your grinder on a trip, you should look for a smaller and lighter model. Espresso or a filtration machine? The vast majority of coffee grinders excel at one thing, but a few can handle both types of brews.
Budget:
Hand grinders can now be found in a wide range of price points. Setting a budget with a little wiggle room is a good idea. In other words, price does not always equate to quality.
Because you're going to be grinding in a grumpy, pre-caffeinated state while using a hand grinder, it's extra aggravating to know that you could have chosen better.
Of course, you also need to take into account several other factors.
Do not be swayed by the producers' guff. So, you know what to look for in a grinder. Let me break down the features for you.
Steel or ceramic burrs? A grinder's burrs are one of the most critical components. Conical burrs are standard on all hand grinders. In either ceramic or stainless steel, they're available for purchase.
Steel is a lot sharper (and better). Ceramic, on the other hand, is much slower and less consistent. If you can afford it, a grinder with steel burrs is effective, despite being more expensive.
Handle Length:
In the case of a hand grinder, the handle can make and break the machine. It takes a lot more effort to grind the same number of beans if it's too short. See the image below for a variety of options.
Bearings? The smoother and easier it is to grind with a quality model with approaches. A model that does not have directions will require a lot of extra effort.
Size and portability? Size is a crucial consideration if you plan to take your grinder on a trip. Smaller hands may also necessitate an easier-to-handle device.
Grind Adjustment:
It's a big one, so pay attention. Opt for a grinder that lets you effortlessly switch between various settings from a filter to an AeroPress in a French press or vice versa. Inconvenient to use, the step-less designs can be
How Long Does a Manual Coffee Grinder Take?
It typically takes one minute for a manual coffee grinder to grind enough for a large cup. Sanding by hand is time-consuming and won't sugarcoat that fact for you.
While flagship models like the 1Zpresso Jx can grind a lot faster, they're not uncommon. Grinding 2-3 cups of coffee in less than 45 seconds is a typical time.
The ceramic burr machines, which are more affordable, ground coffee much more slowly, taking anywhere from 2 to 3 minutes to grind 3 scoops.
Be aware that the finer you grind, the more times you must crank the wheel.
FAQs About Manual Coffee Grinders
Here are answers to some frequently asked questions about manual coffee grinders.
Electric or manual coffee grinders?
Personal preference is the most important factor when it comes to choosing between manual and electric grinders.
What is the source of the high cost of manual coffee grinders?
When it comes to price, they're actually in the same ballpark as electric grinders. The electric pers in the more expensive models feature the same large caliber gears as the ones in the cheaper ones, and they've been handcrafted for decades.
How long does it take to ground coffee by hand?
You'll need to put in a good 10 minutes of grinding before you're ready to brew your morning cup of joe.
How long do you think my manual coffee grinder is going to last?
If you clean and maintain your device properly, you can expect it to last at least five to ten years; if you purchase from a firm like Zassenhaus, you can expect it to last even longer—their devices come with a 25-year warranty.
What is the best way to clean my manual coffee grinder?
Regular cleaning of a manual coffee grinder will help extend its life and ensure that you get the greatest flavor from your cup of joe.
Conclusion
A new manual coffee grinder isn't out of the question because there are many fashionable and economical options on the market. Depending on your coffee preferences and required characteristics, select the grinder that best suits your needs.
Also, don't scrimp on the quality of the beans you buy; it's worth the investment.
The 1Zpresso JX-PRO Manual Coffee Grinder is the best option if you're looking for a high-end device with a wide range of consistency options. Mid-range items from trusted companies like JavaPresse and Hario are also available. It all depends on what you like and what you can afford.
There are many advantages to using a manual coffee grinder, including portability and style. If you prefer to grind your coffee at home rather than on the road, our list of top manual coffee grinders is a perfect choice.
Choose a manual coffee grinder if you prefer a quieter, more pleasant, and engaging way to brew your morning joe.