Dark roasts have dominated the market for most coffee-consuming history, but light roasts finally have their day. Lighter roasts are still a relatively recent phenomenon in the world of craft coffee.
These beans' intriguing and distinctive flavors have swiftly won over the hearts of coffee connoisseurs. Unlike what you may expect from a cup of coffee, these have distinct tastes and fragrances. Because of this, we believe light roasts are an excellent choice for a cup of coffee.
We'll explain what all the fuss is about if you're not familiar with this kind of roast. To help you get started, we've produced a list of some of the best light roast coffees.
Light roasts have unique qualities, and we'll explain how to tell the difference between a light roast and blonde coffee.
Top 13 Best Light Roast Coffee Beans
1. Lifeboost – Light Roast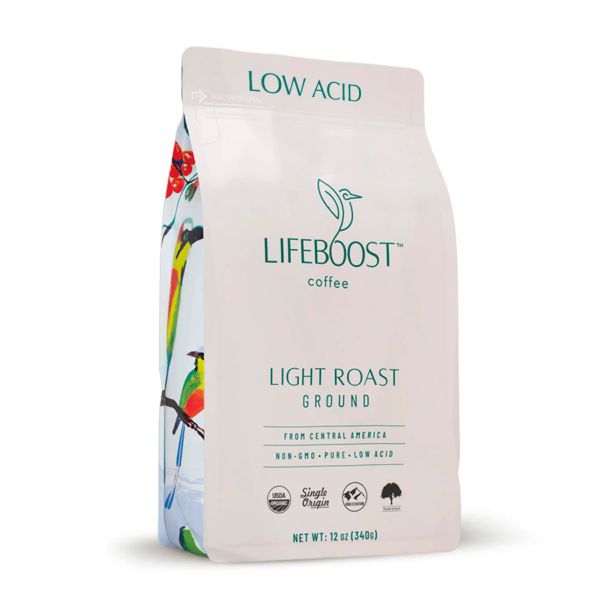 Highlights
Organic Ground Coffee Beans
Light Roasted Ground Coffee
Low Acid Single Origin Usda
Third-Party Tested for Mycotoxins & Pesticides
12 Ounces
Product Description
Lifeboost Light Roast is a nutritious bean. It's a single-origin organic coffee from Nicaragua's mountains. These beans are hand-selected and roasted for the greatest flavor. You can buy them in bulk at a discount. This coffee is tasty, healthy, and ethical.
Bright, delicious, and tangy brew with a light roast profile. Milk chocolate, caramel, and nuts are present. The scent even has a vanilla note. These beans are great for cold brew. Because steeping the grounds in cold water helps extract the greatest flavor.
Lifeboost Coffee is a delicious and healthy drink created by a doctor. Their beans are third-party tested for heavy metals, molds, and pesticides. Their low acid coffee is very gentle on the stomach.
Pros
This low-acid brew has excellent quality and flavor.
There was no heartburn.
Cons
Can't drink if IC Bladder Problems.
2. Kicking Horse Coffee – Hola Light Roast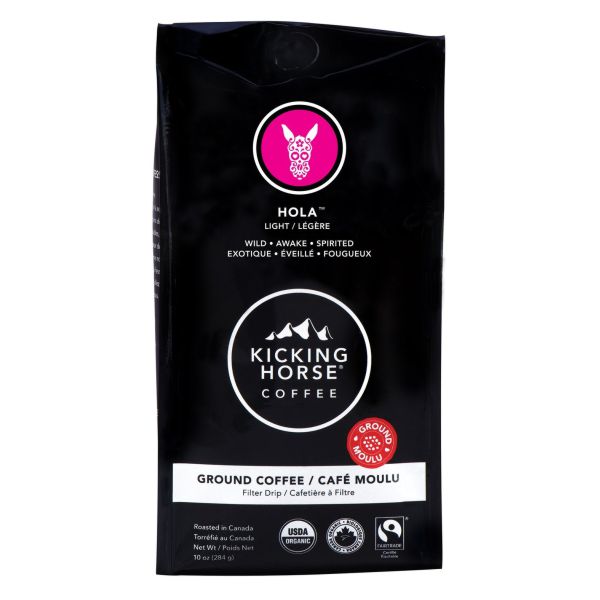 Highlights
Certified Organic
Fairtrade
Kosher Coffee
Light Roast
10 oz
Product Description
Hola Light Roast by Kicking Horse Coffee is a Central and South American mix with a fruity, nutty, and floral flavor profile. Like an excellent light roast, it's bright and acidic.
Chocolate, nougat, and brown sugar smells fill the air. This coffee has a distinct flavor because it combines rich red fruit and creamy honey.
You should try this coffee in drip, pour-over, or cold brew mode to get the most out of it.
All of Kicking Horse Coffee's coffees are grown in the shade, are Fair Trade, and are organic. A cup of ethically sourced coffee will put your mind at ease.
Located in British Columbia's Rocky Mountains, they roast their beans with care and precision.
Pros
Exceptional quality Mild Roast with a distinct flavor
No Bitterness
Mild Flavor
Cons
It has a scorched taste and a strange odor
3. Peet's Coffee, Luminosa Breakfast Blend – Light Roast Ground Coffee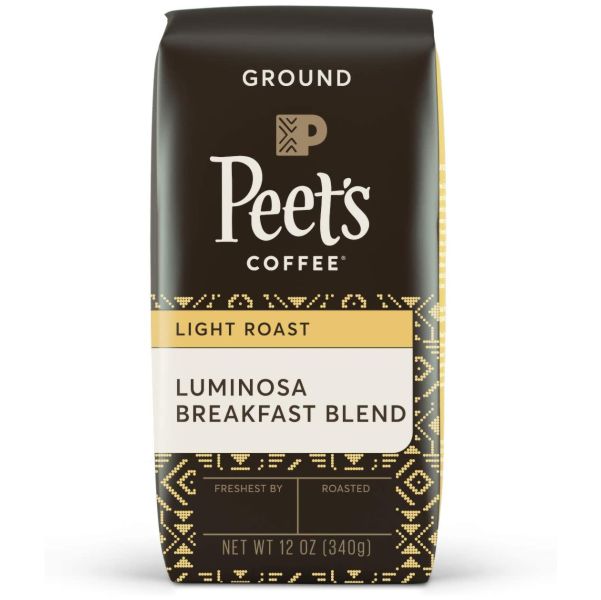 Highlights
12 Ounce Bag of Luminosa Breakfast Blend
Light Roasted Ground Coffee
Product Description
Coffees that are energetic and lightly fruit-sweet are combined with flowery and aromatic coffees in this enlightened combination called Luminosa, which translates to "shining or bright."
Passionflower and stone fruit are light and sweet notes that come through strongly. It is a mild roast coffee that is made entirely from Arabica beans.
Alfred Peet was well-known for his mixes, which included coffees of such high quality that each could function independently.
Pros
100% Columbian Highland grown coffee
Three Blends are available in Distinct Fragrant Flavors
Cons
Only Available in a 12-ounce Bag
Only Available in the United States of America
4. AmazonFresh Just Bright Whole Bean Coffee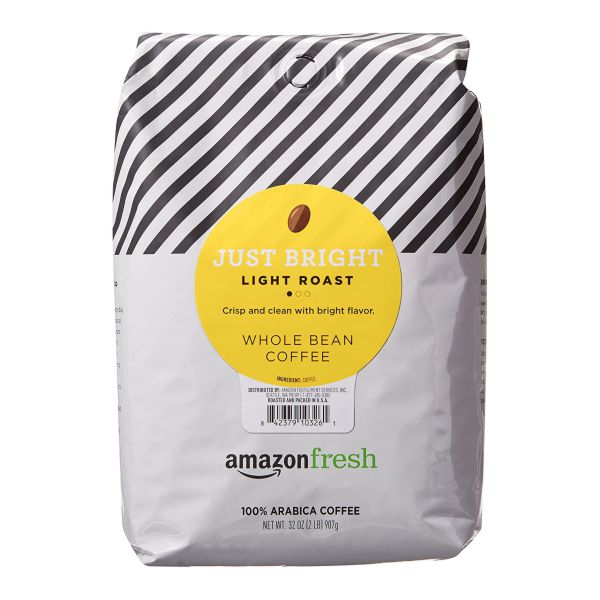 Highlights
32 ounces of bright Whole Bean Coffee
Lightly Roasted (A Pack of 1)
Product Description
AmazonFresh Just brilliant Arabia coffee, made with 100% Arabica beans, is available in six different tastes and three different serving sizes. It's billed as a "morning coffee," but if you give it a chance, you'll be sipping on it all day long.
Another AmazonFresh unique product that has been favorably praised for its taste and quality. To some, the caramel flavor in a cup of tea can be overburned. They've reported it did damage the coffee's smoothness time and time again.
Pros
Original Arabica Coffee
Crisp and Clear Flavor
The Most Popular Variety is the Entire Bean.
Cons
No International Shipping
5. Starbucks Blonde Roast Ground Coffee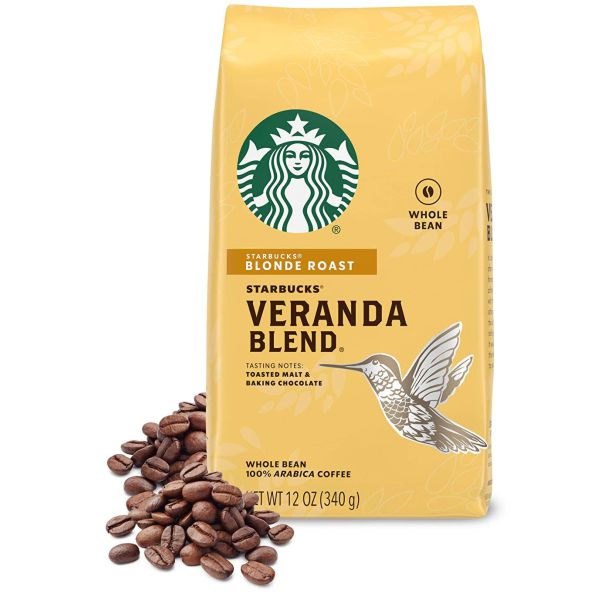 Highlights
6 packs of Veranda Blend
100% Arabica
(12 oz. each)
Product Description
Starbucks now mass-produces the blend that farmers in Latin America have been passing down for generations. This is one of the world's best-selling light roast coffees, online and off.
This whole bean coffee has delicate cocoa and toasted nut flavor. The coffee is cultivated and gathered in Latin America to replicate the taste of the growers.
Starbucks has followed the farmers' practice for decades. They collect from local farms and roast it light blonde before packaging and shipping.
Pros
It can be used to make various Coffees, including Mocha and Latte
Comes in 5 sizes.
Cons
Currently only Available in the USA
6. Cafe 1820 Tueste Claro Light Roast – Costa Rica Coffee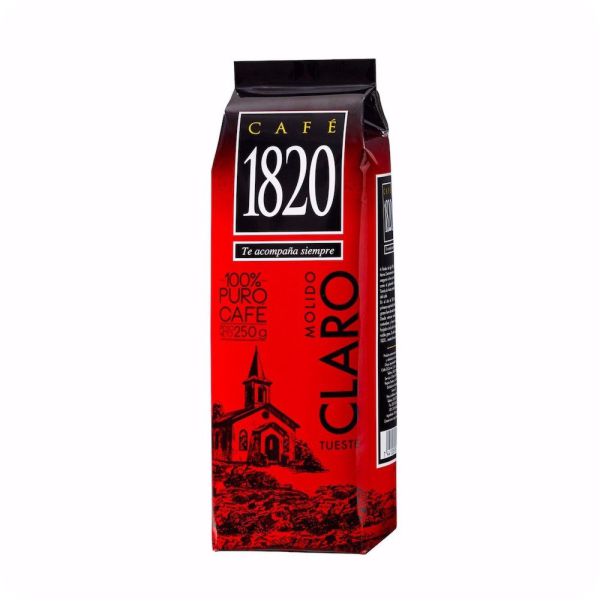 Highlights
Light Roast
8.8 Oz – 250 Grams of Costa Rican Ground Coffee
Product Description
Claro Light Roast is the newest addition to this 1820-strong brand for a morning coffee that won't let you sleep in too much longer.
These coffees come from seven districts of Costa Rica and are produced at high altitudes to preserve their quality.
Although the Tueste Claro is Cafe 1820's newest product, its aroma is a tribute to the coffee fruit. Coffee with citrus acidity and sweet fruit flavor will get you up and running.
Pros
Exceptional coffee with Perfectly Roasted Beans
Smooth and not Bitter
Cons
Not Fresh Coffee, burned in Taste
7. Coffee Bean Direct Hawaiian Kona Blend – Best Kona Coffee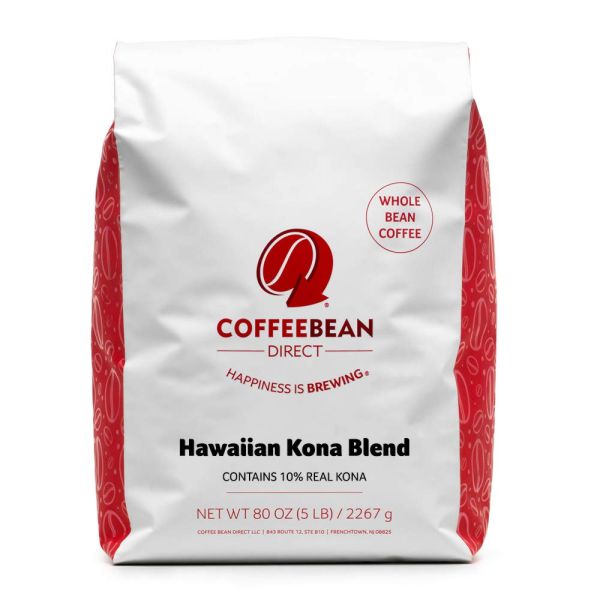 Highlights
Hawaiian Kona Blend Coffee
Whole Bean
Light Roast
Product Description
Coffee lovers enjoy the Hawaiian Kona Blend light roast coffee beans from Hawaii, which are popular. The primary problem is that demand for Kona coffee is outpacing supply.
As a result, the price of this combination is high. Kona coffee is 10% of the Hawaiian Kona Blend, prepared from 100% Arabica beans.
Coffee Bean Direct's Hawaiian Kona Blend strives to replicate a full Kona coffee's scent and flavor at a lower price point. This unique blend is roasted to a golden brown and bursts with aromas and textures.
Coffee, coriander, and a buttery macadamia nut are all featured in this dish.
The flavor of this Hawaiian Kona Blend is tangy and full-bodied. Coffee enthusiasts who aren't put off by the high price of these light roast beans will like the high caffeine content of these beans.
Reusable K cup pods and drip brew devices are also ideal for making coffee in the morning.
Pros
Various Tastes
10% Authentic Kona Coffee
8. Café Don Pablo Subtle Earth Organic Light Roast Whole Bean Coffee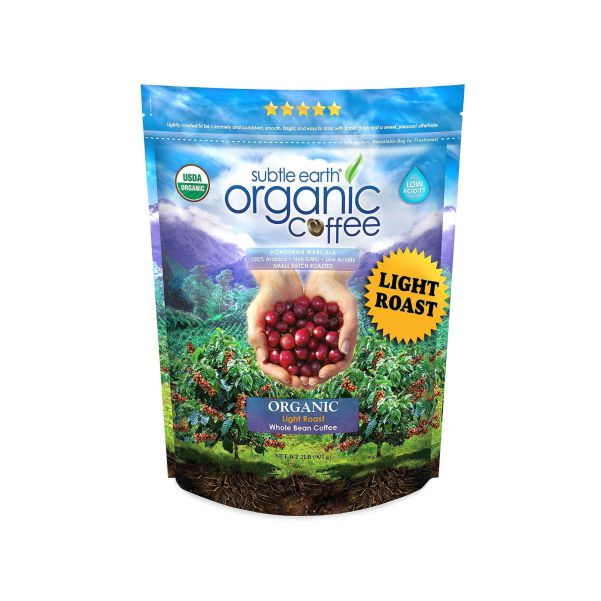 Highlights
Organic Arabica Coffee
Light Roast Whole Bean
2 lb. Bag
Product Description
The Don Pablo Gourmet coffee is one of the most popular light roast coffees. To avoid using chemicals, even insecticides, farmers are required to plant-insect repellent pepper plants.
Because the coffee is cultivated in a natural setting, it has a lot of pests. To keep the organic waste, they don't use any unnatural mosquito repellants.
Coffee drip, French press, and espresso machines can use this premium coffee. The taste will be delicate and pleasant in all types. Slow roasting allows the coffee to not only thrive but also extract its flavor and aroma fully.
Pros
Created 100% Organically
No Pesticides are used
No Chemical Fertilizers are used on Coffee Plants.
It can be used in Various Machines to make Multiple Coffees
Cons
One size only
Not for Overseas Shipping
9. Real Good Coffee Breakfast Blend Light Roast Coffee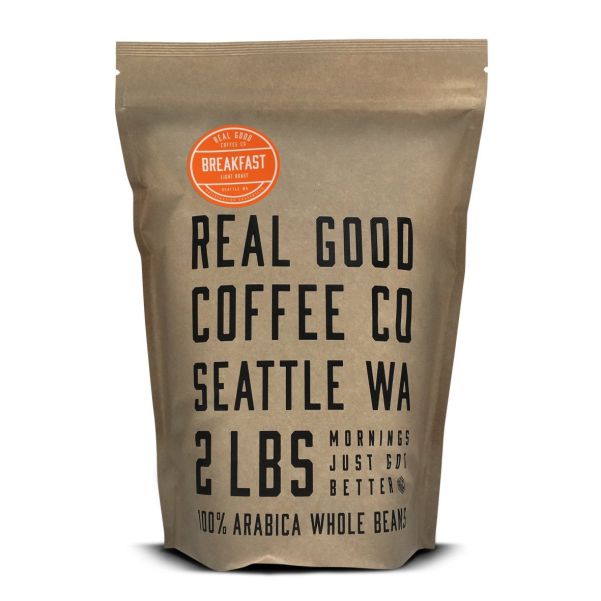 Highlights
Breakfast Blend Light Roast
2-Pound Bag of Whole Arabica Beans
Product Description
High-quality Arabica is harvested in huge batches and immediately stored for freshness after roasting. This Coffee has a vibrant orange flavor with a hint of milk and chocolate flavor.
It's the perfect option if you're looking for a cup of coffee that's smooth and chocolatey and prefers whole beans over mixes.
Drip, espresso, French press, Moka pot, Aeropress, and other coffee machines can all be used with this entire bean. As a 30-year veteran of the whole bean coffee market, it faces greater competition than any previous entrant.
Pros
The Aroma is Reminiscent of Milk Chocolate and Cream
Compatible with all types of Coffee Brewers.
Possible to Ship to Every Country in the World.
Cons
There is Only One Size Available.
The International Shipping Size is Smaller than is Necessary.
10. Caffe Umbria Leone Blend – Best Light Roast Coffee Beans for Moka Pot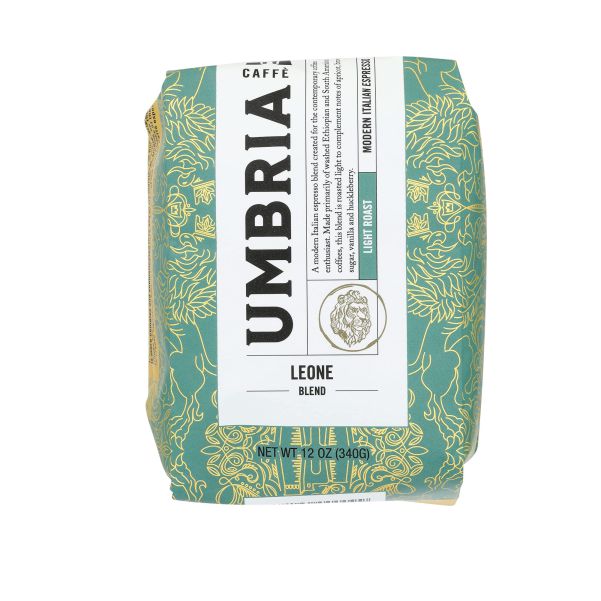 Highlights
Beans: 100% Arabica
Bag Size: 12 ounces
Origin: Brazil, Colombia; Peru; Ethiopia
Roasted in Seattle, freshly roasted coffee
Product Description
Lightly roasted coffee beans from Umbria's Caffe Umbria Leone Blend have particular characteristics. Each one has a distinct flavor that sets it apart. As a result, Leone Mix's creator, Stefano, came up with a special blend for coffee connoisseurs.
This blend of light roast coffee has a fruity, earthy, and effervescent aroma and flavor. The 2018 International Coffee Tasting Competition awarded this combination a gold medal for use in Moka pots.
Coffee from Ethiopia, Colombia, and Peru is used in the Leone Blend. It is 100% Arabica, organic coffee. The smells of fruit and caffeine in this award-winning coffee will help you get out of bed in the morning.
However, some consumers claim to receive poor coffee beans. Remember to inspect the beans for freshness.
Pros
Aromas of Fruit, Earth, and Brightness.
Perfect for the Moka pot
Caffeine content is High.
Cons
Some Users got Poor Coffee.
11. Wink Coffee Single Origin Light Roast Coffee Beans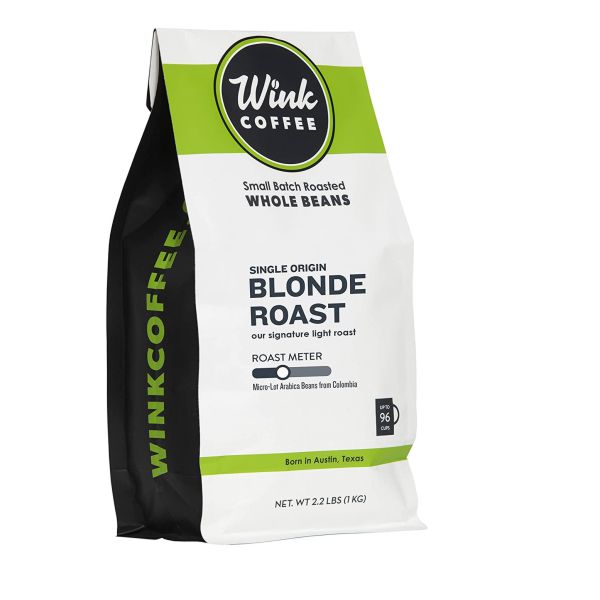 Highlights
Smooth, light, and complex
Single Origin Colombian
Blond Roast Whole Bean Coffee
Gourmet, 12 Ounces
Small Batch Roasted
Product Description
Wink Coffee's Single Origin Blonde Roast is made from 100% Arabica beans grown on Colombian farms. In Wink Coffee's Central Texas facility, a team of experts roasts the beans to perfection from Columbia.
Single-origin coffee should not be prohibitively expensive, according to the business. Some coffee drinkers were surprised to find dark roasted beans mixed in with lightly roasted beans.
Single Origin Blonde Roast from Wink Coffee has a nice flavor and a bit of a bite. An excellent cup of coffee has a rich, nutty aroma with citrus undertones and the distinct flavor of milk chocolate.
Tiny batches of coffee are roasted to preserve the flavor and aroma of the beans. To ensure freshness, each bag or 12-ounce package is individually vacuum-sealed.
Coffee cultivated in the Columbian Andes is used to make the product. Espresso, drip, and Moka pot machines may all make use of this coffee, as well as any other brewing method.
Pros
100% Arabica Beans
The nuttiness and Citrus notes
Airtight Ziploc
Cons
Some Bags have Dark Roasted Coffee Beans.
12. Cameron's Coffee Breakfast Blend – Best Quality Light Roast Coffee Beans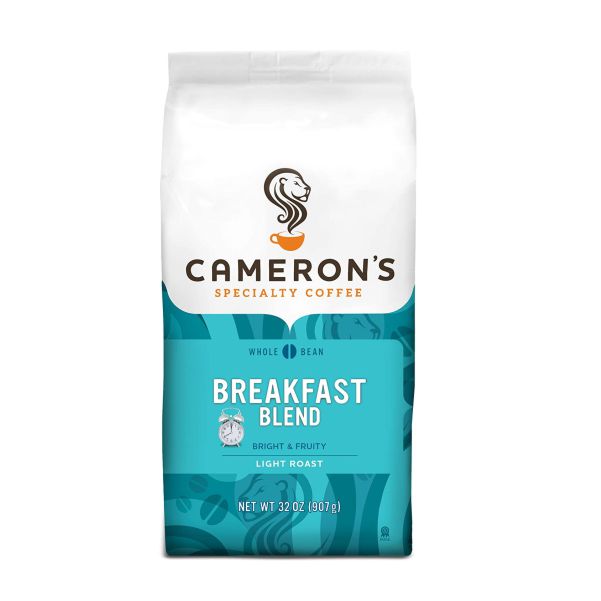 Highlights
Bag: 2 Pounds
Origin: Central and South America
Flavor: Moderate and Rich
Handcrafted, Small-Batch Roasting
Beans are Quickly Chilled after Roasting
Product Description
Cameron's Coffee Breakfast Blend is a gorgeous pack of softly roasted coffee beans. That Cameron's Coffee Breakfast is not overwhelming or bitter. It also has many more amazing attributes that set it different from other coffee companies.
It has a high demand and high-quality combination of South and Central American coffees. The 10% of Arabica beans are used to make this gently roasted coffee.
To maintain their freshness, the beans are roasted, cooled, and then packaged. Dry and deficient in oil, several buyers found the beans. Coffee lovers will like the aroma and flavor of Breakfast Blend, which is a medium-dark roast.
Pros
100% Arabica Beans
Spectacular Scent
Chilled and Packed Immediately
Cons
Beans of Coffee can be Dried
13. Caribou Coffee Daybreak Morning Blend Ground Coffee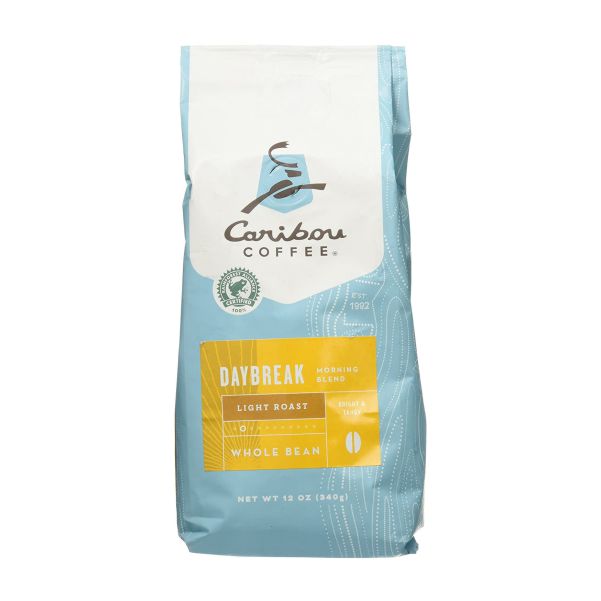 Highlights
Light Roasted
Whole Bean Coffee
12oz Bag
Product Description
The two flavors of this ground coffee come together. The Daybreak morning mix of caribou coffee has a sweet caramel flavor with a fruity aftertaste. A limited batch of them is made using only the best beans from around the world, then lightly roasted.
This is a cup of Arabian coffee, one of the finest varieties in its original form. For this product, the company is Rainforest Alliance-accredited, which means they're committed to environmental sustainability.
A portion of the proceeds from each bag sold goes toward a conservation effort in the rainforest.
A sip of this coffee will awaken your senses with a smooth, zesty flavor that will put you in the mood for the day. Coffee beans from the Middle East and the United States are the finest areas to get Arabian coffee.
There are six primary flavors. Two are light, three medium, and one dark. In terms of taste, Costa Rica and Daybreak are the two light options.
Pros
Floral Cherry is the Primary Taste of Daybreak
Available in both 12-ounce and 20-ounce bottles.
Cons
No International Shipping
Exclusively in the USA
Light Roast vs. Dark Roast
1. Light Roast Coffee
It's called "light roast" coffee when the temperature of the roasted beans is between 180 and 205°C or 356°F and 401°F.
It is slightly acidic, has higher caffeine, and has no oils in a light roast.
Moreover, its natural flavors are well-preserved and have a great deal of complexity. As a result, many professional baristas choose light roast coffee.
2. Dark Roast Coffee
It is roasting coffee at a temperature of 232⁰C or 450⁰F that results in a dark roast. Its bright and polished surface makes it stand out from other roasts.
This is because the oils in the interior of the coffee bean react to the tremendous heat and spread outward, enveloping the entire bean's outer shell. Thus, the coffee bean is coated in a beautiful and greasy caramelized layer.
Even though it contains less caffeine and has more flavor and bitterness, dark roast coffee has a deeper taste.
Buying Guides- How to Choose the Light Roast Coffee?
Coffee beans are usually roasted in two ways: light roast and dark roast. Dark roast coffee is popular due to its rich flavor. However, this coffee may be too robust for some people's tastes, necessitating another option. This factor should be considered while buying light roast coffee.
The Flavor of the Product
A buyer should evaluate a brand's taste before purchasing. To get it, smell the coffee beans. In addition to the scent, the roast kind can readily alter the taste. Some people prefer light roast coffee because it is smoother than other varieties.
Ease of Brewing the Product
Qualities affect how easy a brew is to prepare. Beans for brewing are classified as Fair Trade, Organic, or Shade Grown.
Fairtrade coffee is obtained from small-scale farmers who are fairly compensated for their products. Soil erosion is reduced, and hence the quality of shade-grown coffee is improved.
Origin of the Product
Buyers should evaluate a brand's provenance before purchasing. Generally, the flavor of brands varies based on their origins. For example, good light roast types originate from Brazil, allowing customers to choose them simply while buying.
Type of Coffee Beans Used
Arabica and Robusta are the two main types of coffee beans. Light roast components are usually created from Arabica coffee beans, which have a milder flavor than Robusta.
Even if it doesn't influence the final taste, knowing how individuals drink their brew helps.
Short-Term and Long-Term Value
One of the main reasons consumers buy items is to save time. Light roast buyers should consider this element because it can save a lot of money, especially for business owners who need every penny they can obtain.
Before buying certain coffees, a buyer may need to borrow money or sell a property. Alternatively, they may examine current economic conditions as represented by current market rates.
The Roasting Process
Producers roast coffee beans in various ways. These include drum and pan roasting. Drum roasters employ a revolving technology to roast beans uniformly and quickly.
Pan roasting, on the other hand, uses a flat, non-rotating pan. While these are the two most common ways, other hybrid systems can roast coffee beans.
The Age of the Product
For quality purposes, the product's production date should be considered. Coffee beans may be kept fresh for a long time if stored properly.
The manufacture date is usually printed on the packaging, making it easier to check for authenticity and expiration.
Type of Packaging Used
The sort of packaging used can also determine how fresh a brand is before use. For example, vacuum-sealed containers keep coffee beans fresh, allowing purchasers to buy packs with short expiration dates.
On the other hand, paper coffee bags lose their freshness fast, especially when exposed to water.
Customer Response by Previous Buyers
This is commonly done online when customers rate a product's satisfaction. Customer feedback is vital in determining the quality of light roast types.
In the absence of this information online, social media sites provide it, giving purchasers all the information they need.
Price of Product
Increasing the quality of a light roast coffee brand has a significant impact on the product's price.
Quality beans are frequently more pricey than lower-grade types, allowing customers to get them at reasonable pricing. For a better experience, they should buy the top brands that match their taste.
Compatibility with Machines and Filters
Types' compatibility with various brewing systems and filters allows purchasers to pick their favorites. Not all brands function flawlessly with all kinds, so double verify before buying. If unsure, one can consult a coffee specialist or check product reviews online.
Finally, when buying light roasts, shoppers should consider quality. Higher-quality brands generally meet all listed criteria for clientele who value their taste, senses, and health.
For buyers, the above factors are vital. Notably, not all brands match the stated criteria. Thus thorough research is required before purchase. Finally, buyers should know their brewing methods and filters to determine compatibility.
Conclusion
Coffee with a light roast is ideal for a brisk start to the day. The caffeine impact is a little stronger, but the natural flavors and smells are still there because of the gentle roasting.
A mild roast is the greatest place to start if you want to learn more about coffee. Coffee beans may be traced back to their origins using this method, as well as their inherent flavor and aroma.
When it comes to determining which brewing method is most suited for a particular coffee, the easiest way to do so is to taste it.
The Fresh Roasted Organic White Knight is the favorite of the top 13 best light roast coffees because it is soft and smooth with a pleasant bitterness.
Light roast coffee is a wonderful choice if you want to keep going all day, as it carries a powerful punch.