You sometimes can't figure out which model to get when you buy things online. Best Dual coffee makers come in a wide range of prices, and it can be hard to tell which ones are worth the money and which aren't worth it.
If you have questions about dual coffeemakers, don't hesitate to read our buying guide and FAQ. They will answer your questions about them, so don't wait to start reading!
Learn more about how we arrive at our unbiased product recommendations by reading the research and reviewing what goes into our work. We may receive a small commission by clicking on our links and making a purchase.
Our Top Picks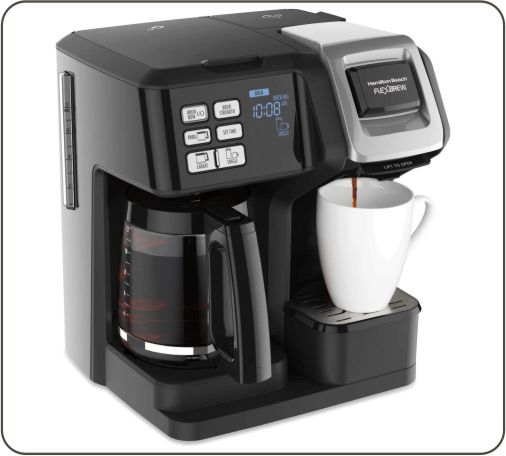 1. Best Cheap- Hamilton Beach FlexBrew 2-Way Coffee Maker
Consider this coffee maker by Hamilton Beach. It's a cheap alternative for homes with limited cooking space and limited resources.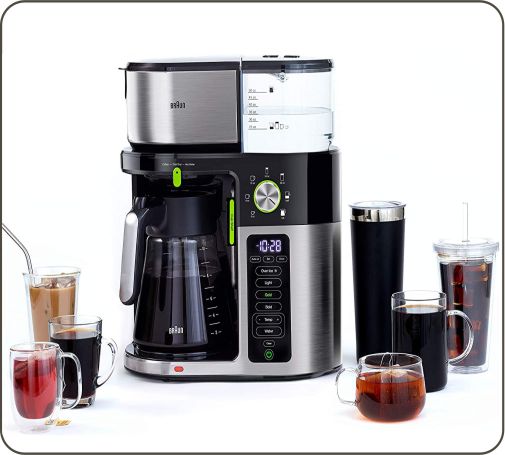 2. Best Programmable- Braun MultiServe Coffee Machine
The brewing process takes only eight minutes, but the flavor is not compromised.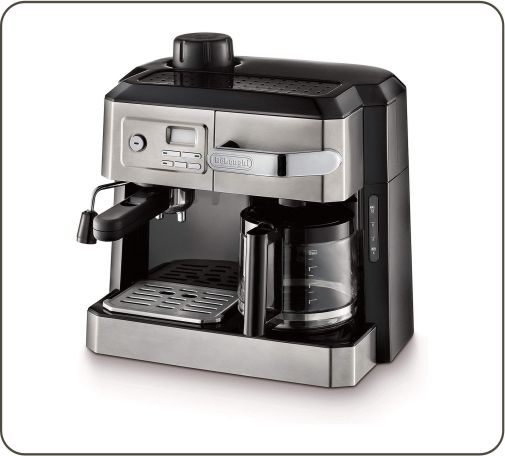 3. De'Longhi BCO330T Dual Coffee & Espresso Maker
It comes with a milk frother to make cappuccinos and lattes. The coffee's shelf life can be tracked with an LED indicator on this model.
Comparison Table
| Sr. No. | Product's Name | Brewing Time | Brewing Capacity |
| --- | --- | --- | --- |
| 1. | Hamilton Beach FlexBrew 2-Way Coffee Maker | 5-6 mins | 12-Cups |
| 2. | Braun MultiServe Coffee Machine | 15 mins | 10-Cups |
| 3. | Cuisinart SS-20 Thermal Single-Serve Brewer | 5 mins | Up to 10 Cups |
| 4. | Ninja Hot and Cold Brewed System | 10-15 mins | 10-Cups |
| 5. | De'Longhi BCO330T Dual Coffee Maker | 5-6 mins | 10-Cups |
| 6. | Mr. Coffee Automatic Dual Shot Coffee Maker | 10 mins | 2.5 pounds |
| 7. | CucinaPro Double Coffee Brewer Station | 12 mins | 12-Cups |
| 8. | Keurig K-Duo Coffee Maker | 2-3 mins | 12-Cups |
| 9. | Kitchen Selectives CM-302BL Drip Coffee Maker | 4-5 mins | 12-Cups |
| 10. | Hot and Cold Coffee Capability- Ninja CM407 | 2-4 mins | 10-Cups |
| 11. | Cuisinart CHW-12 Plus Two-Way Coffee Maker | 3-4 mins | 12-Cups |
| 12. | Best 14-Cup Model- Brim Trio Multibrew System | 1-2 mins | 12-Cups |
List of 12 Best Dual Coffee Maker
1. Hamilton Beach FlexBrew 2-Way Coffee Maker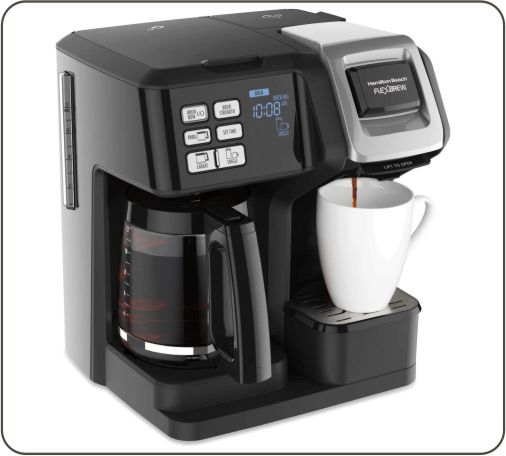 Highlights:
Compatible K-Cups and Grounds
Easy Touch Programming
Product Description:
Here is a Hamilton Beach coffee maker. It's a low-cost appliance with a small footprint, ideal for kitchens with limited space.
The 12-cup glass carafe that comes with this machine is very remarkable. Moreover, after the unit's two-hour warming cycle is complete, it turns off automatically.
With the single-serve setting, you may use as much coffee grounds as you like with any K-Cup that holds less than 10 ounces. An 8-inch travel mug will do the trick. When using K-Cups, be aware of minor drips that may occur from time to time.
The appliance is both visually appealing and easy to use. Aside from that, the digital display provides a wealth of valuable and insightful information.
Pros
Compatible Unit
12-Cup Carafe Capacity
Compact-Sized Design
Cons
Lacks a Self-cleaning Function
2. Braun MultiServe Coffee Machine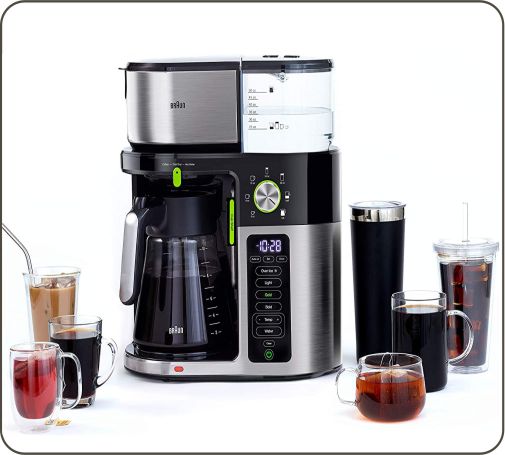 Highlights:
Drip Coffee Machine
7 Customizable Brew Sizes
Temperature Sensor System
Hot Indicator Light
Product Description:
Using the TempSensor System, the Braun MultiServe Coffee Machine can brew the ideal temperature coffee, making a single serving or a whole carafe. In just 8 minutes, you can have a carafe of delicious coffee.
Use the machine's hot water dispenser to make tea without waiting for the kettle to boil. Select your preferred brew strength and temperature, from mild too strong to gold to over ice, with the Brew Choice Plus function.
There are seven brew sizes to choose from, including half a carafe and a full carafe, allowing users to make precisely the amount they want. The permanent charcoal filter ensures delicious water at all times, while the temporary filter cuts down on trash.
Pros
Easy to Clean
Simple to Use
Flavorful
Cons
Not Compatible with Coffee Pods
3. Cuisinart SS-20 Thermal Single-Serve Brewer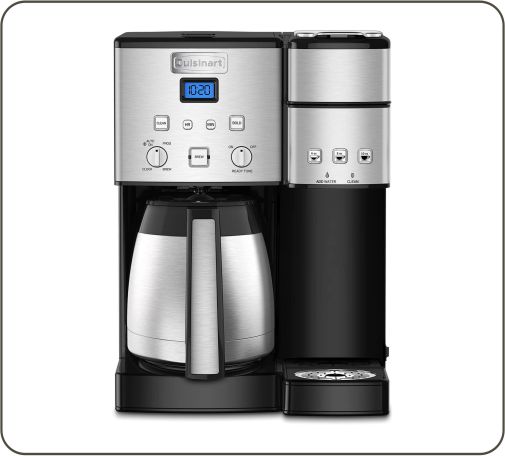 Highlights:
Product Description:
Its adaptability makes this single-serve brewer one of the best duo coffee makers. It is compatible with K-Cups, features a removable drip tray, and comes in three sizes. So, it works exactly like any other single K-Cup machine, making it convenient when you're in a hurry or just want a quick pick-me-up.
A thermal carafe that can brew 10 cups of coffee is included on the carafe side. The brew-strength control, 24-hour brew start, ready alarm, and self-cleaning feature make this side completely automated. If 10 cups aren't enough, a 12-cup glass carafe is also available.
The water filter on the single-serve side is charcoal-colored. The "brew stop" button can even be used if you need to get to your coffee sooner than it has been completed.
This option allows you to halt the brewing process if you are rushing late for work and need to get something already ready for you to drink.
Pros
Brew Strength Options Available
Removable Water Reservoir
Easy to Use
Cons
Taller coffee cups may not fit.
4. Ninja Hot and Cold Brewed System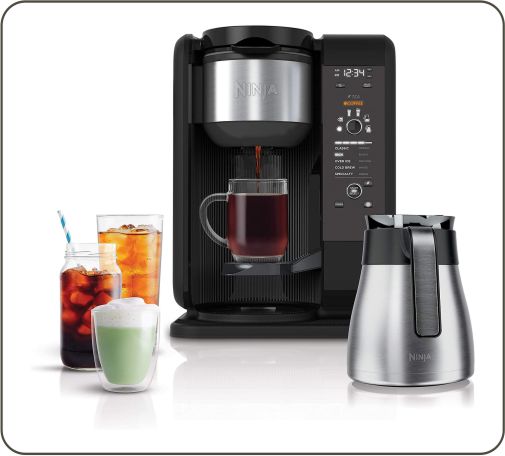 Highlights:
Programmable Coffee and Tea Machine
5 Brew Types
6 Brewing Sizes
Product Description:
The Hot and Cold Brewed System from Ninja is one of the company's many valuable and practical coffee makers. Coffee and tea are both available, as are various other beverages. The basket learns what you're using and shows the appropriate options to choose from.
Everyone in the family can enjoy their favorite beverage thanks to the variety of brew styles and sizes available.
It's a great alternative to waiting 24 hours for cold brew coffee if you don't want to sit around for that long. This is an excellent option for those who wish their cold coffee to be decisive rather than watered down.
Thanks to this device's simple operation, fresh coffee or tea may be used straight in the cup to make unique drinks and a wide range of options.
One of the best dual-brew coffee makers in a crowded field, the 10-cup carafe lets you prepare enough coffee for the whole family in the mornings.
Pros
Brew Coffee and Tea
Hot and Cold Drinks
Durability
5. De'Longhi BCO330T Dual Coffee Maker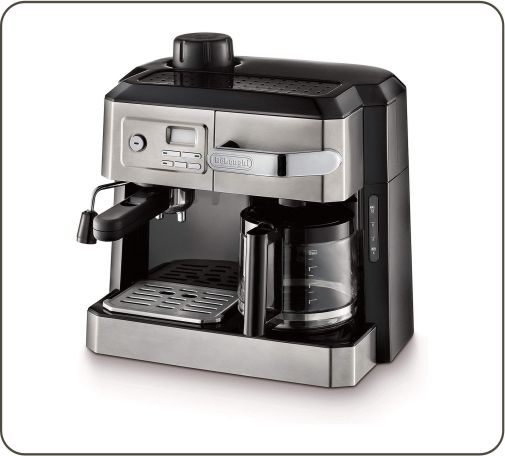 Highlights:
Stainless Steel Carafe
Digital Programmable Timer
Cappuccino System Frother
Pause and Serve Function
Product Description:
The De'Longhi BCO330T can create almost any type of coffee you choose. While it doesn't have the high-end capacity of other models in this list, it does have the advantage of making ordinary coffee and espresso items.
It also includes a milk frother so you can prepare cappuccinos and lattes. This type also has an LED freshness indicator to know how old the coffee is.
But this model has severe flaws. The carafe is prone to dribbling and spilling, causing you to spend additional time cleaning up. It's also a big machine, not appropriate for tiny kitchens.
It's around two feet long, making it more comprehensive than many machines that can create more coffee. Most people will be happy with a different device in the long term, given how aggravating this can be.
Pros
Durable and Long Lasting
Freshness Indicator
Includes Milk Frother
6. Mr. Coffee Automatic Dual Shot Coffee Maker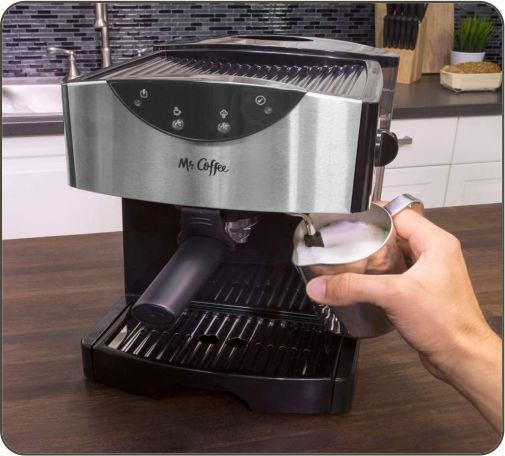 Highlights:
Stainless Steel Drip Tray
15 Bar Pump System
Dual Shot Brewing
Thermal Block Heating
Product Description:
In less than three minutes, you can brew a great cup of coffee with this fantastic method and even pour it while the brewer is still running. This coffee machine can make four for each coffee that is brewed.
The machine's general design is an excellent investment for your office. You'll never run out of ways to impress business guests with this coffee maker.
Pros
Easy to Clean
Affordable Price
Indicator Light
7. CucinaPro Double Coffee Brewer Station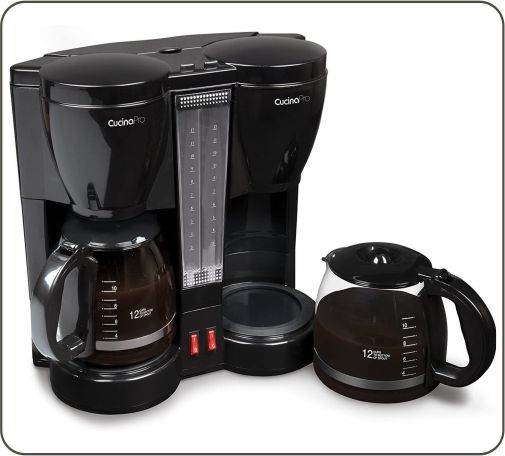 Highlights:
Double Brewer Coffee Station
Individual Heating Elements
Dual Coffee Maker
Product Description:
With two permanent filters and two independent water reservoirs, you'll never have to worry about running out of coffee with this brewer.
You may get enough "single cups" from this coffee maker to last a week, even if it can't brew a single cup! Moreover, no one drinks just one cup of coffee these days. Blasphemy! This is what you get for the most literal definition of a dual coffee maker.
12-cup carafes are used on both sides of the CucinaPro If you're organizing a large gathering, your guests will be delighted to discover that coffee is available on tap.
Pros
24 Cups of Coffee a Day
Easy Filling
Easy and Convenient Use
Cons
Only Works for Domestic Use
8. Keurig K-Duo Coffee Maker Special Edition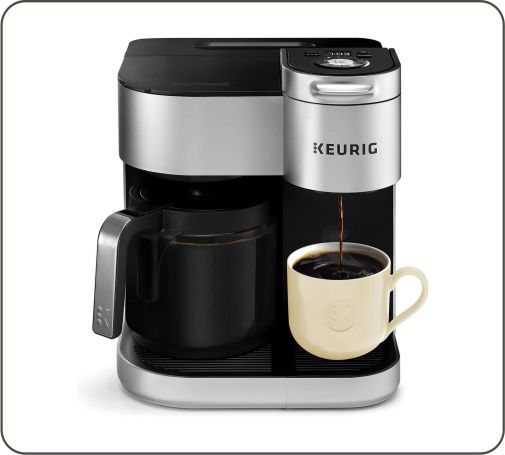 Highlights:
Drip Coffee Maker
12-Cup Capacity
Works with K-Cups
Silver Finishing
Programmable Carafe Auto Brew
Product Description:
When it comes to single-serve coffee, Keurig is one of the two major players. They're neck and neck with Nespresso in this market. So, it should be no surprise that they have a model beyond just pod-based coffee, like the K-Duo.
You can keep your coffee hot for 12 cups with this machine's glass carafe and heating plate on the left. Cleanup and refilling are made more accessible because this water reservoir can be taken out and replaced.
There are hundreds of K-Cup pods to pick from, just like every Keurig single-serve machine. Many other companies, such as Starbucks and Dunkin' Donuts, provide these pods in addition to Keurig's extensive selection.
If you like your coffee strong, the bold setting on this dual-brew coffee maker is a nice feature to decide on your next coffee maker.
Pros
Mild-Brew Pause
Multiple Brew Sizes
Lengthy Power Cord
9. Best Budget- Kitchen Selectives CM-302BL Drip Coffee Maker
Highlights:
Dual Carafe
12-Cup Drip Coffee Maker
Automatic Shutoff
Removable Filter Basket
1-Year Warranty
Product Description:
This Kitchen Selectives dual-coffee maker is an excellent option if you're on a budget. Both sides produce 12-cup pots, so you'll have to give up single-serve if you want a budget coffee maker that makes two types of coffee.
Brewing takes place on separate sides of the coffee machine, so no two cups will ever share a pot of coffee. This means you can brew both sides simultaneously without any issues. It's easy to make two full pots of coffee if you have two water reservoirs.
The coffee maker comes with a few useful options. The automatic shutoff after two hours and pause and serve feature are two options available to you. This coffee maker has a lot of valuable functions.
Pros
Inexpensive
Easy Cleaning
Power Button lights up
Cons
Not Suitable for Professional Use
10. Hot and Cold Coffee Capability- Ninja CM407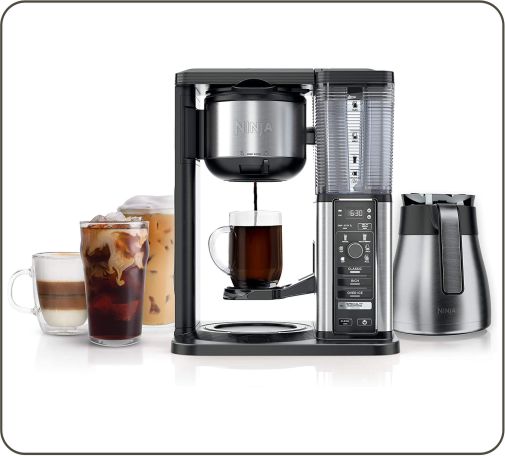 Highlights:
Specialty Coffee Maker
Thermal Carafe
Stainless Steel Finishing
Classic and Rich Brew
Product Description:
With the Ninja Specialty Coffee Maker, it's easy to master the art of making great coffee right in your kitchen. It uses frothed milk and rich coffee concentrates on making coffee-like drinks and delicious iced coffees without pods. One cup or an entire carafe, this machine has you covered.
You can prepare super-rich lattes and cappuccinos with unique brewing options. You can produce non-diluted iced coffee with the equipment. Folding milk frother creates silky foam from milk. Brew a mug, half-carafe, or full-carafe.
Pros
No Pods Needed
Permanent Filter
Easy Cleaning
11. Cuisinart CHW-12 Plus Two-Way Coffee Maker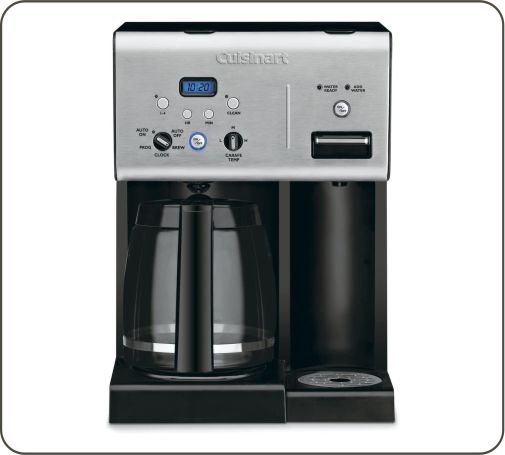 Highlights:
12-Cup Coffee Maker
Automatic Coffee Brewer
Adjustable Temperature Control
Indicator Lights
Product Description:
For its low price, this Cuisinart coffee maker packs a lot of valuable functions. There's a hot water dispenser, for instance, so you can get steaming water whenever you choose. This would be a fantastic feature if the water didn't taste like plastic.
Unfortunately, the hot water reservoir's "add water" light began flashing despite being full, a known issue with this model of coffee maker. It has a three-year warranty, but you'll have to spend roughly $20 to cover shipping and handling.
To customize the temperature of the hot plate in the carafe to your liking, turn the knob. Not least, it produces excellent java. However, filling the water tank on the coffee side takes great pouring skill, and nearly invariably results in a spill to clean up.
You'd be better off with a more trustworthy model, despite the intriguing collection of features.
Pros
Comfortable Handle
Hot Water Dispenser
Cons
Hot Water tastes like Plastic
12. Best 14-Cup Model- Brim Trio Multibrew System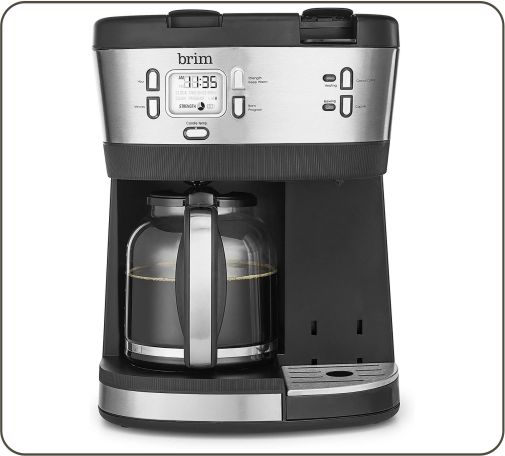 Highlights:
Programmable Coffee Maker
Conveniently Variable Brew Size
Compatible with K-Cups
Stainless Steel
Product Description:
The Brim Trio Multibrew System offers a 14-cup programmed functionality and a pause and serves a function, making it a versatile coffee maker. In addition, a 12-cup model of the device is offered.
The DC Pump single-serve function was created to provide the best flavor possible for K-Cups. Coffee grinding volumes of six, ten, and fifteen ounces are also supported.
Using the Brim Trio Multibrew System, you can brew a cup of coffee in one to two minutes. Thanks to the pre-programmed settings, you may have freshly brewed coffee in the morning. The device can be pre-programmed for up to 24 hours.
It's also convenient that you may set the auto-shutoff time to anything between 30 minutes and two hours. And there's a permanent filter basket that may be used repeatedly.
Included in the container is a measuring spoon for your convenience. The brews come in a range of sizes. The drip tray is adjustable in height and can accommodate a variety of travel mugs.
Pros
Programmable Settings
Variable Brew Sizes
Compact and Space Saving
Cons
No Automatic Switch-OFF Feature
Also Read: How to Clean a Coffee Maker Without Vinegar 17 Methods
Choosing the Best Dual Coffee Maker- A Buyer's Guide
This guide will help you pick the best dual coffee maker for your needs. If you're still undecided, consult our buyer's guide. We cover all you need to know about these models to make an informed decision.
Ease of Use
When selecting a dual coffee maker, consider its easy use. Some models require a lot of steps to produce a single cup of coffee, wasting time. Some double coffee machines have separate water reservoirs for the single-serve and carafe sides.
That means you have to be more careful with the water you add, but you won't have to replenish the other side because you used it.
Reusable filter models can save you a significant amount of money over time. Typically, they must be cleaned by hand, but you won't have to deal with paper filters in the meantime.
Coffee Variety
The good thing about dual coffee makers is that you can pick one that meets your various coffee-drinking needs. Some versions only make coffee in single-serve or carafe portions, while others make more substantial or regular cups.
Others include pre-made single-serve pods as an alternative. The popular K-cup series and the lesser-known but available soft pod variants can be used. If you already use one of these, getting a model that supports both is good.
Some models even make espresso. No reason not to choose a model with these features if you regularly consume espresso, cappuccinos, or lattes.
The most important thing is to acquire a machine that meets your demands. Otherwise, you'll be unsatisfied regardless of the price.
Size
Many individuals purchase a dual coffee maker to save space on their counter.
Remember that twin coffee machines can get quite enormous, much bigger than the machines you're aiming to replace, or they can have a small footprint but be very tall, or they can only take up a tiny amount of space.
The dual coffee maker's relative size can be challenging to discern from online photographs. Be careful to verify the machine's dimensions before buying if you want to limit the counter space it takes up.
It is always a pain to return an item of clothing you enjoy, but that eventually takes up too much counter space.
What is the Best Dual Coffee Maker for you?
There are many ways to gain significant value for your money, yet some cause many individuals to regret their purchase. You are trying to make this selection by looking at the most and least priced models.
Quality control becomes a concern at the low end. You may be paying for features you won't use on the upper back, hoping for a model with no quality control difficulties.
It's advisable to start with the features you'll use the most and prioritize getting a model with them. If you have several choices, narrow your selection by eliminating those that don't meet your criteria and ranking them by price.
Then go for the cheapest. It contains all the features you need for a good experience, yet it is the most affordable total pricing.
FAQs
What is the best carafe material?
You have three options: plastic, glass, or stainless steel. Plastic items should be avoided due to their short lifespan and questionable materials.
Glass carafes employ hot plate technology to keep the coffee warm. Too much time in the carafe will cause it to become bitter.
Be careful not to drop the glass into the coffee, as it will shatter if there isn't much left to view. Thermal or stainless-steel carafes insulate the coffee, keeping it hot for hours.
How long does it take a dual coffee machine to brew a cup?
It depends on the machine and the amount of coffee used. It should take about three minutes to brew a modest quantity with a single-serve side. Some units may take longer. Therefore, a programmable timer on multiple coffee makers is a great feature.
Keep in mind that making a full cup of coffee takes more time. If you want a cup of coffee while the whole carafe is brewing, you might want to look into buying a machine with Brew Pause. That coffee will be gone before the next cycle begins.
Can my two-way coffee maker brew coffee on both sides?
This option can speed up preparing coffee for multiple people. You may brew a whole pot for your family while enjoying a perfect cup of coffee. Remember that not all dual-purpose coffee makers allow simultaneous activation of both sides.
That's why you should read the product description carefully. It may be helpful, but it shouldn't be the decisive factor. If the machine's coffee is delicious, the wait will be worthwhile.
Final Thoughts
The experts don't frequently encourage using an automatic coffee maker to prepare coffee, especially one that can perform multiple tasks rather than just one. But the coffeemakers we researched in this guide are the best in the business, capable of generating the best brews.
In the past, coffee pots were terrible at brewing coffee. The extractions were inconsistent, the coffee was over or under-extracted, there were no single-serve alternatives, and they weren't entirely safe for use.
With the advancements in technology, these machines can now do far more in addition to being programmable to make stronger or weaker coffee based on your preferences.
They are easy to clean, safe to use, and brew one or several servings; some can even prepare specialized drinks; and, most all, they provide an excellent cup of coffee!