Because this company makes so many different models, it might be hard to find the best coffee maker. Cuisinart has everything from cheap models to high-end ones, and its coffee makers are known as the best on the market. Cuisinart makes many coffee machines to meet different needs and preferences. Let's look at the best Cuisinart coffee maker have to offer.
Learn more about how we arrive at our unbiased product recommendations by reading the research and reviewing what goes into our work. We may receive a small commission by clicking on our links and making a purchase.
Top Picks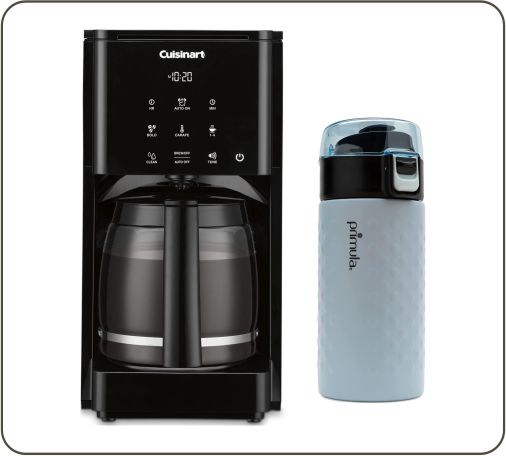 1. Cuisinart DCC-T20 Programmable Coffeemaker
Cuisinart DCC-T20 Multitouch 14-Cup Programmable is finest. It creates more coffee than any programmable automatic-drip coffeemaker.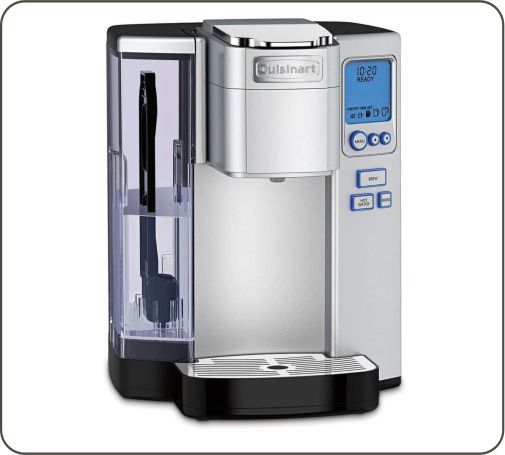 2. Cuisinart Premium Single-Serve Coffee Maker (SS-10)
The premium single-serve coffeemaker from Cuisinart, the SS-10, is fully automatic and can be programmed to suit your needs.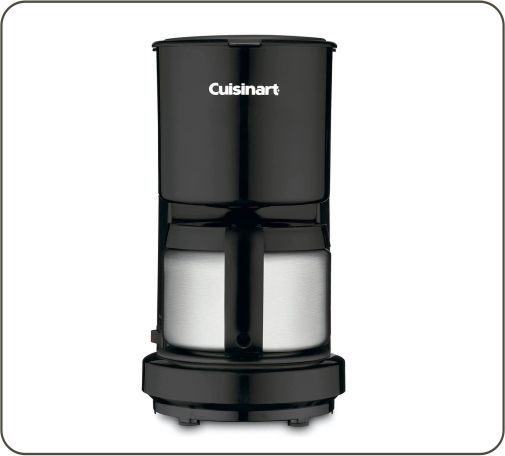 3. Cuisinart DCC-450- Budget Pick
The Cuisinart DCC-450 is ideal for singles, small families, or dorms. It's cheap due to its size, not its quality.
Comparison Table
| Sr. No. | Product Title | Dimensions | Capacity | Price |
| --- | --- | --- | --- | --- |
| 1. | Cuisinart DCC-T20 Programmable Coffeemaker | 18.4 x 14.1 x 12.7 inches | 14 Cups, 1 Cup, 4 Cups | $139.95 |
| 2. | Cuisinart Premium Single-Serve Coffee Maker (SS-10) | 18 x 16.5 x 14 inches | 1 Cup | $159.95 |
| 3. | Cuisinart DCC-450- Budget Pick | 8″D x 10″W x 5.25″H inches | 4 Cups | $39.95 |
| 4. | Cuisinart DCC-1150BK Coffee Brewer | 8.07 x 10.23 x 14.17 inches | 10 Cups | $199.95 |
| 5. | Best Value- Cuisinart DCC-3200 PerfecTemp | 7.75″D x 9″W x 14″H inches | 14 Cups | $92.99 |
| 6. | Cuisinart DCC-3000 Coffee on Demand | 14.25″D x 22.5″W x 17.25″H inches | 1 Cup | $117.00 |
| 7. | Cuisinart Coffee Plus CHW-12 Coffee and Tea | 9.5″D x 10.25″W x 14.3″H inches | 12 Cups | $110.95 |
| 8. | Cuisinart DGB-625BC Grind-And-Brew | 9.8 x 12 x 17.5 inches | 1 Cup | $69.99 |
| 9. | Cuisinart CPO-800 Pour Over Coffee Brewer | 7.5″D x 12″W x 13.5″H inches | 8 Cups | $179.95 |
| 10. | Cuisinart SS-15 Coffee Maker | 10.13″D x 10.38″W x 14.25″H inches | 12 Cups | $174.99 |
| 11. | Cuisinart DGB-650BC Grind and Brew | 8.1 x 8 x 15 inches | 10 Cups | $129.95 |
| 12. | Cuisinart DGB-550BKP1 Grind & Brew Automatic Coffeemaker | 7.48″D x 11.2″W x 15.16″H inches | 12 Cups | $89.99 |
List of 12 Best Cuisinart Coffee Makers
Product Details
1. Cuisinart DCC-T20 Programmable Coffeemaker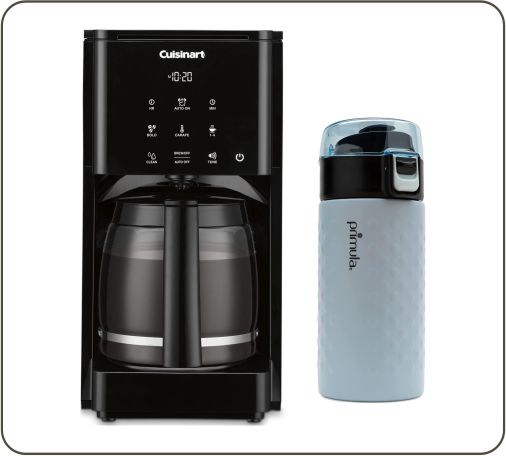 Highlights:
Adjustable Brew Strength
Auto Shut OFF Operation
PerfecTemp Technology
Made in the USA
Product Description:
As far as programmable automatic drip coffee makers go, it has the highest output on the market. That's why it's perfect for houses where multiple individuals drink coffee throughout the morning or for those who frequently host guests.
This is an entirely new iteration of the PerfecTemp, and it features a touchscreen in place of buttons. The panel can "go to sleep" when it is not in use, giving it a more minimalist appearance.
You can disable the sound if the ding signaling your coffee's readiness disturbs you. The coffee maker's temperature and duration of usage may be adjusted to suit your preferences, so you can leave without worrying about scorching your toast or burning your coffee.
Pros
Larger Capacity
Touch Screen Program
Cons
This Cuisinart comes only in Black.
Controls are Tough
2. Cuisinart Premium Single-Serve Coffee Maker (SS-10)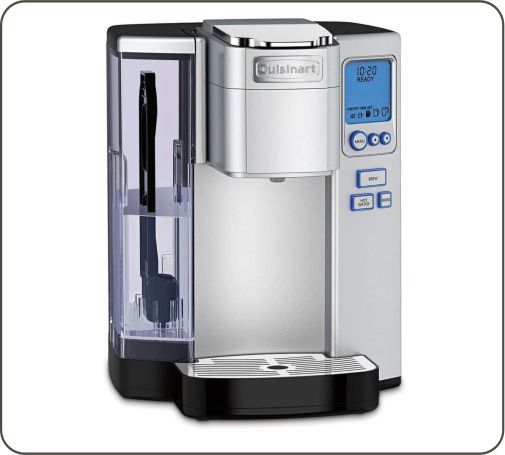 Highlights:
Compatible with K-Cup
Stainless Steel
Reusable Filters
1 Year Warranty
Product Description:
The premium single-cup coffeemaker from Cuisinart, the SS-10, is entirely automatic and can be set to your preferences. As opposed to other versions, this one allows you to fine-tune the temperature at which your coffee is brewed.
Even if the temperature setting is a bit of a letdown, the hot water option is excellent for making tea and hot chocolate when the coffee is too excellent for your liking.
But there are some problems with this approach as well. All single-cup pods can be used in this machine, although they don't appear to be emptied throughout the brewing process.
There's a short chord and flimsy plastic construction, so it needs to be used close to a power source. When brewing, it makes a lot of noise.
Pros
Adjustable Temperature
Water Heater
Easy to Clean
3. Cuisinart DCC-450- Budget Pick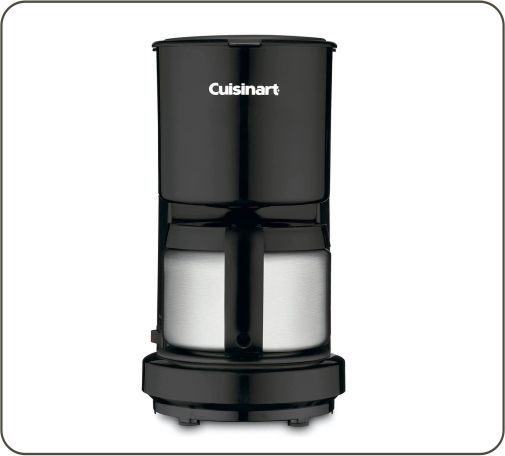 Highlights:
Manual Coffee Maker
Ground Coffee Beans
Stainless Steel Carafe
Automatic Shut OFF
Product Description:
If you live alone, have a small family, or are a college student, the Cuisinart DCC-450 is the best coffee maker. Because of its diminutive size, rather than any inherent lack of quality, it may be had for a low price.
The major standout is the thermal carafe made of stainless steel with a drip-free spout, a feature rarely seen in budget coffee makers. It keeps coffee hot for hours, even when the coffee maker is turned off.
The Cuisinart DCC-450 has some of the same features as coffee makers that cost more. The brewing process can be paused if you just can't wait for your first cup.
Furthermore, after 30 minutes of inactivity, it turns off itself, which is a great way to save power.
In and of itself, its compact size is a benefit. It's compact and easy to make in a hurry.
Pros
Thermal Carafe
Inexpensive
Comfortable Handle
4. Cuisinart DCC-1150BK Coffee Brewer
Highlights:
Programmable Coffee Maker
Permanent Filters
Stainless Steel
Fully Automatic Coffee Brewer
Product Description:
The DCC-3200 14-Cup Classic Coffee-Maker from Cuisinart shares many of its features with the DCC-1150BK 10-Cup Classic Coffee-Maker.
Being automated and programmable makes it quite useful, albeit the interface can be confusing. It's also self-cleaning so that it won't disrupt your morning ritual.
A pause function for the brewing process is included. Although the brewing process is complete, the unit may continue to drip for a while after removing the pot.
Unlike the DCC-3200, this device turns off by itself once the brewing cycle is complete. While the coffee is supplied to a thermal carafe, there is no warming plate to maintain the temperature.
For the best-tasting coffee, use the charcoal water filter with the DCC-1150BK and the reusable coffee filter with a gold finish. The carafe is not easy to pour from because of its poor design.
Pros
Thermal Carafe
Self-Cleaning
5. Best Value- Cuisinart DCC-3200 PerfecTemp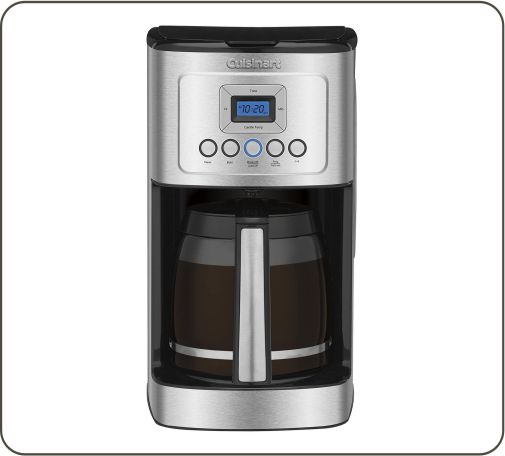 Highlights:
Programmable Coffee Maker
Brew Strength Control
Fully Automatic Machine
Built-in Water Filters
Product Description:
Like the Cuisinart DCC-T20, the DCC-3200 has a glass carafe that can hold up to 14 cups. This version, however, is the more affordable machine because it costs less than $100.
This Cuisinart was taken straight from the 1950s, with its stainless-steel exterior and basic control layout.
Coffee will be served to you at a higher temperature than usual. There will be no sacrifice of flavor, either. The permanent gold-tone filter and charcoal water filter ensure clean-tasting coffee.
An excellent coffee maker that won't break the bank is the Cuisinart PerfecTemp.
When it comes to features, the Cuisinart DCC-3200 is hard to beat. This machine is around $30 less expensive than the DCC-T20, but it doesn't have the same modern design.
This coffee maker's sturdy stainless-steel body and excellent customer evaluation is the most cost-effective option we could find.
Cons
The hot plate's finish may flake.
6. Cuisinart DCC-3000 Coffee on Demand
Highlights:
Programmable Coffee Maker
Double Wall Reservoir
Drip Tray Plate
Commercial Style Filter
Product Description:
Perhaps you want to share a cup of coffee with friends, or you prefer to enjoy a steaming mug of joe in peace before the rest of the crew rises and shines.
The versatility of this Cuisinart coffee maker makes it a good choice for any household, whether it's quiet and low maintenance or full of kids and pets.
The showerhead drip coffee technique Cuisinart Coffee on Demand uses to brew coffee removes the grounds uniformly and can brew up to 12 ounces of coffee.
You may pour as much or as little as you like into your mug or to-go cup when it's done. The double-walled tank maintains a constant, steady temperature, keeping the remaining coffee at a comfortable drinking temperature.
You can easily monitor your coffee supply with the included level indicator.
Now you have the choice of having a coffee date if that's what you're into. But even if you and your roommate have different wake-up schedules, the coffee will be hot and waiting for you when you get up.
Pros
Durable Filters
Small Brew Settings
7. Cuisinart Coffee Plus CHW-12 Coffee and Tea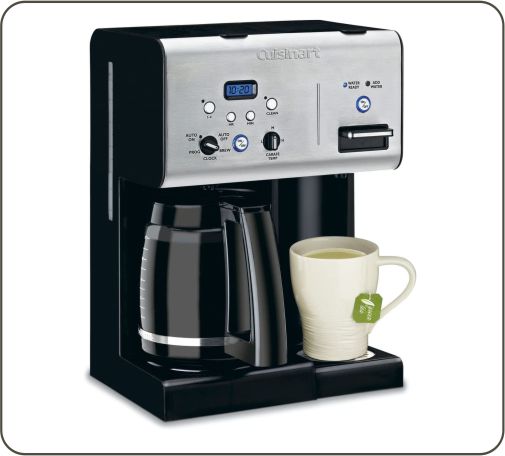 Highlights:
12 Cups Glass Carafe
24-hour Programmable
Adjustable Temperature
Hot Water System
Product Description:
A Cuisinart CHW-12 could be the answer if you live with coffee and tea lovers. On one side of this coffee maker is a 12-cup coffee pot, while on the other is a hot water tap for making tea, chocolate, or instant cereal.
Separate from the coffee machine is a 52-ounce hot water system. The coffee and the hot water can be made independently or at the same time.
If you prefer a little hotter coffee than the typical joe, you may easily change the temperature. The Cuisinart CHW has a built-in auto-shutoff and cleaning function.
To have freshly brewed coffee waiting for you in the morning, simply set your coffee maker's timer the night before. Tea drinkers can boil their tea while the coffee is brewing.
Pros
Permanent Filters
Indicator Lights
Cons
Some don't like hot water.
8. Cuisinart DGB-625BC Grind-And-Brew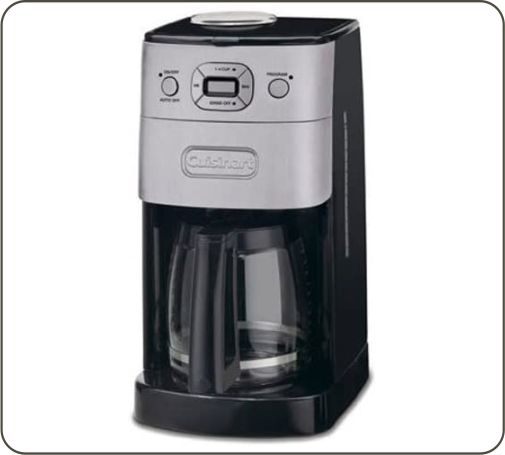 Highlights:
Programmable Coffee Brewer and Grinder
Permanent Gold Tone Filter
Adjustable Auto Shut OFF
Warming Plate
3 Years Warranty
Product Description:
DGB-625BC by Cuisinart Grind-and-Brew combines a coffee grinder and machine to produce a coffee pot serving 12 people.
Like others by Cuisinart, this coffee machine has a sizable, user-friendly display and control panel for programming. Set the timer to brew, choose an automatic shutoff, and pause the process as needed to get a cup.
The footprint is minimal, and the style is sleek and contemporary. The 12-cup carafe can easily accommodate many guests, and the 1-to-4-cup setting allows for a delicious individual serving.
One of the most notable features of the DGB-625BC is its integrated grinder. The initial investment is higher, but you save money by not buying a separate coffee grinder, and the resulting cup of joe is far superior.
Pros
Glass Carafe
Automatic Coffee Maker
9. Cuisinart CPO-800 Pour Over Coffee Brewer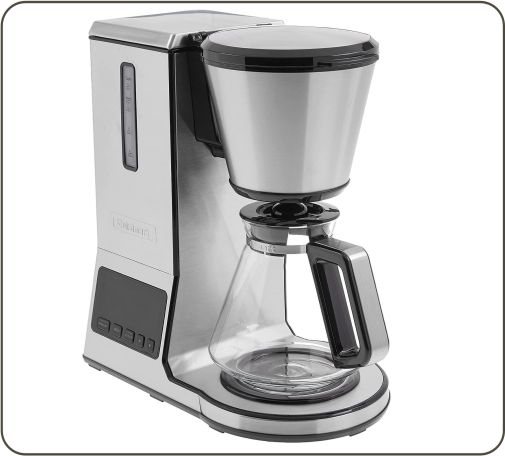 Highlights:
Pour Over Coffee Brewer
Fully Automatic Coffee Brewer
Flavor Strength Control
Product Description:
The Cuisinart Pour Over is an excellent option if you're willing to spend a little more on your daily coffee. Although many people consider pour-over the best way to brew coffee, its main drawback is that it needs more concentration and work than instant coffee.
Thankfully, the Pour Over Brewer takes the legwork out of making coffee the traditional way, so you can relax while still getting great results.
You can keep your coffee hot for up to two hours in a glass carafe on top of a heater, which is about the average "remain warm" time. This brewer has adjustable settings for strength and temperature, which is excellent news for picky coffee aficionados.
Pros
Self-Clean Feature
Thermal Carafe
10. Cuisinart SS-15 Coffee Maker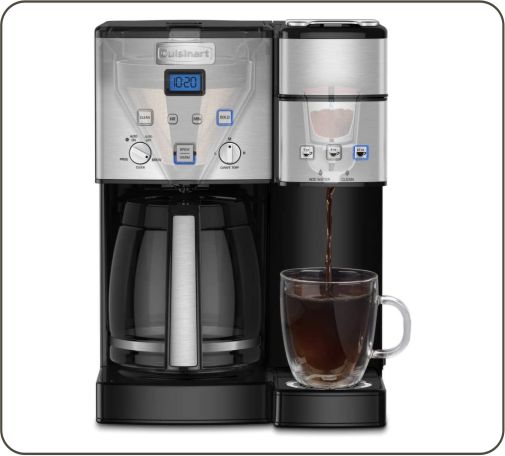 Highlights:
Single Serve Coffee Brewer
Stainless Steel
Drip Coffee Machine
Fully Programmable
Product Description:
The included glass carafe can make about 12 cups of coffee, but a smaller 10-cup version is also available.
In the end, the quality of your ground coffee will depend on the brand you purchase, although Keurig has established itself as a leader in the coffee pod industry.
Although the coffee produced by those pods isn't the best, at least there are many flavors from which to select. It's a compromise between superiority and portability, but it's still quite tasty.
The gold-tone filter with the SS-15 aids the brewing process and gradually enhances the coffee's flavor. A charcoal water filter, helpful in improving tap water quality, is also included.
You may use any Keurig pods, and Cuisinart includes a reusable filter that works with their coffee makers. This way, you won't have to wait to enjoy your regular ground coffee.
Pros
Super Convenient
Compact Design
Cons
Regular Cleaning Required
11. Cuisinart DGB-650BC Grind and Brew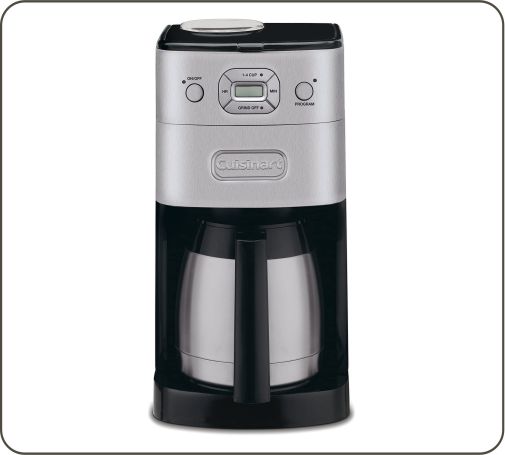 Highlights:
Automatic Coffee Maker
Thermal Carafe
Permanent Filters
Coffee Grinder
Product Description:
Coffee makers by Cuisinart, model DGB 650, feature an all-stainless-steel construction. So, it has a thermal tank that maintains your coffee's temperature without additional heat.
This reduces the rate at which the coffee is extracted while it sits. This is preferable to having a permanently heating element to maintain a steady coffee extraction rate.
If you give it the TLC, it needs, this coffee maker for 10 cups will serve you well. Steel construction makes it more robust and less likely to break in transit or use.
This Cuisinart model may be the best option for those wary about breaking their coffee maker.
Pros
Stainless Steel Carafe
Simple Design
12. Cuisinart DGB-550BKP1 Grind & Brew Automatic Coffeemaker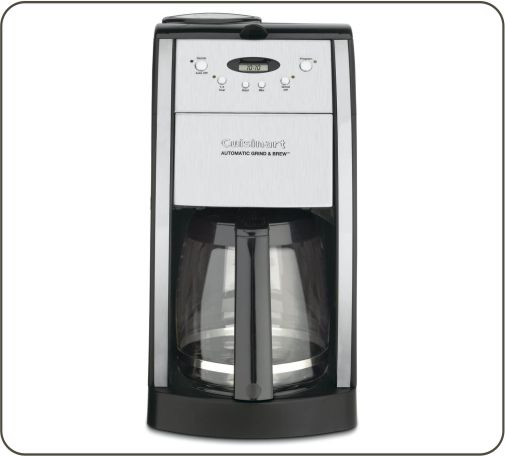 Highlights:
Automatic Coffee Brewer
Glass Carafe
24-hour Programmability
Product Description:
Those who are concerned about taking up as little room as possible should give serious consideration to purchasing the Cuisinart DGB coffee maker. It can grind and brew, simplifying the process of making coffee and streamlining processes.
You can make batches that are 4 cups in size with the push of a button, or you can maximize the capacity of the 12-cup reservoir by filling it up to the very top.
Pros
Durable Filters
Comfortable Handle
Cons
Difficult-to-Fill Water Tank
Also Read: 12 Best Super Automatic Espresso Machine
Buyer's Guide- What is the Best Cuisinart Coffee Maker
To get the best coffee machine for your needs, you must first identify those needs. Is it only you and maybe one or two other individuals using this at home? Do you need it for many individuals to use in a break room?
The type of brewer you need depends on how you intend to put it to use. Considerations while shopping for a Cuisinart coffee maker:
Convenience
How much should your coffeemaker do? Programmable models let you fill the water tank and schedule brewing. Great if you're short of time or can't think before coffee. You can have coffee ready when you get up.
Manual models lack timers, so you can't schedule them. They're easy to use, tiny, and cheap.
Types of Drink
How do you prepare coffee? If you want great coffee and espresso, you need different equipment. Multiple gadgets cost money and counter space.
Some machines create suitable cups of different coffees, but none of them do well. You get extra cash and counter space.
Consider a hot water pump if you or your family loves tea or chocolate. So, no electric kettle is needed.
Brewing Capacity
About how many cups of coffee do you make each time? Think about how often you brew coffee and how many cups that equals before making a purchase.
Single-serve coffee makers are fantastic if you only need to brew one cup of coffee.
Ideal if multiple individuals want different coffee flavors.
These are perfect for families or if you want coffee all day.
Ideal for workplaces and other locations that cater to huge crowds of people.
Size
Be sure that the new appliance will fit comfortably on your counter. When shopping for a coffee maker, it's essential to think about your kitchen's layout and the weight and size of each model.
Make sure your preferred coffee mug fits under the nozzle of the single-serve machine.
Durability
Choose a coffee maker that is more stainless steel than plastic if you want it to last a long time. In addition, a thermal carafe is preferable to a glass one.
A coffee machine that can handle the volume of use in a household where many people like the beverage are essential.
Special Features
Tell me about the things you need and the ones you can do without. Do you want the option to brew and pause, have the machine shut off automatically, or set a timer? There's also the choice of a strong brew and a tunable hot plate.
Selecting a machine that suits your financial constraints is possible once you've determined which qualities are most important to you.
Budget
Once you know your must-haves, check your budget. If you have a small home or are the sole coffee user, consider a 4-cup or single-serve machine. These are inexpensive and make coffee faster.
But investing in a more expensive machine might be worthwhile if you want a lot of coffee to get your day going.
Check the machine's warranty, customer service evaluations, and spare parts availability. This will tell you if the pricing is fair.
How to Clean a Cuisinart Coffee Maker
After each use, coffee machines should be cleaned routinely. Clean the pot, filter basket, and drip spout. This keeps mold or bacteria from growing in your device and provides a fresh taste.
You should descale your machine every few months as well. This will give your device a more thorough cleaning. It will get rid of the calcium, mineral, and limescale buildup. A high-performance machine might notify you when it needs to be cleaned.
Cleaning Cuisinart coffee makers is typically simple. If your machine has a self-cleaning feature, just add vinegar to one-third of the tank. Then add clean water to fill the remaining space in the tank.
The self-clean indication light will turn on after you press the self-clean button. Ensure the self-clean light is still on as the coffee maker is turned on. Let the appliance finish its cleaning cycle.
Before beginning a cleaning cycle, consult your user handbook, as the cleaning instructions may differ between models. Coffee makers need descaling every 3 to 6 months. Descale may be necessary more frequently if you reside in a region with hard water. The alternative is to use bottled water.
Also Read: How to Use a Cuisinart Coffee Maker in 7 Simple Steps
FAQs- Best Coffee Maker Cuisinart
Why are my Cuisinart coffee machine's lights flashing?
You should clean your Cuisinart coffee maker if there is a buildup of calcium or "scales." When your machine has to be descaled, the pure light will flash to let you know. Regular cleaning keeps your device from breaking down and gives you better-tasting coffee.
How many individuals can a 12-pot coffee machine accommodate?
Coffee makers measure "cups" differently than many drinkers think. An 8-oz U.S. measuring cup is smaller than a 5-oz coffee pot cup.
The total capacity for a 12-cup coffee pot is 60 ounces. One 12-cup coffee pot serves six 10-ounce mugs each. It's about a Starbucks tall.
How frequently should a charcoal water filter be changed?
In the U.S. and Canada, most Cuisinart cookware is lifetime guaranteed. Cuisinart coffee makers have a three-year warranty. This guarantee covers material or quality problems when the device is used at home. You must register your Cuisinart coffeemaker online to activate the warranty.
Is there a lifetime warranty from Cuisinart?
High-end coffeemakers often feature a charcoal water filter. Charcoal filters purify water well. This can provide you with cleaner water and better coffee and prevent limescale buildup.
Charcoal water filters should be replaced every two months or 60 uses. When you descale, replace the charcoal filter.
What Is the Lifespan of Cuisinart Coffee Makers?
A well-maintained Cuisinart coffee maker should serve you well for anywhere from two to five years. The frequency you should clean and descale your coffee maker is directly proportional to how often you use it.
Do Expensive Models Pay Off?
It's not uncommon for pricier versions to be the best option. Premium materials and advanced engineering ensure that your investment lasts longer and produces coffee that tastes better than before.
Nonetheless, if your household is relatively small, there's no need to shell out more money for a coffee maker with a higher capacity than you'll ever need.
What Is the Latest Coffee Maker from Cuisinart?
The Burr Grind & Brew Coffeemaker from Cuisinart is their newest, highest-capacity coffee machine, making ten cups' worth of coffee at once.
A burr grinder and automatic cleaning system are integrated into the design. Everything from grinding to rinsing in your brewing process is now done automatically.
Conclusion
Homes worldwide have coffeemakers and many other appliances made by Cuisinart. This well-known brand is known for making good products that last. Although many Cuisinart coffee makers are available, we have chosen the top twelve models.
Whether you enjoy your coffee alone or with family and friends, Cuisinart probably offers a model that will work for you. Because of its features and small size, the Cuisinart 14-cup DCC-T20 was our top pick.