Big, heavy coffee machines work well but are hard to move. A French press might be the best way to make coffee if space is tight in your RV. The best RV coffee maker is small, easy to use, and good at what it does.
We talk about the 15 best coffee makers for RV. We can help you find your unit if you want to. An electric coffee machine and a coffee machine made of stainless steel are on the list.
Learn more about how we arrive at our unbiased product recommendations by reading the research and reviewing what goes into our work. We may receive a small commission by clicking on our links and making a purchase.
Top Picks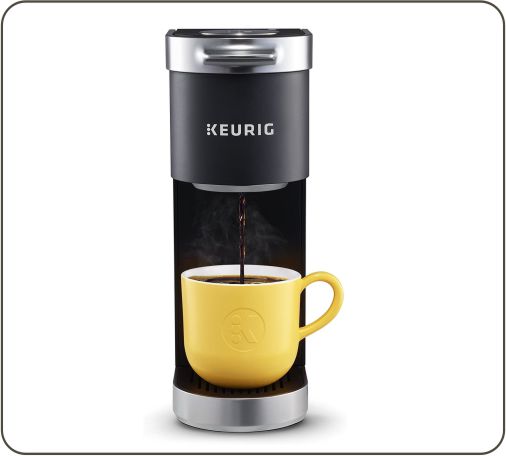 This is the ideal RV coffee maker for K-Cup users who wish to save space. This variant is designed for convenient storage and fits travel mugs.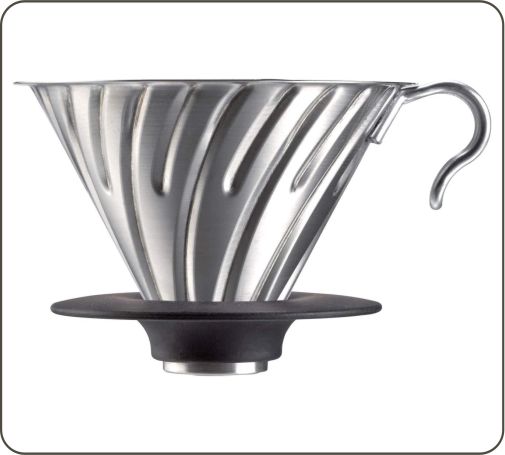 It's the most excellent RV coffee maker for those who value compactness above all else.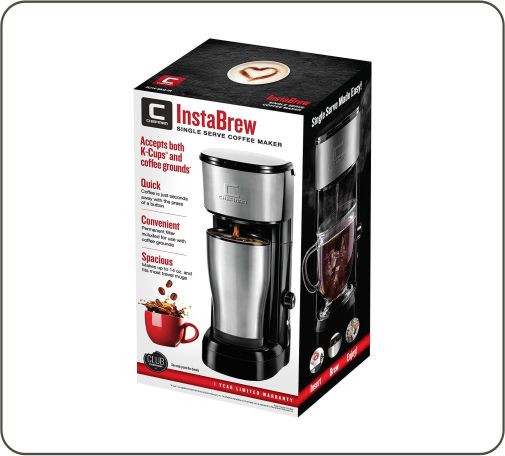 As it claims quick and simple coffee making, InstaBrew is a great coffee maker for motorhomes.
Comparison Table
| Sr. No. | Product Name | Product Dimension | Brewing Capacity | Price Range |
| --- | --- | --- | --- | --- |
| 1. | Best Overall- Keurig K-Mini Plus Maker | 4.5″D x 11.3″W x 12.1″H inches | 6 to 12 ounces | $109.99 |
| 2. | Best Space Saver- Hario V60 Metal Coffee Dripper | 5.31 x 3.66 x 4.84 inches | 1-6 Cups | $36.50 $26.35 |
| 3. | Chefman InstaBrew Coffee Maker | 6.7 x 12.9 x 5.2 inches | 14 ounces | $70.00 |
| 4. | STARESSO Portable Espresso Machine | 2.75″D x 2.75″W x 9.64″H inches | 0.08 Liters | $64.99 |
| 5. | Black+Decker CM2035B-1 Coffee Maker | 8″D x 11″W x 11.5″H inches | 12 Cups | $84.57 |
| 6. | Cuisinart DCC-450BK RV Coffee Maker | 8″D x 10″W x 5.25″H inches | 4 Cups | $39.95 |
| 7. | Hamilton Beach 49981 Single Serve Coffee Maker | 6.7″D x 8.35″W x 8.67″H inches | 14 ounces | $56.99 $42.39 |
| 8. | Elite Gourmet EHC-5055 Drip Coffee Maker | 6.61" D x 7.87″W x 9.25″H inches | 5 Cups | $18.99 |
| 9. | Mr. Coffee 4-Cup Switch Coffee Maker | 9″D x 7.25″W x 10.9″H inches | 4 Cups | $48.33 |
| 10. | Breville Bambino Plus Espresso Machine | 7.6″D x 12.5″W x 12.2″H inches | 2 Cups | $799.99 |
| 11. | Mueller Ultra Brew Coffee Maker | 9″D x 7.28″W x 13.58″H inches | 60 ounces | $49.97 |
| 12. | KRUPS KM202850 Coffee Maker | 5.71″D x 8.07″W x 10.08″H inches | 5 Cups | $39.99 |
| 13. | The Secura Stainless Steel French Press Coffee Maker | 17 x 15.5 x 24.9 centimeters | 1 Liter | $39.99 $26.96 |
| 14. | CHULUX Single Serve Coffee Maker | 4.3″D x 7.4″W x 9.06″H inches | 12 ounces | $39.99 |
| 15. | Melitta 10-Cup Pour-Over Coffee Brewer | 7″D x 7″W x 10″H inches | 10 Cups | $49.95 |
List of 15 Best Coffee Maker for RV
Product Details
1. Best Overall- Keurig K-Mini Plus Maker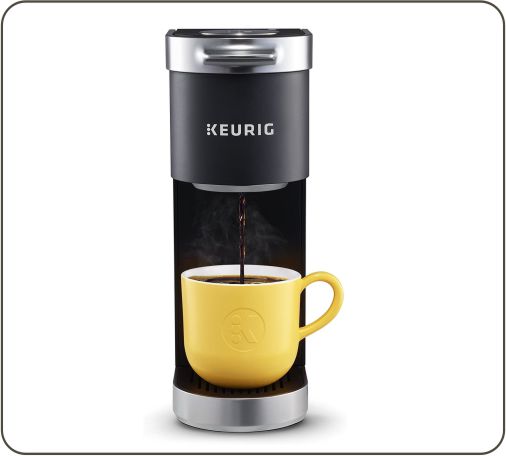 Highlights:
Single Cup Capacity
K-Cup Pods Compatible
Removable Drip Tray
Removable Reservoir
Product Description:
This type is the finest coffee maker for RVs for those of us who depend on K-Cups while also wanting to conserve space while traveling. This variant is sized to pour coffee straight into a travel mug and is designed for simple storage.
While K-Cups, which can be pretty pricey, can be used, this coffee maker is also compatible with Keurig's reusable filter, giving you a choice to use your coffee grounds. For this coffee maker to work, AC power is required.
Pros
Travel Mug Friendly
Reusable Coffee Filters
Cons
Ground Coffee is sold separately
2. Best Space Saver- Hario V60 Metal Coffee Dripper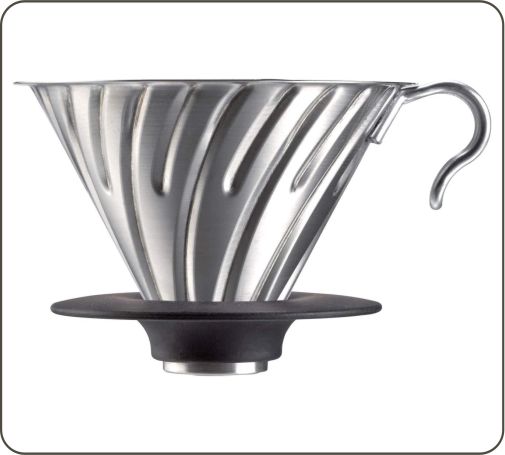 Highlights:
Metal Coffee Dripper
Different Sizes
Paper Filter Compatibility
Product Description:
This coffee dripper is the most excellent coffee maker for RV travel, and if saving space is your top priority, then there is no better option.
It is simple to use, clean, and, most importantly, put away. Hario produces its products in various sizes, depending on the quantity of coffee each customer prefers to make, as well as in a range of colors to meet the aesthetic requirements of each customer.
The only drawback is that it requires paper filters, so ensure you have plenty on hand.
Pros
Simple to Use
Easy to Clean
Heat Resistant
3. Chefman InstaBrew Coffee Maker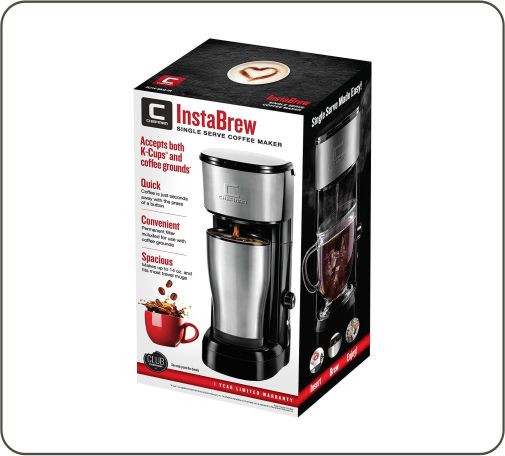 Highlights:
Single Serve Coffee Brewer
Reusable Filter
Stainless Steel
Permanent Filters
1 Year Warranty
Product Description:
Since InstaBrew promises rapid and simple coffee making, it is a great coffee maker for motorhomes. You can experiment with more or less water, according to your preference, to achieve a more subdued or robust flavor. A straightforward button allows you to prepare up to 14 ounces of coffee consistently.
Depending on your whim, this RV coffee maker can handle either fresh ground or K-cup pods. Because this machine has a washable filter, you can clean it and use new grounds to create tea or coffee.
This RV coffee maker is small and doesn't take up much space, making it easy to store on the counter. However, the height of its construction allows you to fill most of your 14-oz travel mugs with freshly brewed coffee.
Pros
One Touch Operation
Compact Design
4. STARESSO Portable Espresso Machine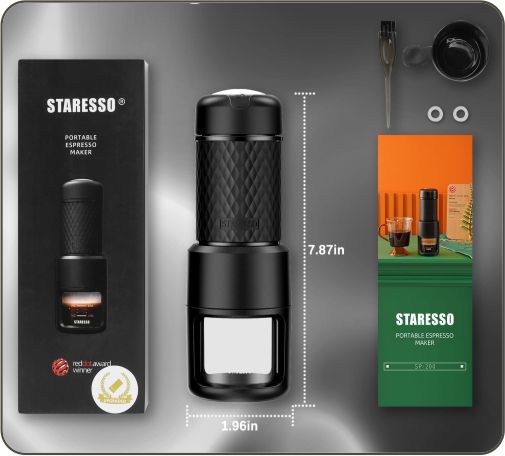 Highlights:
Product Description:
Staresso is a compact capsule and powder espresso maker. The coffee tray can carry 10g of powder or 5-6 capsules, while the storage tank can accommodate 60-80ml of boiling or icy water. It makes 30–50ml of espresso, Americano, and latte with milk.
More DIY fun with a portable coffee machine adaptable for different coffee extractions. The original segmented pressure-producing method maintains a steady pressure of roughly 20 bar in the powder bin, allowing for the optimal extraction of coffee's rich oil and fruity flavor.
A little espresso maker to facilitate and stabilize extraction puncture the coffee capsule sleeve. Cleaning is made simpler by the adjustable pressure valve by simply pushing the powder out.
Pros
No Batteries Required
Compatible with Capsules
Compact and Lightweight
5. Black+Decker CM2035B-1 Coffee Maker
Highlights:
Adjustable Brewing Options
Dishwasher Safe
Quick Touch Programming
Product Description:
Among the best coffee maker for RV is the Black+Decker CM203B-1 because of its ability to serve 12 cups of coffee while maintaining a small footprint. Similar to the well-liked Black+Decker lets you sip a cup while the brew is still going on. The coffee maker also automatically shuts off after the brewing cycle.
The CM203B-1 is essentially a simple coffee maker. Quick-touch controls and a two-hour coffee brewing time LCD are featured. The stainless-steel carafe, which is superior to a glass carafe, is where it truly shines, in my opinion. Your coffee will stay warm and retain its taste for several hours in the vacuum-sealed carafe.
This model's auto brew feature, which enables me to set the appliance to prepare coffee in the early morning for up to 24 hours, is another selling point. You can choose between standard and strong brew; however, the latter has a bolder flavor.
Using the 1-4 cup setting, which distributes enough water to maximize the flavor of fresh coffee grounds, is another method for brewing strong coffee.
Cons
Filters should be cone-shaped
6. Cuisinart DCC-450BK RV Coffee Maker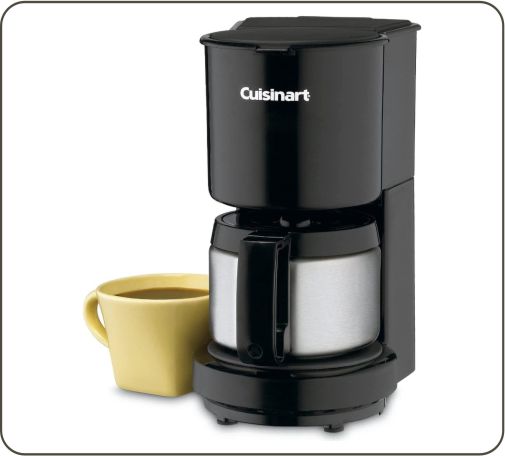 Highlights:
Drip Coffee Machine
Thermal Carafe
Automatic Shut OFF
Indication Light
Product Description:
The Cuisinart DCC-450BK is an ideal appliance on board an RV with a family that enjoys drinking coffee, as it is a compact coffee maker that can brew a maximum of four cups of coffee at once using a drip technique.
It boasts a drip-free pour spout and a stainless-steel carafe with ergonomically designed comfortable handles to help prevent unpleasant spills and stains.
Additionally, Cuisinart included a unique Brew Pause option to the DCC-450BK so that you may quickly brew a cup of coffee in the middle of the process without worrying about a mess or simmering spilled coffee on the hot plate below.
Additionally, a 30-minute automatic shutoff function lessens the possibility of over-simmering the coffee in the carafe, which could make it taste not very pleasant.
The Cuisinart is the finest RV coffee maker if you want a compact machine that will last a long time and won't take up much room on your counter.
Pros
Compact Design
Stainless Steel Carafe
7. Hamilton Beach 49981 Single Serve Coffee Maker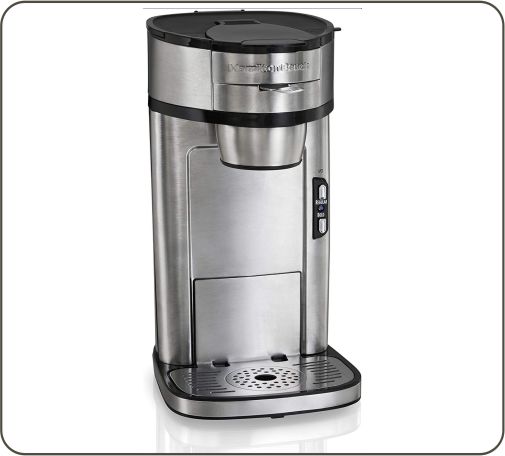 Highlights:
Single Serve Coffee Machine
Spill Resistant Drip Tray
Mesh Filters
Built-in Stand
Product Description:
Coffee for most standard travel mugs can be brewed fast and easily with the Hamilton Beach 49981 Scoop Single-Serve Coffee maker.
Depending on the settings and the amount you select, it can brew an 8-ounce cup in around 90 seconds or a 14-ounce travel mug in approximately two minutes.
Its reusable stainless steel mesh filter technology eliminates the need to replace expensive paper filters constantly.
The boldness can be customized to suit your preferences. After the brewing process, it powers down immediately to prevent wasteful operation.
This is the best coffee maker for the person in your household who gets up before everyone else to go for a walk with the dog or to set up camp for the day.
You might use this to simulate a pod-based small coffee maker if you stock numerous coffee blends to accommodate different palates.
The Hamilton Beach Coffeemaker is one of the best RV coffee makers on the market since it can be used to brew coffee for a travel mug or one person at a low cost.
Pros
Fast Brewing
Reusable Filters
Also Read: How to Clean Hamilton Beach Coffee Maker
8. Elite Gourmet EHC-5055 Drip Coffee Maker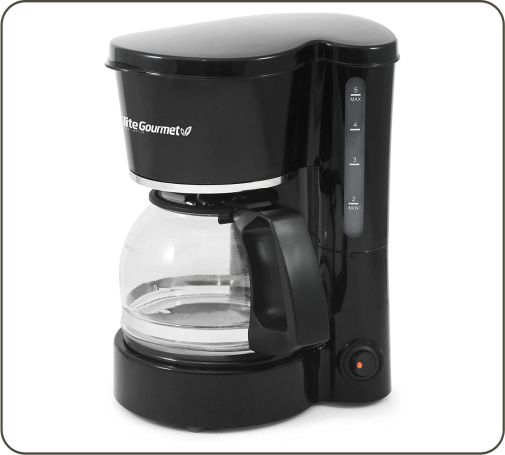 Highlights:
Automatic Drip Coffee Maker
Water Level Indicator
Reusable Filters
Water Reservoir
Product Description:
Any recreational vehicle kitchen would benefit significantly from adding an Elite Gourmet EHC-5055 Drip Coffee Maker. There are several reasons why this 12V coffee maker for RV is considered among the top models on the market.
Consider the large 5-cup capacity, which more than meets my requirements. It's convenient only to brew a single pot of coffee in the morning.
It's a helpful addition that shows how much water is left in the pot at all times. Unfortunately, not all alternatives provide this feature, which makes it impractical to use their RV coffee pots.
The environmental friendliness of this product is another area in which Elite Gourmet excelled. This model is unique since it eliminates the requirement for disposable paper cone filters using a reusable filter.
Pros
Simple to Operate
Washable
Cons
Hard to put back on the stove.
9. Mr. Coffee 4-Cup Switch Coffee Maker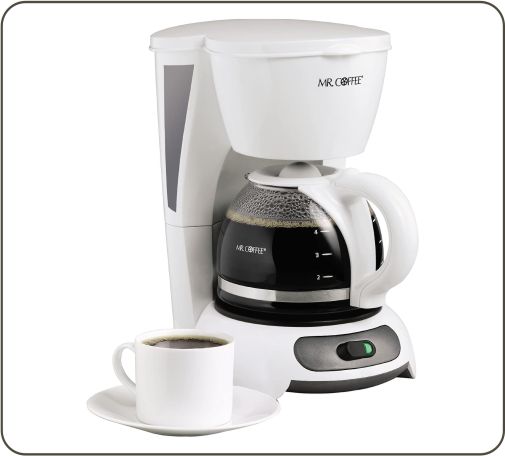 Highlights:
Switch Coffee Maker
Removable Filter Basket
Indication Light
Warming Plate
Product Description:
One of the best RV coffee makers is the Mr. Coffee 4-Cup Switch Coffee Maker. One is how easy it is to use this product to make a tasty brew every time.
This feature makes it possible to retrieve a cup of coffee from the machine before the brewing process is finished. When you replace the carafe on this machine, it will restart the procedure.
The on/off switch on this product is an excellent addition. With this function, you'll never have to guess whether or not the gadget is powered on. This makes it much less likely that you'll accidentally leave the coffee machine on, which might be dangerous.
They will also appreciate that the warming plate is stain-resistant. It will make this section of the gadget straightforward to clean. The warming plates on some models can get very disgusting after a while.
Pros
Permanent Filters
Stain Resistant
10. Breville Bambino Plus Espresso Machine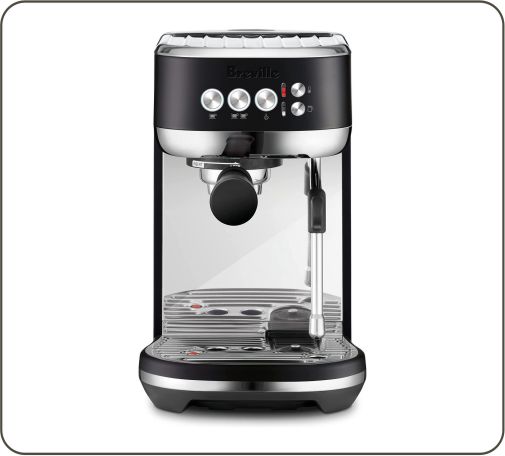 Highlights:
Professional Espresso Machine
Automatic Steam Wand
Precise Espresso Extraction
Optimal Water Pressure
2 Year Warranty
Product Description:
The Breville BES500BSS is the newest and smallest of the company's espresso machines. This is an excellent alternative for mobile coffee brewers if your vehicle has the necessary room (and electricity).
You can choose between one and two cups on the straightforward control panel or go completely hands-on and use the manual setting. The thermojet boiler can be brought up to temperature in three seconds, meaning that you may brew espresso almost immediately after turning on the machine.
Pre-infusion, digital temperature control, and auto purge ensure espresso flavor and fragrance. You may customize the temperature and consistency of the milk in your cappuccinos, lattes, or flat white with the help of the hands-free automatic microfoam milk frother.
You may set it down on any regular-sized counter. To brew, it requires 1560 watts, and there's a 2-year guarantee on the product.
Pros
Quality Material
Compact Machine
11. Mueller Ultra Brew Coffee Maker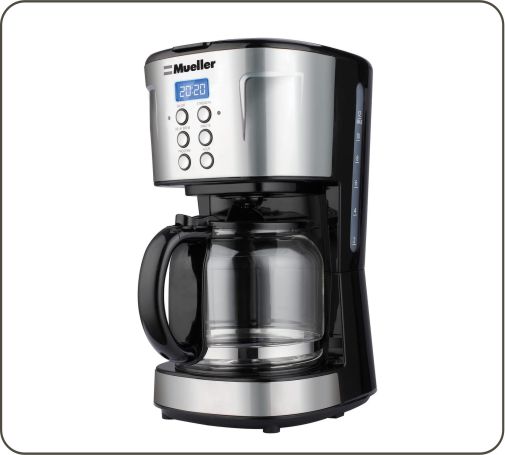 Highlights:
Programmable Coffee Maker
Multiple Brewing Strength
Permanent Filters
Built-in Water Reservoir
Made in China
Product Description:
Make a pot of coffee, whatever you want it: weak, medium, or strong, using your preferred coffee grounds.
The brew cycle can be interrupted at any time by using the pause and serve feature to pour a cup. This drip-free carafe will allow you to enjoy your coffee until the last drop.
Easy and secure water filling thanks to the integrated reservoir. There will be no more leaks or splatters on your kitchen work surfaces. You won't have to keep spending money on paper coffee filters because the Mueller Ultra Coffee Maker comes with a permanent filter.
Pros
Easy Brewing
Simply Washable
12. KRUPS KM202850 Coffee Maker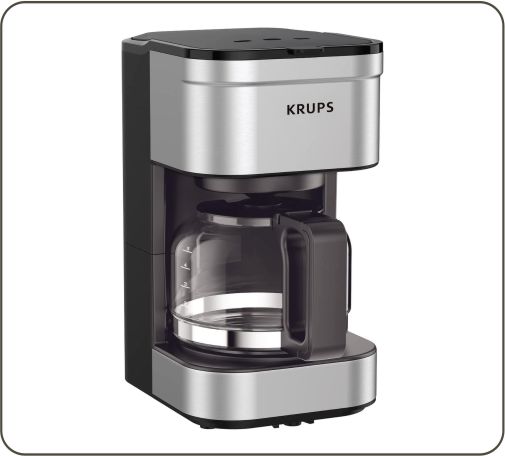 Highlights:
Drip Coffee Maker
Programmable Brewer
Reusable Coffee Filters
Product Description:
The KM202850 produces excellent coffee while leaving minimal room on my kitchen counter. It comes with a spoon and a filter that lasts forever. These items, including the glass coffee pot, may be washed in the dishwasher without worrying about breaking.
Filling the water tank is a breeze thanks to its proximity to the brewing chamber. You may quickly turn the device on and off with a single button.
The stop-and-serve function, which lets you get coffee while the machine is brewing, is the most convenient feature of this model.
This stainless and glass drip coffee maker is a stylish addition to my kitchen. Its small footprint means it won't take up too much room in your kitchen. It accomplishes what it's supposed to: boil water rapidly and silently. What's more, it's not prohibitively expensive.
Pros
Compact Filters
Convenient Features
Cons
Only Compatible with No.2 Filters
13. The Secura Stainless Steel French Press Coffee Maker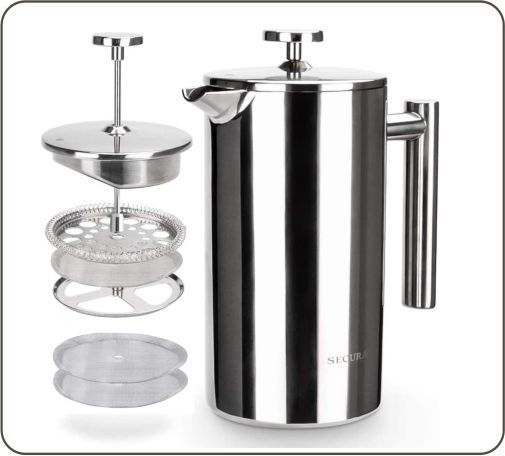 Highlights:
French Press Coffee Maker
Stainless Steel
Made in the USA
Product Description:
Unlike its competitors, the Secura French Press Coffee Maker is built to last. Because of this, it is composed entirely of stainless steel, including the outside. As a result, it has emerged as one of the market's most durable choices.
Having this feature adds to the device's ability to keep heat inside. It's designed to keep your coffee hotter for longer than most other options.
A convenient feature of this type is its cool-touch handle. The user won't have to worry about having their hands too hot while pouring coffee, as this will prevent that. Likewise, the product's knob will be helpful in this respect.
It would be best if you didn't ignore the filter screen on this gadget either. This part can be easily removed and put back together after cleaning. Additionally, you can layer many screens on top of one another to achieve a richer flavor.
It also comes in three different sizes to give every buyer a better chance of finding the correct fit. The startling aspect of this French press, though, is its price. It's far cheaper than you'd anticipate for a device of this kind, and it won't break the bank.
Pros
Comfortable Handle
Reasonable Price
14. CHULUX Single Serve Coffee Maker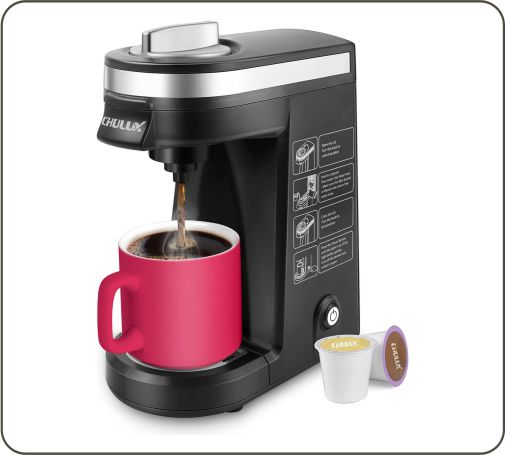 Highlights:
Single Serve Coffee Maker
Removable Drip Tray
One Key Operation
Detachable Filter Basket
Product Description:
The CHULUX Single Serve Coffee Maker appears to have all the features I'm looking for in an RV coffee maker. It is even more affordable than the average single-serve product.
But its one-touch functioning is the feature that sets it apart—because to this feature, using is simple. This approach should be simple enough for someone who just woke up.
Additionally, this model can have your coffee ready in as short as three to five minutes, demonstrating its usefulness to RV travelers. The only thing worse than a coffee maker forces you to wait too long for a cup of joe.
It's important to note that this device features a removable drip tray, which provides flexibility regarding cup sizes. Even travel mugs of a specific size can be handled. Additionally, because it is removable, cleaning is considerably easier to handle.
Pros
Portable and Compact Design
Different Color Options
Simple Cleaning Process
15. Melitta 10-Cup Pour-Over Coffee Brewer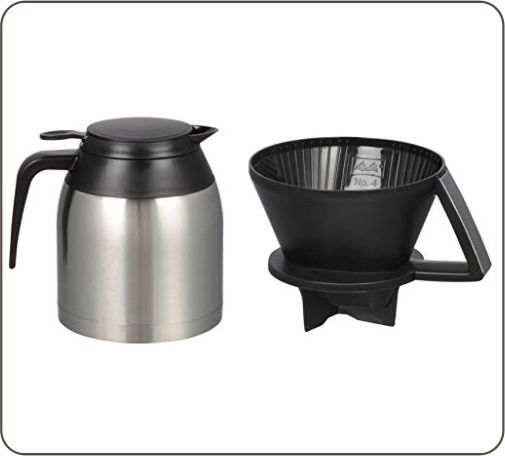 Highlights:
Pour Over Coffee Maker
Thermal Carafe
100% Biodegradable
Product Description:
The final item is a pour-over coffee machine that produces top-notch outcomes. A stainless-steel carafe with a respectable 10-cup capacity is included with this particular model. It's among the most excellent pour-over options available.
The filter cone and cap are made of plastic and can be cleaned in the dishwasher is also a plus. As you are aware, this feature simplifies the cleaning procedure. It guarantees that you won't ever need to hand wash the item.
It would be nice if you also noticed that the filter cone and lid are BPA-free. This characteristic shows the absence of any potentially harmful components. You don't need to be concerned about any adverse effects or problems when using this coffee maker.
All the components required for using this product are included. You receive a modest quantity of Melitta #4 cone filters, a plastic lid, and a brewing cone. Given this information, there is no reason to suspect that it won't be ready to serve superb coffee as soon as it comes.
Pros
Convenient Design
Easy Brewing
Buyer's Guide for RV Coffee Maker
You'll need to consider several things when searching for the best coffee maker for RV. Here are some considerations to make before making any purchase.
Dimensions
Size may not impact coffee taste, but it's vital for an RV. RV countertops are small, so you want a compact machine. In addition to the clearance for opening the top, measure the space where you intend to place your device.
Consider mug size for single-serve models. Some models can't fit oversized mugs. You can pick a model with a travel cup included.
Capacity
A single-serve machine can be sufficient if you're camping alone or with another person. This capacity works if your RV's campers wake at different times.
Get a large carafe for a group of coffee drinkers. These models are great for breakfasts, brunches, and supper parties. Large models provide 10-12 cups, but a cup maybe 5-6 oz.
Brewing Time
Coffee makers' brewing times vary depending on the model. Coffee can be brewed by good models in three to five minutes. The best models can rapidly and easily brew coffee, like the Chefman InstaBrew Coffee.
Avoid the French press and stovetop brewers if you like your coffee brewed rapidly. In less than five minutes, these models can prepare your coffee. Pod-style coffee makers typically provide the quickest brewing speed.
Coffee Filter- Paper Vs. Metal, Cone Vs. Basket
Most cost-effective variants use reusable metal filters. They may cost more initially, but they save money over time.
Cheap paper filters add up over time. Unless recycled, they're hazardous to the environment. The good thing is that since you can throw away paper filters immediately after using them, they are simple to clean.
Metal filters provide bolder, more decadent coffee because more oils permeate. Paper filters make flavored coffee lighter. Rinse the coffee filter with hot water if it tastes like paper.
Cone-shaped filters are better than baskets. They make it possible for the hot water to more effectively and flavorfully move through the coffee grinds. Basket filters' flat bases cause unequal extraction.
Ease of Use and Clean
RVs may be chaotic, so you need an easy-to-use coffee machine. If you don't want to clean the device manually, choose self-cleaning. If you wish to have coffee the following day, search for a programmable function.
You can use a French press or a coffee pot on the stove if you have time. If not, choose electric models with buttons. Some electrical coffee machines auto-shutoff, so you don't have to watch them.
Glass Vs. Stainless Steel Carafe
Two different carafe options—stainless steel and glass—are always included when buying a coffee maker. With glass pots, you can see the coffee brew. You can breathe the coffee scent in your kitchen because they're open-air.
The coffee will only stay hot in a glass pot for 20 minutes. Double-walled stainless steel keeps coffee hot for hours. The sole drawback is that a glass pot may be dishwasher-washed, whereas a steel pot requires manual cleaning.
Extra Features
The top coffee maker models provide a range of brew intensities, from mild to intense. They let you pause the brewing process so you can serve a cup without waiting. They also set aside specific storage for K-cups in pod machines.
How do RV Coffee Makers operate?
Drip coffee makers work by heating water, which is then poured over freshly ground beans. The resulting beverage is stored in a thermal carafe. Through the aluminum tubes, the heating element warms the water—manufacturers design fuse and sensor components to prevent the heat source from overheating.
Caffeol, the oil component of the coffee grinds, gives roasting its distinctive scent. A percolator functions similarly to this boiling-water pump. For pod machines, hot water is injected into your cup through a needle that pierces the top of the K cup.
Since the brewing process involves no mechanical pump or moving components, coffee makers are incredibly reliable.
How to Care for and Clean an RV Coffee Maker?
Wash the detachable components in hot soapy water after each use. Wipe the outside and warming plate for coffee spillage. Open the reservoir lid to avoid germ growth.
Clean your carafe with hot, soapy water and a little rice. Stir to loosen the gunk. Scrub away debris, then rinse.
Mix water and vinegar monthly to decalcify your coffee machine. Place the pot and a paper filter in the unit's empty basket. Half-brew, the vinegar solution, then let it sit for 30 minutes.
Restart the brewing machine. Rinse out the vinegar solution. Next, replace the filter and brew clean water.
Also Read: How to Clean a Coffee Maker Without Vinegar 17 Methods
FAQs
Which coffee maker works best in small RVs?
Small RV coffee makers are available. Small RVs need space-saving coffee makers. Class A RVs have enough countertop space for standard-sized coffee machines.
An under-cabinet coffee maker is recommended for motorhomes and other small motorhomes with cabinets. Under-cabinet coffee makers free up counter space.
Campers and RVs without cupboards above the countertop can't use an RV under cabinet coffee machine. Single-serve coffee machines are the best for RVs because they take up less space.
French presses and Moka pots are also options. These coffeemakers fit in a cabinet or drawer.
Can a coffeemaker in an RV make tea?
Your choice of model will determine everything. Some people can make tea, while others can't. This function and other minor details can help you decide if a particular RV coffee maker is the best choice for you.
You can never tell if you'll be hosting a guest who prefers tea to coffee. Therefore, choose a model who can do both as a service to yourself.
Where to use the RV's coffee maker?
The layout of your RV will decide where your RV coffee maker should go, as it does with any item. Most of the time, your new coffee machine would be best placed on the counter next to the sink in your RV.
But once more, it will ultimately rely on your arrangement and where your RV's outlets are located. Ensure the location where you use the product is secure and poses no risks.
As a result, it is usually a good idea and something you should take the time to do to read the coffee maker's instructions before setting it up. After all, it's preferable to prioritize your safety above all else.
Can a Keurig be used in an RV?
The Keurig K-Mini is an excellent coffee maker if you want a cup of freshly made coffee when camping or traveling in an RV because it is simple to use and brews the coffee quickly.
What about using a coffee maker in an RV?
Most campers and RVs come with kitchen space or a tiny shelf or countertop where a small coffee machine can be placed. Therefore, choose your preferred countertop location and prepare to investigate all potential RV coffee makers you can bring when traveling.
Which companies make reliable RV coffee makers?
Technically, any little coffee machine can function as a coffee maker for an RV. However, Keurig and Coleman are typically the most widely used brands. For those who want a fast cup of coffee, Keurig is fantastic, while Coleman is known for its rugged outdoor gear.
Do RV coffee makers need descaling?
Even if you track down the ideal coffee machine for hard water, it will still need to be descaled regularly. A coffee maker's heating element and water lines naturally leave mineral deposits.
This can accumulate and turn into limescale over time, harming the heating element and breaking the machine. Descaling regularly can stop this from happening.
Conclusion
You have a bewildering array of choices, as you can see. To narrow your search for the best coffee maker for RV, you may first wish to consider how much coffee you plan to prepare at once.
The BLACK+DECKER is a good investment if you frequently entertain a sizable group of guests while on the road.
The Hamilton Beach Single Serve Coffee Maker is ideal for couples or friends taking a short trip together since it allows each person to fill their travel mug with coffee of their preferred strength and flavor profile.
The Keurig K-Classic is a multifunctional coffee maker that combines ease of use with the flexibility to brew anything from a single cup of your favorite specialty coffee to a steaming mug of rich chocolate on a chilly summer evening.
The most excellent RV coffee maker is likely already on this list, regardless of your specific requirements or objectives.